So I had those cute Tag a Bag Gift Bags out yesterday and it got me to thinking what a neat background that pattern would make on a card…
And with some color & image inspiration from one of my favorite cold weather drinks, before you know it, my card was on it's way…
Here it is…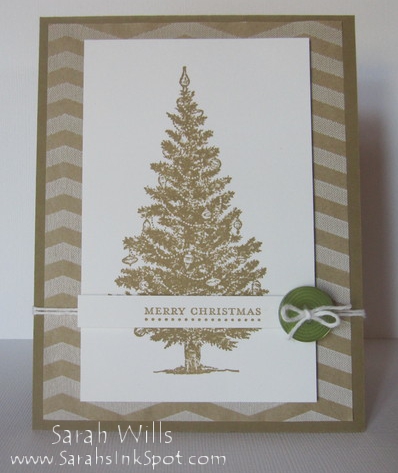 So why a 'tale of three trees'?  Well because I started out by making this card very simple…I liked it and thought it was fabulous…so I photographed it…
But then I decided to add a sentiment…and liked it…and photographed it…
But then I decided it needed a little something else…and so I added an embellishment, photographed it and figured I might as well show you all three versions because I love them all!!!
So the first card…clean, simple – nothing more, nothing less – and here it is: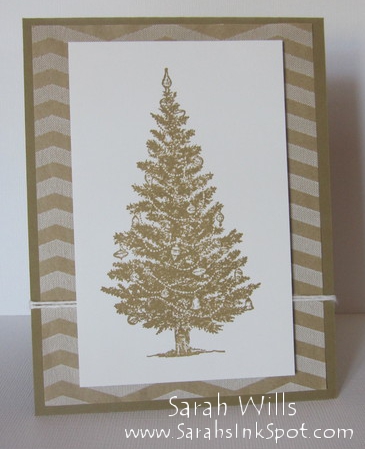 The card base…is Baked Brown Sugar and that patterned background is simply a Tag a Bag Gift Bag that I cut to size – LOVE this background – it is super easy and very cool!!!
The twine…I simply wrapped around a piece of White Bakers Twine – twice – and fixed it into position in the center so that the top layer would cover the joins.
The image…is a GORGEOUS stamp from the set Special Season that you can find on pg 29 of the Holiday Catalog or online by clicking HERE – I simply stamped it onto Whisper White cardstock using Baked Brown Sugar ink, added it to my card base using Dimensionals and it was done!!!
Or so I thought…LOL…which brings me on to the second card…I decided to add a sentiment and here it is…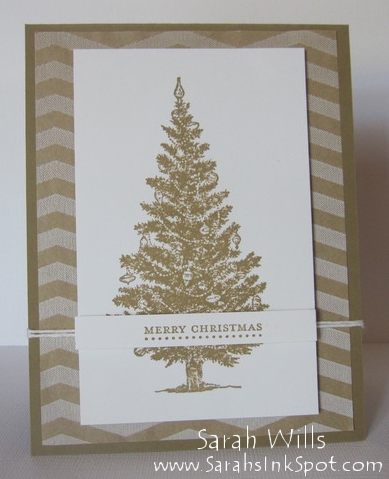 A small, simple sentiment from the set Teeny Tiny Wishes (pg 44) that I stamped onto a strip of white cardstock and added to my card using some Dimensionals…
And that was it…I was happy with it…or so I thought…
Which brings me to the third card…I decided to add a splash of color and here it is…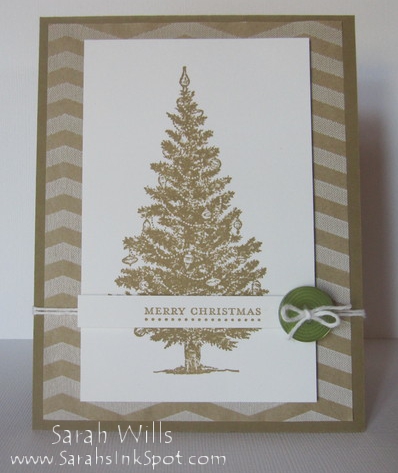 Simply a button from Regals Designer Buttons through which I tied a bow using more White Bakers Twine and voila – this time I really was done and happy with it!!!
Here is a close up of that center panel…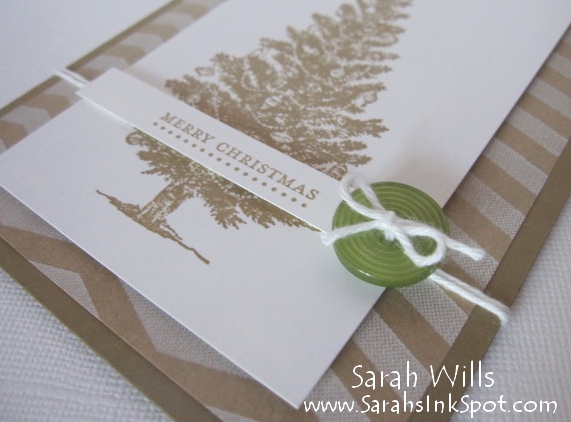 Here are the images in the set Special Season: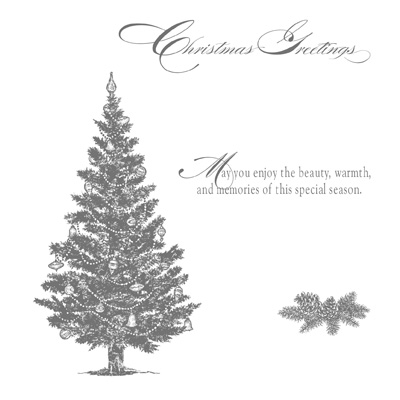 All of them are just gorgeous but that tree is simply stunning with its ornaments and trim…
Supplies used to make these cards:
Stamps: Special Season (CM 131769/WM 131766), (Teeny Tiny Wishes (CM 127802/WM 128748)
Cardstocks – Baked Brown Sugar (131296), Whisper White (100730)
Background – Tag a Bag Gift Bags – pack of 10 (131370)
Buttons: Regals Designer Buttons (130029)
Twine – White Bakers Twine (124262)
Ink – Baked Brown Sugar (131174)
CLICK HERE TO ORDER YOUR STAMPIN UP SUPPLIES ONLINE!
So I was talking about my inspiration for this card…when the weather turns cold I just LOVE Caramel Apple Cider but the closest coffee shop to us is 10 miles away – and so I have devised my own because I can't drive that far every time I 'need' to have one!
So I made one earlier today and here it is…ummm, yum!!!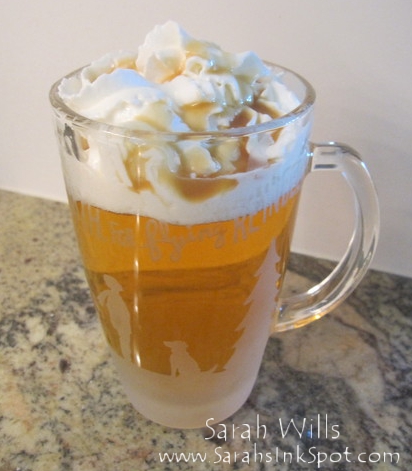 Whilst looking at it, I loved the look of those two colors and the tree in that cute little frosted border at the bottom of the glass – and so it inspired me to dig out a tree stamp and use two similar colors to make today's card…and yes…it was as delicious as it looks!!!