I have been seeing some cute Curly Paper Wreaths around and I really wanted to make one for Thanksgiving BUT I figured they must be hard to make because they look complicated…
Oh my that could not be further from the truth LOL – they are actually SUPER easy and fun to make – so much so that I am going to be making some Christmas themed ones for a few teachers at school who I know are into paper crafting…
To show you how easy these are to make, I put together a FREE step-by-step printable tutorial – find the link to it further down in this post.
AND ON THIS BLACK FRIDAY, DON'T FORGET THAT THE BIG HOLIDAY SALE IS STILL GOING STRONG…
PLUS WHEN YOU ORDER WITH ME TODAY & TOMORROW: I AM GIVING YOU A FREE COUPON FOR 20% OFF OF YOUR NEXT ORDER WITH ME PLUS 5 HANDSTAMPED CARDS WITH ENVIES AND YOU WILL GET A FREE PACK OF DSP OF YOUR CHOICE ON YOUR ORDERS OF *$100+!  Read on for details…

Here is my fall Curly Paper Wreath…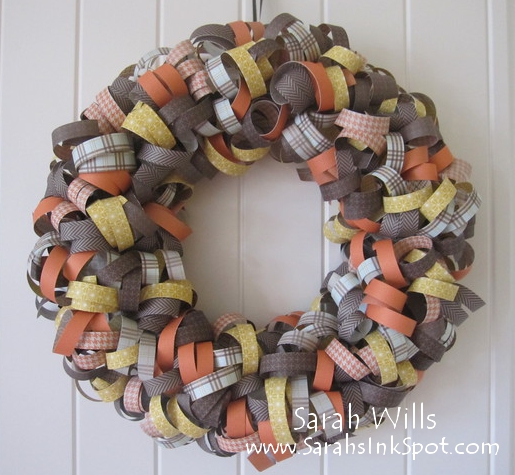 I just LOVE how this turned out…
The wreath base…is simply a 12″ styrofoam extruded wreath (which means rounded) that I found at Walmart – they are also available at big box craft stores…
The curly papers…are simply 1/2″ strips of patterned papers from Sweater Weather DSP (pg 18 of the Holiday Catalog) which are curled using a bone folder (pg 178) and secured to the wreath base using dressmaker pins…
And ribbon at the top…is simply Early Espresso 1/8″ Taffeta Ribbon (pg 178) but if you prefer a thicker look, Burlap ribbon would be perfect.
Here is a closer look at those curls…simply gorgeous…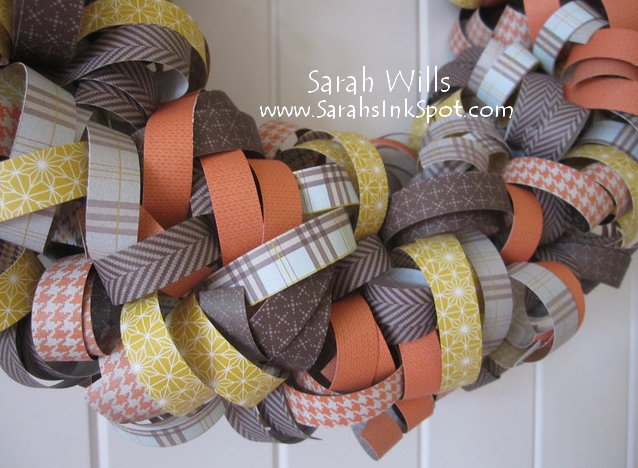 WANT A FREE PRINTABLE TUTORIAL & SUPPLY LIST SHOWING YOU HOW EASY IT IS TO MAKE A CURLY PAPER WREATH?  Click HERE to find it!
Of course you can embellish your wreath with other items but I chose to leave mine as is as I love the clean & simple look…here's another view of those cute curls…love em…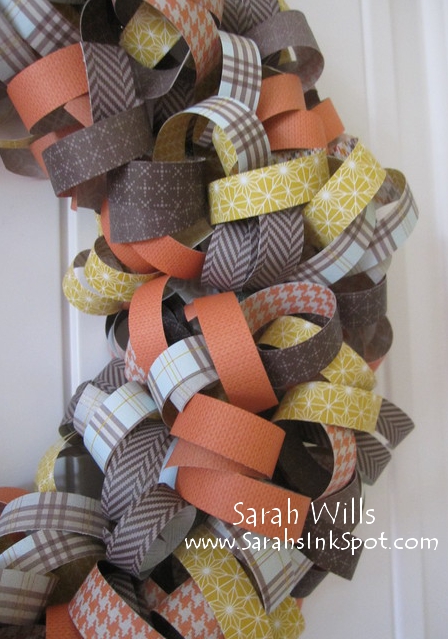 AND DON'T FORGET THAT THE BIG STAMPIN UP HOLIDAY SALE IS STILL GOING STRONG!!!
Where can you find those items on sale?
Alternatively you can click HERE to find a list of what is available
How long is the Holiday Sale running?
It ENDS ON DECEMBER 2nd
And yes, you DO get Hostess Benefits on your orders of $150+!
And because I am SO THANKFUL for wonderful customers…
FOR TWO DAYS ONLY – TODAY & TOMORROW – I AM GOING TO GIVE YOU FREEBIES ON YOUR ORDER AS MY GIFT TO YOU:
WHEN YOU PLACE AN ORDER FOR $30+ IN MY ONLINE STORE, I WILL MAIL YOU A COUPON FOR 20% OFF OF YOUR NEXT ORDER…
AND I will mail you pack of 5 HANDMADE CARDS WITH ENVELOPES…

AND you will get ONE FREE PACK OF DESIGNER SERIES PAPER OF YOUR CHOICE (valued up to $10.95) FOR FREE WHEN YOU ORDER *$100+!



You MUST use the link below to place your order to qualify for these freebies:
You

MUST

place your order by Midnight CT on Saturday November 30th 2013
Happy shopping – and if you have any questions please email them to me!
*$100 is the price of catalog merchandise BEFORE S&H and sales taxes as applicable are applied.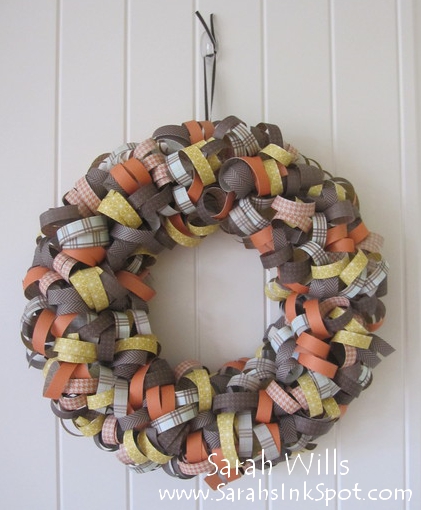 Fall themed beautiful Curly Paper Wreath…