I just LOVE the seasonal Oreos – the colors, the flavors, YUM!!!  And coincidentally earlier this week our Elf on the Shelf arrived for his annual visit and whilst eating cookies, my light bulb went off!!!
Those cookies stacked up in a cello bag would look like stockings and make one CUTE treat with an Elf Shoe wrap at the bottom…
And so I got to work and look what I came up with…how perfect are these for kids and grown-up's alike?  I am thinking Holiday teacher treats…
AND I MADE YOU A FREE PRINTABLE TUTORIAL & TEMPLATE SO THAT YOU CAN MAKE SOME TOO!  Read on to find out more and for the link to it along with details of BLOG CANDY!!!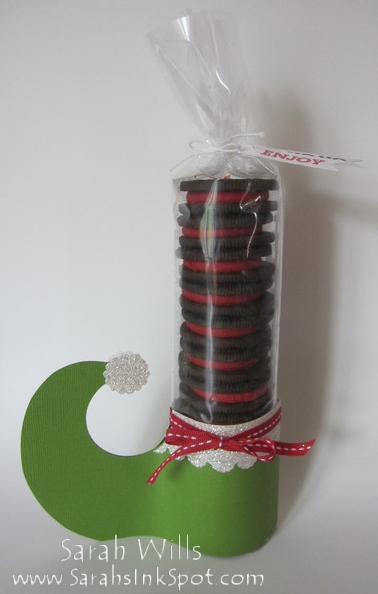 They are fun and easy to make and you only need basic supplies to make them – and they are very budget friendly too!
The Elf Shoe…is made using Gumball Green Core'dinations cardstock WHICH YOU CAN FIND IN THE CLEARANCE RACK RIGHT NOW!!!  It's priced at JUST $2.79 for 12 sheets of 12×12 textured cardstock!
Find it by clicking HERE!
Sarah's Tip – the circular bit of the elf shoe is easy to shape using a 1 3/4″ Circle Punch – much easier than free-hand cutting it!  Find that punch by clicking HERE
The Elf Shoe trim…I used Silver Glimmer Paper (pg 156) which I shaped using the Adorning Accents Edgelits Die for that cute scalloped look…
The Pom Pom…I used my 7/8″ Scallop Circle Punch (pg 182) to punch two shapes out of Silver Glimmer Paper for my cute pom poms – and adhered them to the tip of the Elf Shoe using a Dimensional…
The Ribbon…I used 1/4″ Stitched Grosgrain Real Red Ribbon (pg 173) to tie around the top of the shoe for a cute finishing touch and it also serves to hold that cookie stack firmly in place…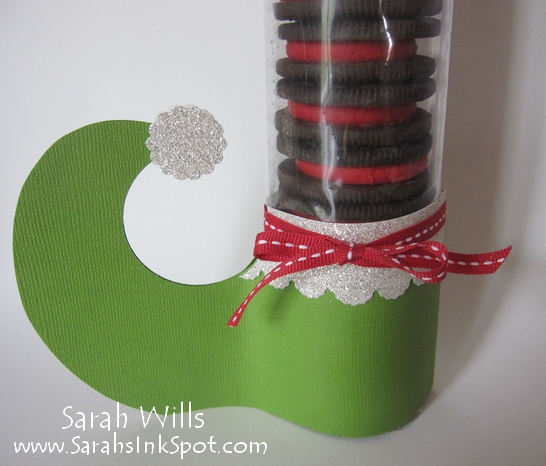 And talking of cookie stacks…I took 12 seasonal Oreo cookies and popped them into a Cellophane Bag that you can find BARGAIN priced right now in the clearance rack:
127850  Cellophane Bags – pack of 25 – for JUST $1.59!!!  That makes the bags JUST 6c EACH!!!  CLICK HERE to find them!
Once your cookies are in there, simply fold the bag over on itself and tape in place – these bags are AWESOME because they are wrinkle free, even when you fold them!!!  Then use twine or ribbon to tie the top closed – simple, fast & cheap!!!
The tags…I decided to add tags to the top of my bag and used the set Oh, Goodie! (pg 32 Holiday Catalog) to stamp my words – I die cut them out using a banner die from Bitty Banners Framelits, punched a small hole in the top of each and threaded through a piece of White Bakers Twine which I tied to the top of my bag…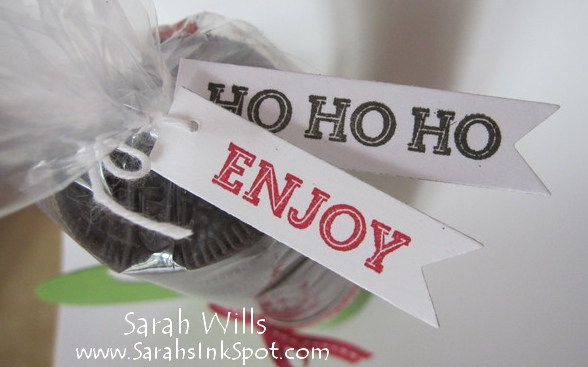 I also made a red Elf Shoe with green cookie filling and just couldn't decide which I prefer…
It is made in exactly the same way except I used Real Red Core-dinations cardstock with 1/4″ Wild Wasabi Stitched Grosgrain Ribbon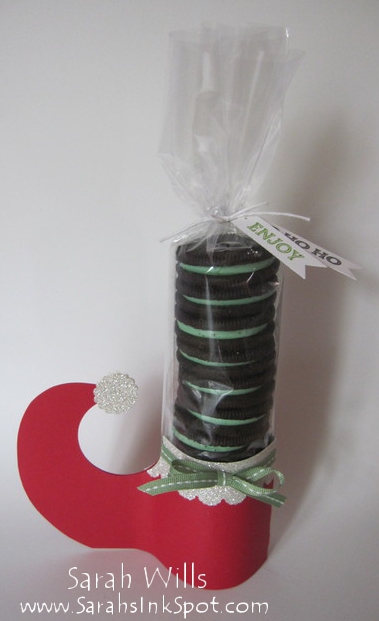 Although I think it's the green Elf Shoe…that seems a little more authentic to me!!!
So you can mix & match colors like I did or you can keep the colors the same – ie: green shoe with green filled cookies – but whichever you decide, and I tried all combos, they will look AWESOME!!!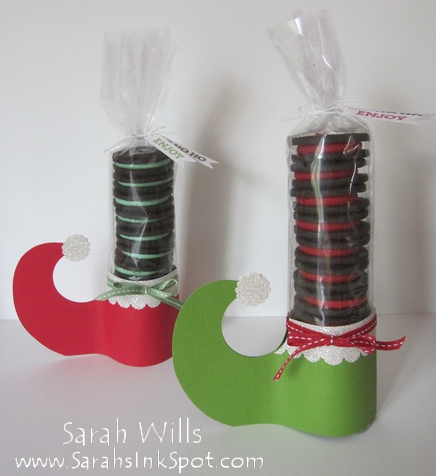 TUTORIAL TIME!!!
WANT A FREE PRINTABLE TUTORIAL & SUPPLY LIST SHOWING YOU HOW EASY IT IS TO MAKE THESE CUTE ELF SHOE TREATS?  CLICK HERE to find it – it will open in a new browser window

ELF SHOE TEMPLATE – CLICK HERE to find my printable Template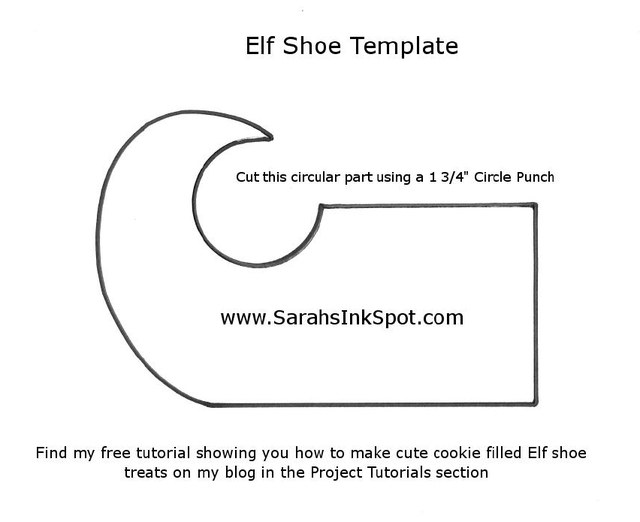 Supplies used to make my Elf Shoes:
Cardstock: Gumball Green Core'dinations (127847), Real Red Core'dinations (129953)
Specialty Paper: Silver Glimmer Paper (124005)
Ribbons: 1/4″ Stitched Grosgrain – Real Red (126875), Wild Wasabi (126873), White Bakers Twine (124262)
Punch: 1 3/4″ Circle Punch (119850), 7/8″ Scallop Circle (129404)
Bag: Cellophane Bag (127850)
Adhesives: Sticky Strip (104294), Mini Glue Dots (103683), Dimensionals (104430)
Cookies: red/green sandwich cookies
Stamps: Oh, Goodie (CM 131889/WM 131886)
Die: Bitty Banners Framelits (129267)
AGAIN, YOU CAN FIND TWO OF THOSE CORE ITEMS NEEDED TO MAKE THESE CUTE SHOES IN THE CLEARANCE RACK MAKING THIS PROJECT SUPER COST EFFECTIVE!!!
CLICK HERE TO ORDER YOUR STAMPIN UP SUPPLIES ONLINE!
BLOG CANDY ALERT!!!
WANT A KIT TO MAKE ONE OF THESE CUTE ELF SHOES?  I HAVE TWO UP FOR GRABS!!!  Everything you need to make one will be included – all items will be pre-cut (except  I cant include the cookies because they won't ship well!)

To enter for a chance to win, simply leave me a comment and let me know which Elf Shoe you prefer – RED OR GREEN – the winners will be chosen by random.org on MONDAY morning…GOOD LUCK!!!
You can enter ONCE A DAY from through midnight on Sunday!