That's right – NEW Paper Pumpkin subscribers who sign up BY FEBRUARY 10th 2014 will receive a FREE set of 2012-2014 In Color Stampin Markers – a $14.95 value for FREE – with their welcome kit – how cool is that?



SARAH'S BONUS: be an early bird and sign up using my link below BY JANUARY 25th 2014 AND I AM GOING TO GIVE YOU A FREE GIFT too!!!
YOU get to CHOOSE one item for FREE from the selection below – but hurry – I only have one of each available making this strictly first come, first served – want first choice?  Sign up fast and once you do, be sure to email me to let me know which freebie you would like…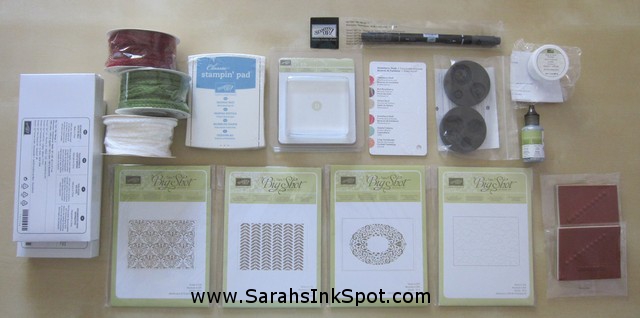 Shown above are: Sweet Stitches & Deck the Halls Designer Fabrics; Cherry Cobbler/Old Olive/White Sweater Trims, Vintage Wallpaper/Vine Street/Holiday Frame/Cloudy Day Embossing Folders, Marina Mist Ink Pad, size D Clear Block, Black Marker, Heat & Stick Powder, Silver Glitter Glue, Simply Pressed Clay Molds, 2013-2015 In Color Color Coach, 2 Clear Mount Stamps (one says 'jots & thoughts' and the other is a row of dots) – you get to choose ONE of these for free when you subscribe with me by January 25th!
Once you have joined, every month you get a package delivered right to your door containing EVERYTHING you need to complete paper crafting projects – it comes packaged in a sweet box, and inside are all the stamps, ink, paper, and accessories you need to create projects like cards, journals, décor, and more!  And even better, everything is pre-cut, color co-ordinated and measured – all you have to do is the FUN bit of putting it all together!  These kits would be fab to take on road/plane trips too!
Stampin Up gave a sneak peek of the kits coming out soon and they are are absolutely FABULOUS – don't miss out – Join today, give it a try and await your monthly happy mail packages!
 
How do you subscribe and get your Free Markers from Stampin Up & your Free Gift from me?
You MUST use that link to subscribe because it is linked to me
It should automatically show me as your demonstrator but if you have to choose a demonstrator be sure to pick me – Sarah Wills from Volente Texas – to ensure you get your freebie!
Then click on 'SUBSCRIBE' that you see at the top – follow the directions to register and voila – you are done – and then sit back & await your first kit that contains your Free Markers
Once you have completed the subscription process, please email me by clicking HERE to let me know along with your choice of free item from the photo above
PLEASE NOTE – to get the free markers from Stampin Up and free gift from me, you MUST click on the 'subscribe' button – if you click on the 'trial' or 'try it' button then you will not receive a freebie because they are one-off kits and that is NOT the same as subscribing – you have to subscribe in order to get your freebie!
IF YOU SUBSCRIBE, RECEIVE YOUR FIRST KIT & FREE MARKERS AND THEN DON'T WANT TO CARRY ON – NO PROBLEM – you can cancel AT ANY TIME WITH NO PENALTY – you keep your first Kit & the free Markers and have no further obligation to purchase further kits – try it – you have nothing to lose and a whole lot of delight to gain!!!
CLICK HERE TO SUBSCRIBE & GET YOUR FREE MARKERS & GIFT!
GET A PACK OF FREE MARKERS & A FREE GIFT…