Well today he says 'Woo-hoo'!!!  My kids absolutely LOVE the song 'What does the fox say' along with it's whacky video – if you haven't see it you can find it by clicking HERE
It's a hoot but I warn you – that catchy song will be in your head for the next day at least!!!
I was listening to that song this morning and realized that we have a brand new stamp set in the Occasions Catalog that features an adorable fox along with other cute forest animals – that set is called Life in the Forest which you can find on pg 21 or online by clicking HERE
 And here is my card featuring that fox along with two other stamps from that set along with other new products featured in the Occasions Catalog…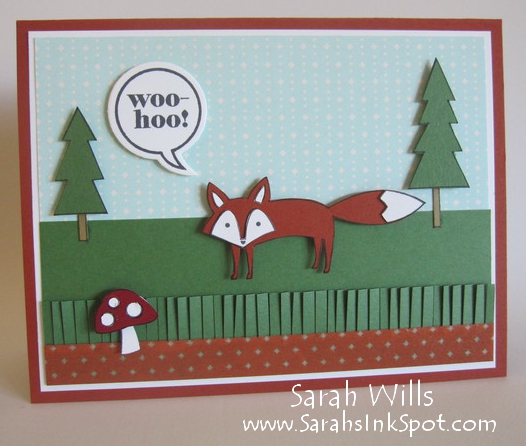 Isn't he CUTE?!  And how about that speech bubble above him?  Isn't that fab?
That is easy to make using a stamp from another new set called Just Sayin' featured on pg 36 of the Occasions Catalog and it's co-ordinating set of dies called Word Bubbles Framelits – I'll tell you more about those in a while…all products that I used on this card (except cardstocks) are from the Occasions Catalog, so page numbers below relate to that Catalog – click on any of the blue words below to go to that particular product in the online store!
The card base…is simply Cajun Craze onto which I layered a piece of Whisper White to give a bold, simply & striking back drop.
The grass & the sky…the sky is simply a piece of patterned paper from Retro Fresh DSP (pg 19) and the grass is a piece of Garden Green cardstock.
The blades of grass…isn't that a great look?  I used another strip of Garden Green, fringed it and adhered it to the bottom of my card…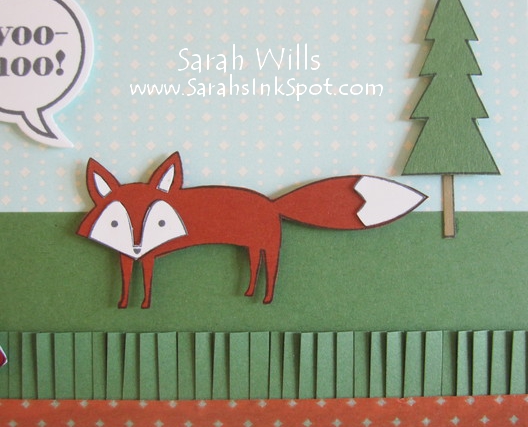 How do you make a fringe like that?  It is SUPER easy to do using Stampin Up's brand new Fringe Scissors (pg 31) – at $9.95 they are a fab price and you can cut a fringe like this in literally seconds – simply take your cardstock or paper, decide how deep you want your fringe to be (you can cut up to 2 1/4″ with these scissors), draw a pencil line at the depth you want and then simply use those fab scissors to cut down to the line – and this is what you will have…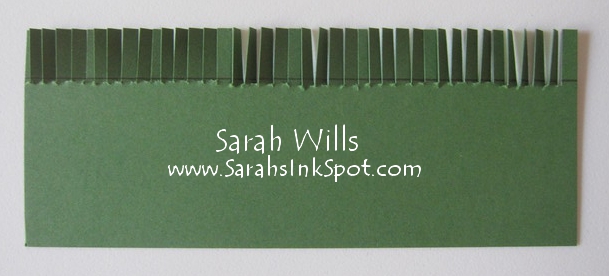 I then added this strip to the bottom of my card and used a piece of Retro Fresh Washi Tape (pg 19) as a cool edging.
The trees…I decided to do some paper piecing for these and if you've not done that before, it's a great alternative to coloring in images – all you need is a sharp pair of Paper Snips and you are set.
I stamped my trees onto a piece of Baked Brown Sugar cardstock and cut them out – I stamped my trees again but this time onto a piece of Garden Green cardstock and cut those out – I adhered the brown pieces to my base using a Glue Pen and then attached the green tree part on top using Dimensionals for a 3-d look…
The fox…I just love how he turned out!  Again, I paper pieced him using Cajun Craze & Whisper White cardstocks and added him to my card using Dimensionals.
The speech bubble…I used the 'woo-hoo' stamp from Just Sayin' (pg 36) and used a perfectly co-ordinating die from Word Bubbles Framelits (pg 36) with my Big Shot to cut it out…
SARAH'S NOTE: and did you know that you can BUNDLE UP AND SAVE 15%when you purchase these two items together?  That's right – buy Just Sayin' stamp set with Word Bubbles Framelits in a bundle and get 15% off!  click HERE to find those Bundles!
Click on the picture below for a larger look at those stamps in Just Sayin' – there are some very cool sayings!  Available in both clear & wood versions, here are the order details: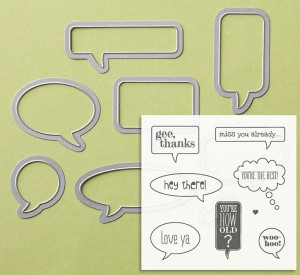 Finishing touch…I thought I had finished my card but decided it just needed one more embellie – and so I decided to add a cute toadstool to the bottom, stamped using another stamp from Life in the Forest and paper pieced it together.
I just LOVE how this cute card turned out – I made it for a tween girl's birthday this weekend and hope that she will love it!
Speaking of furry four legged friends with bushy tails…one of ours had some attitude earlier…he wanted his special food (Fancy Feast!) that one of the girls gives him when she gets home from school…he didn't want to wait…but I wasn't going to give in…so here he is pouting…LOL…he is such a pretty cat…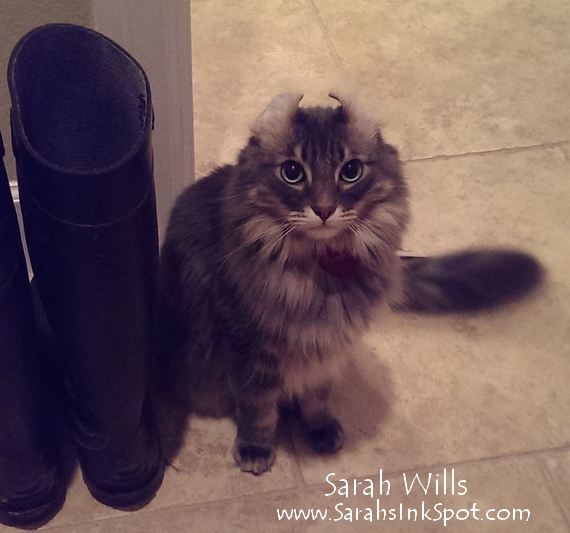 Supplies used to make this card:
Stamps: Life in the Forest (CM 133851/WM 133848), Just Sayin' (CM 133203/WM 133200)
Cardstock: Whisper White (100730), Cajun Craze (119684), Garden Green (102584), Cherry Cobbler (119685)
Ink: Stazon Black  (101406)
DSP: Retro Fresh DSP (132993)
Washi Tape: Retro Fresh (133001)
Die Cutting: Word Bubbles Framelits Dies (132968), Big Shot (113439)
Scissors: Fringe Scissors (133325), Paper Snips (103579)
Misc: Glue Pen (100425), Dimensionals (104430)
CLICK HERE TO ORDER YOUR STAMPIN' UP! SUPPLIES ONLINE!
What does the Fox say about Life in the Forest?