Today I wanted to show you a card that I made that uses some of my absolute favorite new versatile products featured in the new Catalog…
What are they?  They are Typeset Specialty DSP, the camera stamp called Snapshot, the beautiful new Venetian Crochet Trim AND the fab hip & trendy stamp set @SoSocial…
And why are they amongst my favorites?  They are ALL so incredibly versatile – I love versability because it equals BIG value for money AND they are all low priced for how & what you can use them for!
Here is my card…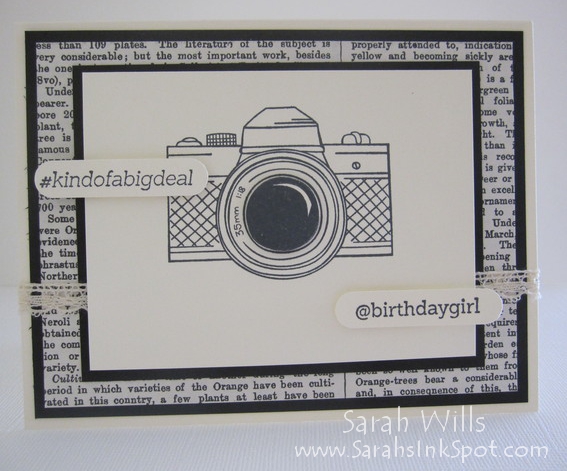 Isn' that cool?  I love h0w black & vanilla work so well together to give anything a bit of elegance…
The card base…is Very Vanilla onto which I layered a piece of Basic Black.
The background vintage book paper…it is one of the designs featured in the pack 'Typeset Specialty DSP' that you can find on pg 164 and that pack features 24 – yes – TWENTY FOUR – sheets of double sided patterned papers!  This is double what a normal pack of DSP contains and priced at $12.95, each sheet costs just 53c!
I used it here to create a background to pull the vanilla and black colors from the card base and inks – I wanted to show you that whilst it appears at first glance that these 'vintage' patterns could only be limited to certain cards, how it is used on this card shows you that you can use it on cards for ALL ages and occasions – birthdays, weddings, graduations, school events…endless uses!!!
Here are the patterns that you get in this pack…click on the photo below for a closer look…

There are also map designs perfect for scrapbooking trips, you can die cut or punch shapes out of the designs to create embellishments, die cut or punch layering flower shapes with a bright button on the center to create a focal point – the possibilities are endless for this bargain pack of papers!!!
The camera image…it's big, bold and fun!  That image is made using a single stamp called 'Snapshot' that you can find on pg 167.  You might have skipped over it because it is featured on a page with stamps that you can color using the new Blendabilities Markers and if you are not into coloring images you might think that Snapshot is not for you…
BUT how I have used it on this card shows you how simple and striking it is simply stamped using Black Ink – that's all – black ink and wow what a feature!  Want to add some definition?  Stamp it again and punch out that lens using a ¾" Circle Punch (pg 221) like I did and add it using a Dimensional to make it pop out!  Click on the photo below for a closer look…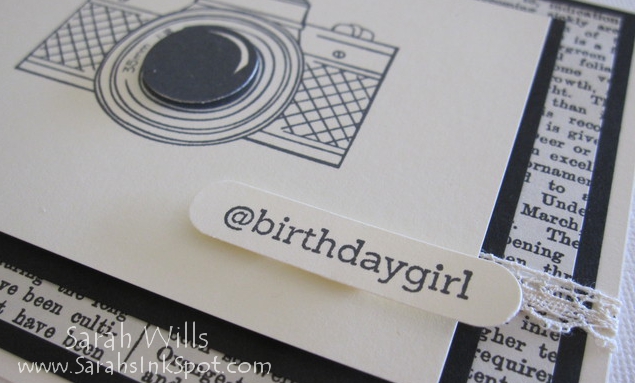 Snapshot has SO many uses…you can use it to make cards for all occasions – it is great to use for masculine cards (rather than a boat or car image!) – and it can be used when making cards for all ages – from kids through the elderly – and for scrapbooking your trips & events – and that is why I love this stamp!
The beautiful lace trim…is called Venetian Crochet Trim that you can find on pg 206 – at first glance you might think it higher priced at $6.95 for a 5 yard roll BUT a little goes a very long way!  On this card I wanted to demonstrate this and show you that you don't need to put a big length across your card fronts – this card uses just a 3" piece that I cut in half and tucked in a piece on each side – you still get that beautiful ribbon look on your card but without the cost!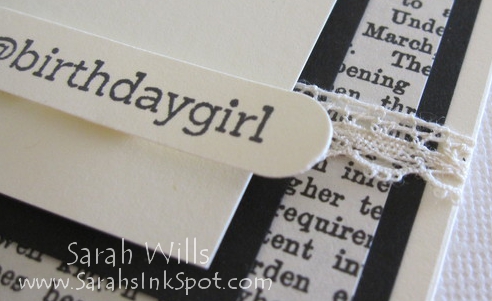 The cool hashtag and @ sentiments…they are both from the stamp set @SoSocial that you can find on pg 37 – you might have skipped over this set because you might assume it's just for the young audience – but take another look – there are sentiments for all occasions in there – and we all know kids, tweens, teens, right?
And if you are a Grandma or Great Aunt, imagine making cards using these sentiments for those younger people in your family – you will be the hippest and trendiest card-maker or Grandma on the block – how awesome would that be?
I punched out those sentiments using one of my main staple punches – Word Window (pg 222) and added them to the card base using Dimensionals.
I love love love these new products – and I can't wait to use that camera with some scrapbooking projects I have in mind!
Supplies used to make this card:
Cardstocks – Very Vanilla (101650), Basic Black (121045)
Stamps: Snapshot (133812), @SoSocial (CM 134192/WM 134189)
DSP: Typeset Specialty (133704)
Punches: Word Window (119857), 3/4″ Circle (119873)
Ribbon: Venetian Crochet Trim (134581)
Misc: Dimensionals (104430)
CLICK HERE TO ORDER YOUR STAMPIN UP SUPPLIES ONLINE!