My absolute favorite item featured in the Holiday Supplement is the Many Merry Stars Simply Created Kit and you will not believe how many beautiful stars you can make using it…
You read the blurp in the brochure and find out it makes 26 3-D stars, right?  Well nothing prepares you for exactly what kind of stars this kit makes until you see all of the beautiful finished stars in real life…
For an idea of scale, the large star at the back measures 15″ wide – WOWZER – this kit is AMAZING value for money at just $25.95 – THIS MAKES EACH STAR JUST $1 EACH!!!
Here they all are…EVERYTHING you need to make these stars is included in that kit…click on the photo below for a BIGGER picture & much better view…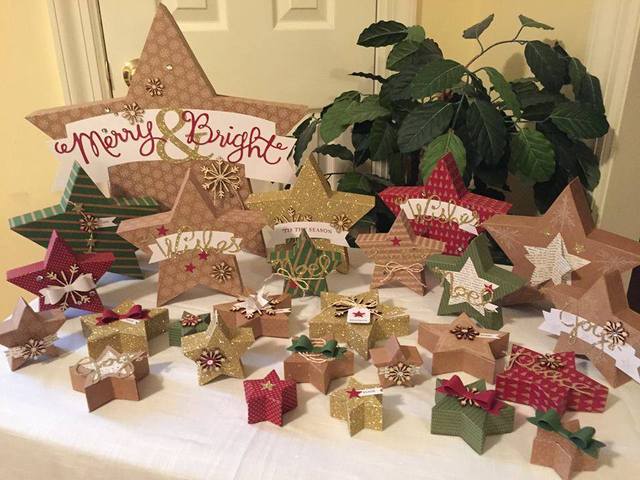 Order details:
AND REMEMBER – THIS KIT IS ONLY AVAILABLE WHILST SUPPLIES LAST – IF YOU WANT ONE, ORDER TODAY TO AVOID DISAPPOINTMENT!
Want to be tempted more LOL?!  Check out these cool videos from Stampin Up showcasing this kit…you are going to need to order one!
This one showcases the Kit…
And this one shows you additional ideas…
I hope this inspires you to get your hands on one of these Kits – they are so much fun to make, look absolutely amazing and are sure to be a huge hit with everyone who sees them!
CLICK HERE TO ORDER YOUR MANY MERRY STARS KIT BEFORE IT'S TOO LATE!
Many FABULOUS Stars – wow!!!