You read it right – this project uses a Chick Feeder and with it, a very different way to present your Halloween candies!!!
This works great with candy corn and M&M sized candies – the holes give you great access to get at those candies and the filled jar ensures that the bottom tray stays full!  But I warn you…it makes those candy corn irresitable to eat LOL!
AND this is a very economical dispenser too – I found the base on amazon.com for just $6 including shipping and onto it you simply screw a quart sized preserving jar – easy, quick to put together and what a novel gift for a friend or teacher!
Here is my Candy Corn Dispenser…isn't that fun?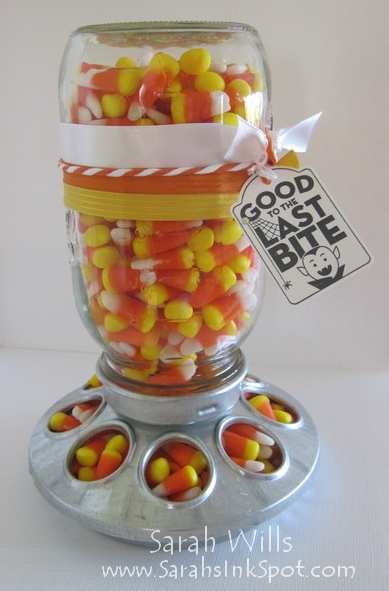 LOVE LOVE LOVE this – it makes me smile every time I look at it!  SO much so that it is now sitting down on the bar between my kitchen and the family room inviting all who walk past it to grab some…where the kids are concerned, I might be regretting this later LOL!!!
The base…is a galvanized steel feeder base for birds and it is food safe – I found it on amazon.com for around $6 (and it ships for free!) and it arrived to my door really fast!  If you want to get one, CLICK HERE to find it – you could get it in time for Halloween!  Please note – it does not include the jar…
The jar…is a quart sized preserving jar – I found it in my local grocery store and got a pack of 12 of them for $11 which is also a great price (I know that Walmart carries them too) – pint sized jars will also fit onto this feeder but the quart size looks better!
Sarah's Note: BE SURE to get jars with 'standard' openings – the 'wide' opening jars do not fit this feeder base!
Then simply fill your jar with candy, screw on the base and there you have your dispenser ready to go!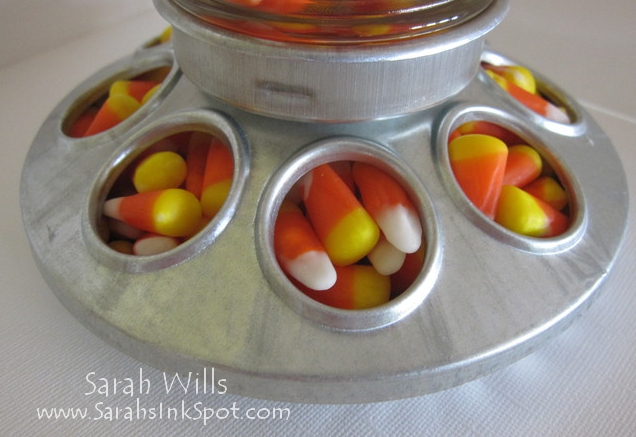 But of course I couldn't leave it bare and just had to embellish it with some Stampin Up goodness…
The ribbons…so I dug out some ribbons and found some perfect candy corn colored ones!  All can be found on pgs 206-7 of the Catalog and I used:
134549 5/8″ Whisper White Satin
133669 3/8″ Tangelo Twist Stitched Satin
133671 3/8″ Hello Honey Stitched Satin
I wrapped them around the jar in layers and tied a knot – easy to get a great look!
The tag…is stamped using a stamp from Merry Everything and punched out using the perfectly co-ordinating Note Tag Punch (find both on pg 13 Holiday Catalog)…BUNDLE UP & SAVE 15% WHEN YOU BUY THEM BOTH TOGETHER – details are below!
The finishing touch…I added a little Rhinestone to the top of the spider's web and added the tag to the jar using a piece of White & Tangerine Two Tone Twine (pg 45 Holiday Catalog)…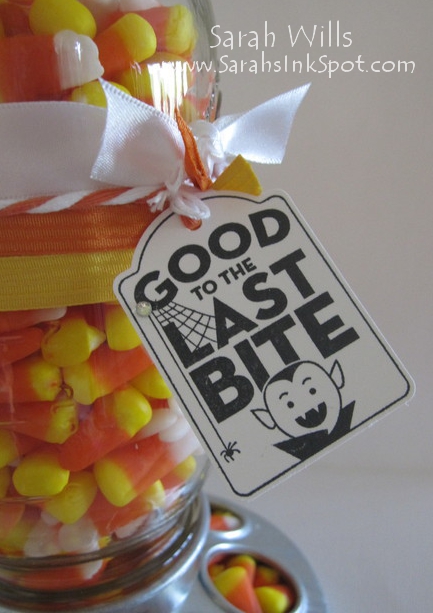 I am planning to make a couple more for teacher gifts – I love how these turned out and can see myself using this idea year round!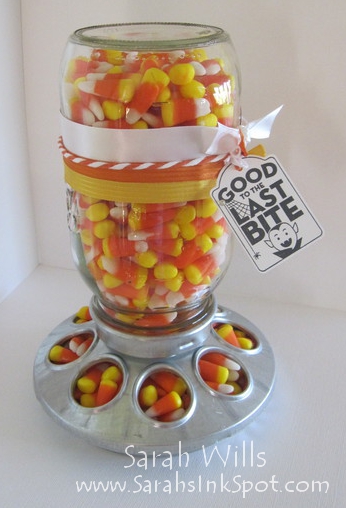 Here are the images that you get in the stamp set I used today – Merry Everything – and the shape that you get from the Note Tag Punch – click on the blue words below to view in the online store…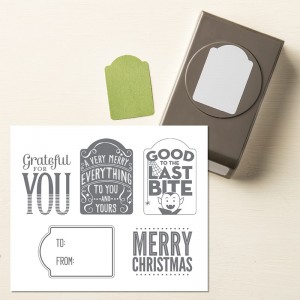 Supplies used to make today's project:
Stamp: Merry Everything (WM 135068/CM 135071)
BUNDLE: Merry Everything (WM 137635/CM 137636)
Punch: Note Tag (135860)
Ribbons: 5/8″ Whisper White Satin (134549),3/8″ Tangelo Twist Stitched Satin (133669), 3/8″ Hello Honey Stitched Satin (133671)
Ink: Memento Black (132708)
Misc: Bird Feeder Base, Quart Preserving Jar, White & Tangerine Tango Two Tone Twine (135838), White Bakers Twine (124262), Rhinestone Jewel (119246)
 CLICK HERE TO ORDER YOUR STAMPIN' UP! SUPPLIES ONLINE!
Chick Feeder re-purposed as a Halloween Candy Corn Dispenser!