Now this is a one cute & simple treat to make but I think it looks absolutely fantastic!!!
You can use it as a gift all on it's own, or use it as a cool witch-y tag for a larger treat – either way, it is sure to be well received!
All you need to make it is a licorice stick, a cello tube and some patterned paper – and I put together a FREE PRINTABLE TUTORIAL for you to make it easy for you to make some of your own – find the link to it in the post below!
Here is my Witches Broom Treat…I made two – one orange & one purple and I will gift them along with a couple of halloween colored nail polishes – you can see piccies below of the finished sets…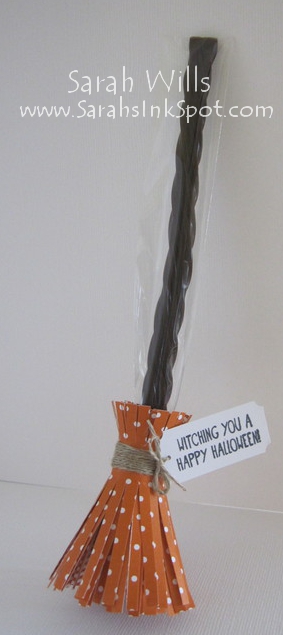 Isn't it CUTE?!  I absolutely love it and I promise you it is quick, easy & fun to make – you could easily make a bunch of these for class treats!
The broomstick…is simply a black Twizzler that I popped into a 1″ x 8″ Cello Tube Bag – find those perfect sized tube bags on pg 200 and in the online store by clicking HERE – and that is literally all you do to make the broomstick!
The broom…is a piece of 2 1/2″ x 12″ patterned paper – I thought that the polka dotted papers that you can find in Backgrounds Designer Series Paper Stacks (pg 185) are perfect for this:
The paper was scored twice & the fringe was made by using the fabulous Fringe Scissors (pg 215) – if you don't have a pair of those yet you are missing out LOL – I do not know what I would do without them these days!
I then wrapped the paper around the broomstick and finally wrapped around some Linen Thread (pg 206) to give a realistic broom look…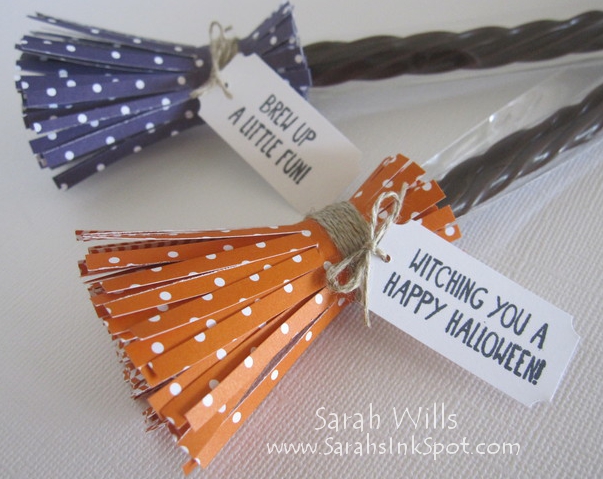 The tags…were made using stamps from Tee-Hee-Hee (pg 47 Holiday Catalog) and punched out using the Ticket Duo Builder Punch (pg 220) – I then pierced a small hole and attached my tag to the broom using a bow for a cute finishing touch.
These are for teacher gifts and so I wanted to add a little something extra to the package – I found some fantastic Halloween nail polish on sale at our local grocery store and popped them into 4″ x 6″ sized Cello Bags (pg 200), tied a bow around the top and added a little bat tag to each (the bat stamp is also in Tee-Hee-Hee and just LOVE how these two items look together…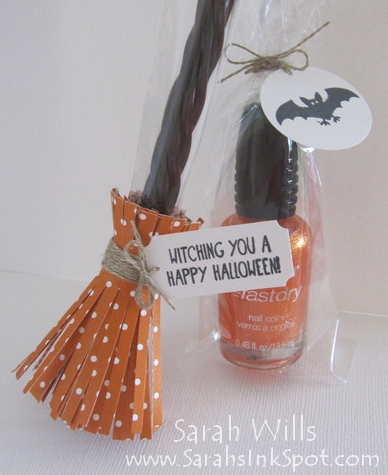 And here they are both together…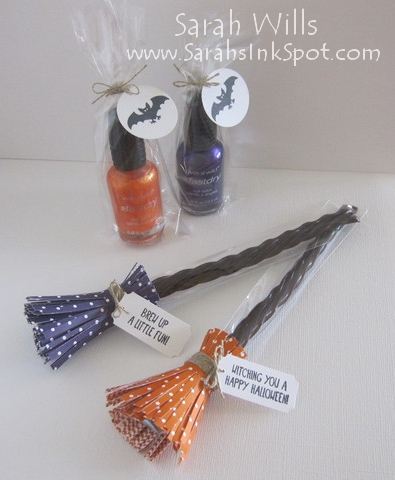 Which color do you prefer?  I am torn between the purple and orange – I love them both!!!
WANT MY FREE TUTORIAL SO THAT YOU CAN MAKE YOUR OWN WITCHES BROOM TREATS? Click HERE to find it in my Project Tutorials section where you will find a printable version too!
Supplies used to make this project:
Stamps: Tee-Hee-Hee (135125)
Ink: Memento Black (132708)
Bag: 1″ x 8″ Cello Tube Bag (124134)
Paper: In Color 2014-16 DSP Stack (133705), Regals DSP Stack (130139)
Scissors: Fringe Scissors (133325)
Punch: Ticket Duo Builder (126883)
Thread: Linen Thread (104199)
CLICK HERE TO ORDER YOUR STAMPIN UP SUPPLIES ONLINE!
Patterned Paper Witches Broom Treat…