That's right – SALE-A-BRATION ENDS TONIGHT –  TUESDAY MARCH 31st – AT 11.50 PM MT !!!  
THIS IS THE LAST DAY TO SHOP OR JOIN AND GET FREEBIES!
This is the VERY LAST DAY you can join Stampin Up for JUST $99 and get to choose $125 worth of items to put in your Starter Kit PLUS a free Project Kit or 2 free Sale-a-bration items!
***  BIG PERK ALERT!!! ***

You get a one time 30% discount on your first order of $150+ placed within the first 45 days of joining – and YES you get Hostess Benefits on that order too – JOIN TODAY and place that order before Sale-a-bration ends tonight and YOU WILL GET SALE-A-BRATION FREEBIES ON THAT ORDER TOO!!!
Demonstrator Pre-order begins early May for the new upcoming Annual Catalog – join now and you can take part in that and get the new stuff almost a month before you can as a customer!
Ready to Join?
DON'T WANT TO JOIN BUT WANT TO SHOP?
This is the VERY LAST DAY you get to choose ONE FREE ITEM FOR EVERY $50 THAT YOU SPEND!
HURRY and get your order in to me ASAP to avoid disappointment!  If you are planning to place an order, please do not leave it until the last minute as I'd hate for you to be disappointed if a problem occurs with the ordering system – this can & has happened in the past with a high volume of last minute orders…
How do you place your order?
WAITING FOR TODAY TO SEE THOSE NEW WEEKLY DEALS BEFORE PLACING YOUR ORDER?   WELL, HERE THEY ARE!
And there are some fantastic ones – the Big Shot Magnetic Platform has $10 OFF and a bunch of other Dies have significant discounts – these items are on sale from today through Monday 6th!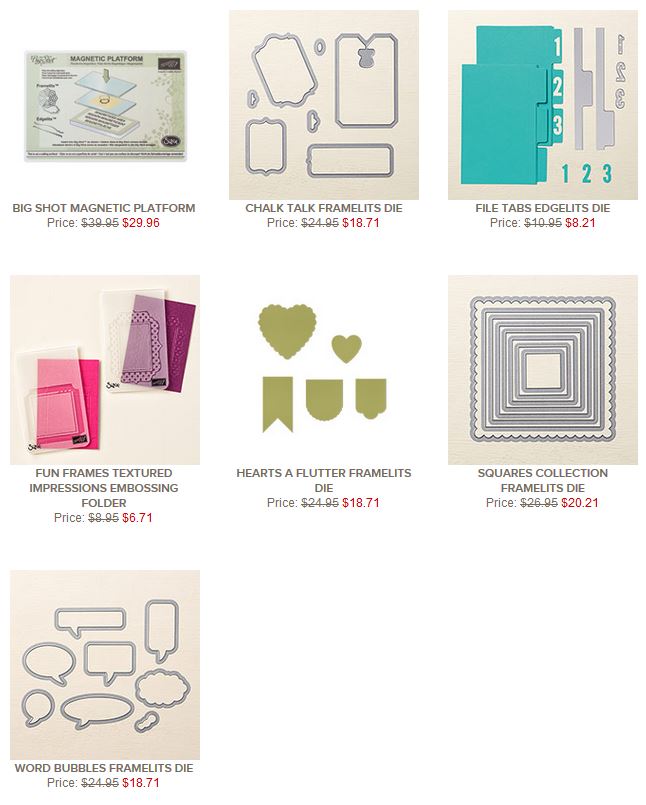 CLICK HERE TO PLACE YOUR ORDER AND GET YOUR FREE STUFF BEFORE IT'S TOO LATE!
SALE-A-BRATION ENDS TONIGHT plus NEW WEEKLY DEALS are here!