I think my absolute favorite Sale-a-bration stamp set has to be Lotus Blossom – that layered flower is just gorgeous and makes for such a striking card front…
And so today I made a very quick & easy card using stamps from that set – you can find it on pg 7 of the Sale-a-bration Brochure – and right now you can get it for FREE with a $50 purchase…
BUT if you want one of these stamp sets – HURRY – it is ONLY AVAILABLE THROUGH 11.50 pm MT TOMORROW – TUESDAY – NIGHT!
Here is my card…that flower is just gorgeous stamped in two different shades of purple…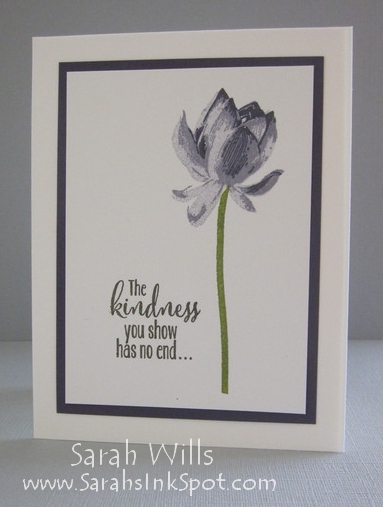 And this card seriously only to0k me a few minutes to make – making it a perfect candidate for making a batch of, to have on hand…
The card base…is Whisper White onto which I layered a piece of Elegant Eggplant – that layer is sized at 4 3/4″ x 3 1/2″ – to give a nice wide white band for a framed looking backdrop.
The stamped images…all of the stamps I used on this card are from the set Lotus Blossom – I stamped the words in Early Espresso ink, the stem in Old Olive ink and the flower in two colors – Wisteria Wonder and Elegant Eggplant.
The flower…is composed of 3 layering stamps – all are numbered making it super easy to know which to stamp first – and all have an arrow attached to them to make it super easy to line each up over the last one…
Now bizarrely you stamp the top image first, then the center image and finally the solid bottom image – it's odd to get your head around LOL but trust me – it works!
I stamped the first image – the dark bits that you see – using Elegant Eggplant ink…
And then I switched to my Wisteria Wonder ink pad to stamp the center layer – which is the medium purple color that you see…
And then used Wisteria Wonder again to stamp the final solid image…BUT to get a paler look on that solid image & more definition, I stamped it off first – this simply means that I inked up my stamp, stamped it down onto a piece of scrap paper – and then stamped it down on top of the other two images – this gives you a more subtle look as you can see here…
The lightest color is from that third stamp – LOVE this look…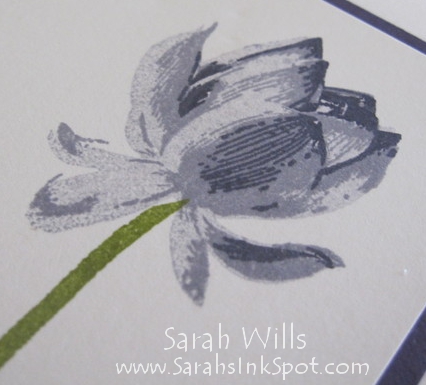 I then added this layer to my card base and voila – DONE – one quick & easy card without any fuss – no Dimensionals, no fussy cutting, no frills – but looks just gorgeous!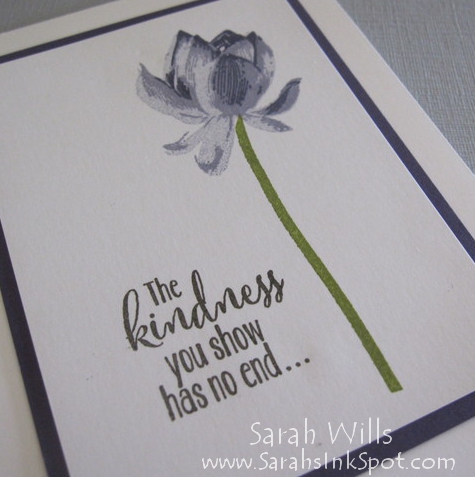 I love that ALL of the stamps that I used on this card are in the set Lotus Blossom – INCLUDING the sentiment – making all of the stamps that I used here FREE – and who doesn't love FREE?!
Find Lotus Blossom on pg 7 of the Sale-a-bration Brochure – which you can also view online by clicking HERE
Supplies used to make this card:
Stamps: Lotus Blossom Photopolymer Stamp Set (139143)
Cardstocks:  Whisper White (100730), Elegant Eggplant (105126)
Inks: Elegant Eggplant (126969), Wisteria Wonder (126985), Early Espresso (126974), Old Olive (126953)
CLICK HERE TO PLACE YOUR ORDER & GET YOUR LOTUS BLOSSOM STAMP SET FOR FREE!
Lotus Blossom in purples…