Have you gotten those gorgeous Butterflies Thinlits Dies yet?  They come in a set of 3 and you can find them on pg 26 of the Occasions Catalog and let me tell you…they are just beautiful!!!
Here is a card that I made a few weeks ago to mail to my customers as a 'thank you' for ordering with me – I added some color and polka dots and just love how it turned out…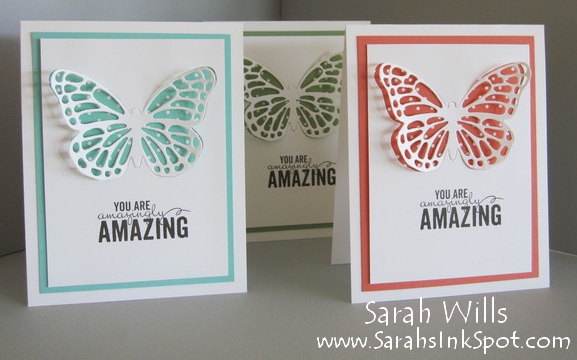 Aren't they gorgeous?  I love how a basic white card just comes to life when you add a bold splash of color!  I just can't decide which color is my favorite!
The card base…is simply Whisper White onto which I layered a colorful layer sized at 3 3/4″ x 5″ to give a nice wide white edge for a framed look…
The colorful layers…the blue layer is Coastal Cabana, the green is Wild Wasabi and the orange is Calypso Coral – fun summer colors!
The butterfly…is made using one of the dies featured in Butterflies Thinlits – and it is die cut directly out of the white layer on the card as you can see here…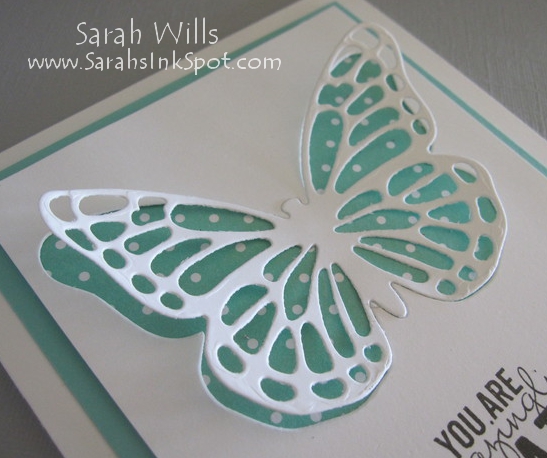 I simply die cut the butterfly shape and then added a layer of co-ordinating polka dotted paper beneath it – that polka dot pattern can be found in the Designer Series Paper Stacks (pg 185) that come in all color families BUT HURRY – THOSE PAPER STACKS ARE BEING RETIRED so if you want any of them, grab em while you can – click HERE to find them!
I then attached the die cut butterfly on top using Glue Dots just down the center so that the wings can fold out.
The words…are stamped using a stamp from the beautiful set Painted Petals (pg 19 Occasions Catalog) and Early Espresso Ink – you can stamp it centrally or to one side – it still looks fab!
I used just one of the dies from Butterflies Thinlits to make my card – here it is along with the other two shapes that you get in this fabulous pack – click on the blue words below to view in the online store…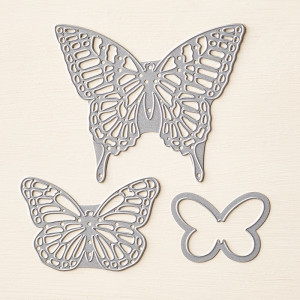 Gorgeous die cut Butterfly + Summer Colors = a beautiful and cheerful card!  Which color is your favorite?  I am torn between the blue and the orange…but then again, the green is nice too…LOL!!!
And this style of card is PERFECT for batch making – you can cut all the layers, do all the stamping & die cutting at the same time, and then assemble at your leisure – whilst watching TV or on a road trip – and this is one of my favorite ways to make batches of customer 'thank you's' over the summer when my girls are out of school and I spend hours sat at various 'kid fun' zones LOL -I then pack them into a bag along with adhesives and off I go…they have fun and I can work!
Here are some of my cut outs for this card…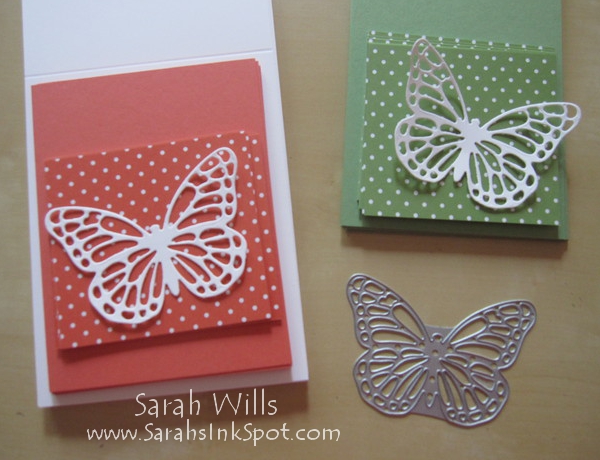 You get the idea…it's quick, easy and a great use of time spent waiting for the kiddos!
Supplies used to make this card:
Cardstocks:  Whisper White (100730), Coastal Cabana, Calypso Coral (122925), Wild Wasabi (108641)
Stamps: Painted Petals (Photopolymer 137146/WM 138819/CM 138822)
Die: Butterflies Thinlits (137360)
Patterned Paper: Subtles Backgrounds DSP Stack (130135), 2013-2015 In Color Backgrounds DSP Stack (133705)
Misc: Glue Dots (103683)
CLICK HERE TO PLACE YOUR ORDER ONLINE!
Beautiful Butterflies with Polka Dots…