Oh my gosh I realized that I have not yet shown you my Founders Circle Swap Card that I made back in September!  
It uses some fab stamps & dies from the Holiday Catalog and was a lot of fun to design and make – although I have to say that making 120 of them took quite a while!
Here is my 2015 Founders Circle Swap Card…a window with a view of a snowy scene…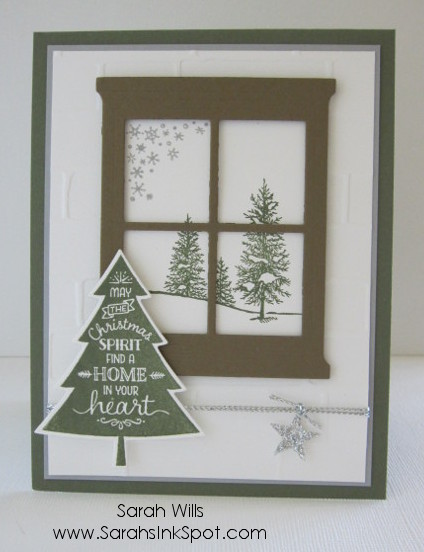 This card makes me happy – I don't know why – perhaps it is because I am wishing for snow this year and because we are at the start of the season, the promise is there that it might happen this year…in Central Texas it only snows every few years…
My card base…is Always Artichoke onto which I layered a piece of Smoky Slate
The brick wall layer…is Whisper White which I textured using the Brick Wall Embossing Folder and wrapped around a piece of Silver Cording Trim twice and finished with a knot
The snow scene panel…the stamps I used are both from Happy Scenes and I stamped the trees in Always Artichoke Ink and the snowflakes in Smoky Slate – I LOVE how that color is silvery!
The window…is Soft Suede and cut using a FABULOUS die that you can find in Hearth & Home Thinlits Dies – and guess what?  You can BUNDLE UP & SAVE 15% when you buy those dies with the Happy Scenes Stamp Set!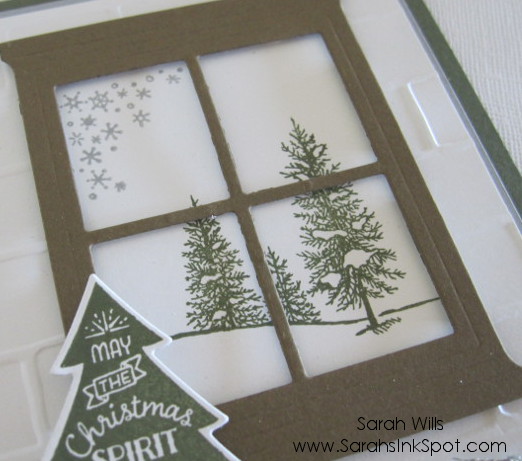 The star…my card had to have some glitter as it is a Holiday card after all, and so I punched a small Star out of Silver Glimmer Paper using a punch from Itty Bitty Punch Pack and added it just below the knot…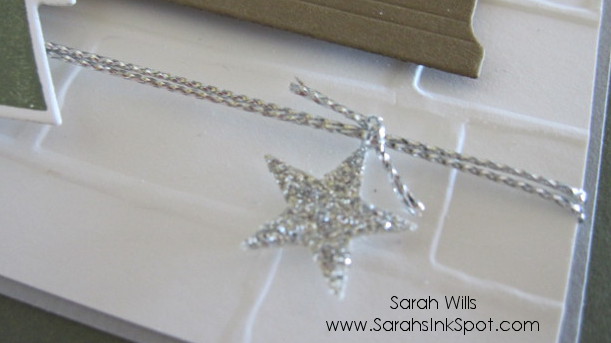 The big tree…is a stamp from the set Peaceful Pines that I stamped in Always Artichoke Ink and die cut using a die from Perfect Pines Thinlits Dies – again, you can BUNDLE UP & SAVE 15% when you buy them both together!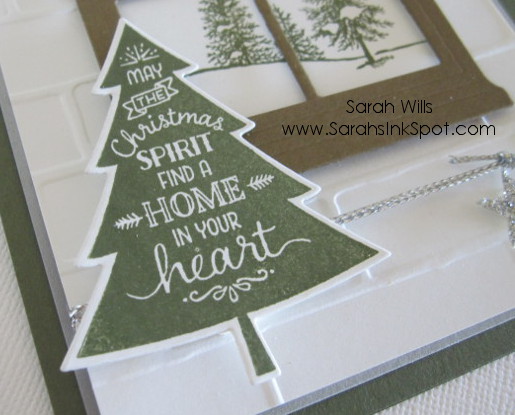 I love how this card turned out and I hope my fellow swappers like it too!  If you haven't tried embossing white cardstock before, you should give it a go – it gives such a subtle but elegant look…
Here are the stamps & dies you get in the Happy Scenes Bundle…click on the blue words to see it in the store…
Here are the stamps & dies you get in the Perfect Pines Bundle…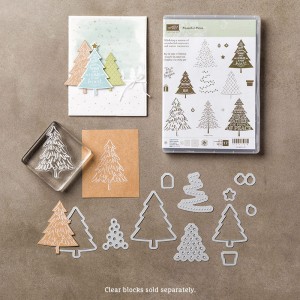 Supplies used to make this card:
Stamps: Peaceful Pines (139728), Happy Scenes (139821)
BUNDLES: Peaceful Pines (140850), Happy Scenes (140853)
Cardstocks: Always Artichoke (105119), Smoky Slate (131202), Whisper White (100730), Soft Suede (115318)
Inks: Always Artichoke (126972), Smoky Slate (131179)
Dies: Hearth & Home Thinlits (139666), Perfect Pines Thinlits (139665)
Embossing Folder: Brick Wall (138288)
Specialty Paper: Silver Glimmer (135314)
Punch: Itty Bitty Accents Pack (133787)
Misc: Silver Cording Trim (139620), Dimensionals (104430)
CLICK HERE TO ORDER YOUR STAMPIN' UP! SUPPLIES ONLINE!
Happy Scenes of Snow & Trees…