That's right – SALE-A-BRATION ENDS TONIGHT – THURSDAY MARCH 31st – AT 11.50 PM MT!
PLEASE HURRY and get your order in ASAP to avoid disappointment! If you are planning to place an order, please do not leave it until the last minute as I'd hate for you to be disappointed if a problem occurs with the ordering system – this can & has happened in the past with a high volume of last minute orders…
How do you order any of the following items AND get your Sale-a-bration freebies?
Click HERE to visit the online store
you earn all Sale-a-bration and Hostess freebies when you order directly online using that link
WHAT ENDS TONIGHT – SALE-A-BRATION:
Shopping:
This is the VERY LAST DAY you get to choose

ONE FREE ITEM FOR EVERY $50 THAT YOU SPEND

!
You get hostess rewards on orders of $150+ too…
AND this is the last day that you get that extra $25 in hostess rewards on orders of $250+ – when your order reaches $250 you choose at least $50 in free products and choose 5 free Sale-a-bration items as well !
CLICK HERE to see a list of the currently available items that you can get for FREE!
Joining:
This is the VERY LAST DAY you can join Stampin Up for JUST $99 and choose $155 worth of items to put in your Starter Kit
That's right – you get $56 in FREE product and your kit also ships to you for FREE!
Once joined, you get a regular discount of at least 20% on ALL of your orders
And from May 3rd you get to order select items (including the new In Colors & hostess sets) from the upcoming brand new Annual Catalog – a month earlier than you can as a customers!
Ready to join? CLICK HERE to join instantly online!
Got questions about joining? Email them to me and I will be very happy to help!
AND TODAY IS THE LAST DAY TO GET A FABULOUS DISCOUNT ON A 3 MONTH PREPAID PAPER PUMPKIN SUBSCRIPTION!

3-Month Prepaid Subscription (137859) regular price $59.85 – ON SALE FOR JUST $55! Save on a 3-month prepaid subscription and instantly get ONE FREE Sale-a-bration item – click HERE to find it!
12-Month Prepaid Subscription (137861) – $215.40! Take it to the next level with a 12-month prepaid subscription. Save $24 a year with the everyday awesome price, earn Stampin' Rewards – YES – YOU GET TO CHOOSE $21.54 IN HOSTESS REWARDS WITH THIS PURCHASE, and instantly qualify for 4 FREE SALE-A-BRATION ITEMS TOO!
As soon as your order is placed, you will receive an email with your redemption code(s) – you simply go the mypaperpumpkin website, pop your code in along with your mailing address, and you are set – you will automatically receive the April kit
And another BIG perk when you subscribe by April 10th:
To celebrate the fact that Stampin Up have just shipped the one millionth Paper Pumpkin Kit, ALL CURRENT SUBSCRIBERS will receive a bonus FREE STAMP SET with their April Kit! It is called ALL ABOUT EVERYTHING and when you purchase a prepaid subscription today and input your code into the website by April 10th, you will receive it too!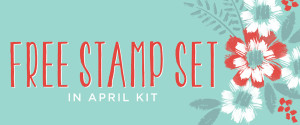 WANT TO TRY IT?  Click HERE and simply add the item code to your order!
If you have any questions at all please email me and I will be very happy to help.
Enjoy those freebies and Happy Last Day of Sale-a-brating!
With warm wishes,
Sarah
TODAY is the LAST DAY OF SALE-A-BRATION!