ABSOLUTELY ALL ITEMS ON THESE LISTS ARE ONLY AVAILABLE WHILST SUPPLIES LAST – PLEASE get your orders in NOW – RUN DON'T WALK TO GET WHAT YOU WANT before items sell out and are GONE FOR GOOD!!!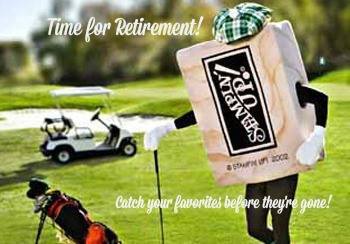 Where do you find ALL of the RETIRING ITEMS?
Click HERE for the pdf lists to save to your computer or print out
SOME ARE DISCOUNTED AT UP TO 50% – BIG SAVINGS!
Shop, check out and have your order delivered directly to you – and YES – on orders of $150+ you will get Hostess Rewards too!
Be fast – especially if you want any ink pads, refills or cardstocks in those retiring IN COLORS – trust me – they will start selling out in hours!
RETIRING STAMPS – available WHILST STOCKS LAST:

RETIRING ACCESSORIES – available WHILST STOCKS LAST:

WANT A FREE COPY OF THE BRAND NEW ANNUAL CATALOG?
SIMPLY PLACE AN ORDER DIRECTLY ONLINE OF *$25+ BY APRIL 30th 2016 USING ANY OF THE LINKS ABOVE OR BY CLICKING HERE and you will AUTOMATICALLY receive a FREE copy of the brand NEW upcoming Catalog mailed to your door!
Included will be samples of the new In Colors, brand new Papers, Ribbons & Embellishments – plus a handcrafted Bookmark – and sheet of coupons for use during the Stampin Up year!
Please note – only one catalog per customer – Online Orders only placed using a link to MY online store qualify
The new Annual Catalog goes live in early June – I will receive my shipment of Catalogs in early-mid May – as soon as I have them, they are packaged up and go out to you!
If you have not ordered to secure your FREE CATALOG and would like one, be sure to place an order by APRIL 30th TO ENSURE that you get your FREE copy!
WANT A COUPON FOR A FREE INK PAD IN THE COLOR OF YOUR CHOICE?
When you place an order with me THROUGH APRIL 30th 2016 and you use this Host code on your online order of *$25+ – 7NWZ93HS – you will receive a coupon for ONE FREE INK PAD in the color of your choice redeemable on your next order with me…
PLUS you will receive an extra freebie with your thank you card too!  This is my own offer therefore you MUST place your order using one of the links to my online store above.
* If your order is $150 or over, please do NOT use this Hostess code as you will get your own hostess rewards to spend yourself – this code is for use on orders of $25 up to $149 – BUT if your order is $150+ please know that you too will be receiving an extra little freebie with your thank you card
The RETIRING LISTS are here with some items DISCOUNTED BY UP TO 50%!