Oh my I just LOVE the Pumpkin Pie Glimmer Paper – SO sparkly and fun to use – have you tried it yet?  If not, you should pop it onto your wish list – it is just gorgeous and simply sparkles!
I used it today on a Thanksgiving card to create the main focal point and wow does it do that – it's hard to capture the true sparkle that this paper has but I've tried!
Here is my card…see that leaf?  Simply a die cut out of the top piece of brown cardstock to allow that beautiful orange glitter paper to shine through…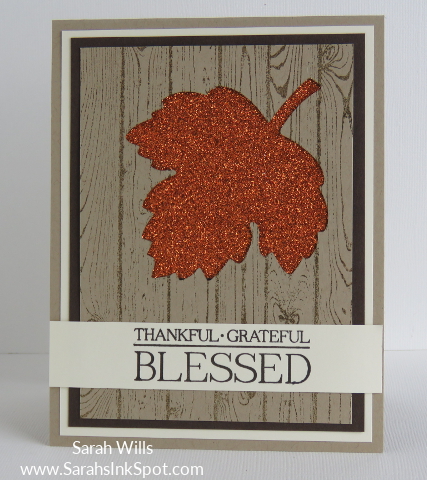 You will find a link to the printable/downloadable Project Sheet detailing all measurements, colors used & instructions on how to make this card below
The thing I love about this card is that it looks complicated because it has a bunch of visual texture going on, but it really isn't at all – it's actually a really fun card to make as it incorporates background & small stamping, a little die cutting and glitter – GLITTER that you can't spill on the cat or into your coffee – LOL – yep, done both – my cat runs away when he sees the glitter jars  :-)
Here is that big beautiful leaf…seriously, you have to see this paper in real life – you can find it on pg 55 of the Holiday Catalog or by clicking HERE – it is ALOT more glittery and sparkly than I can capture for you!
I cut out my leaf shape using a die from Leaflets Framelits Dies (pg 193 Annual Catalog) and the wonderful thing about these dies is that you can position them ANYWHERE – this means that you can cut your shape wherever you like on your piece of cardstock or scrapbook page – it's like freedom!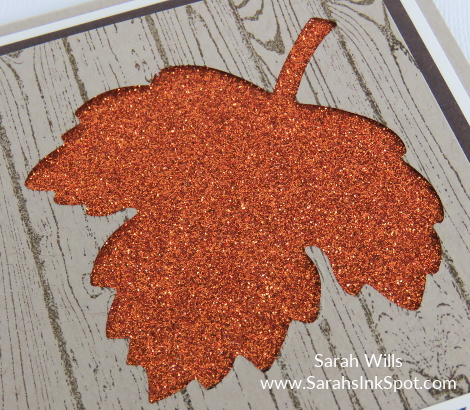 I used another product from the Holiday Catalog on this card – the sentiment is from Petals & Paisleys Stamp Set (pg 47) and because this particular stamp is big and bold, it holds up well on it's own…
And as you can see, I decided to have my stamped banner cover the entire width of the card – you can get very different looks on your cards by varying the width of this type of layer – play around and try out a few different lengths when you next make a card – it is amazing!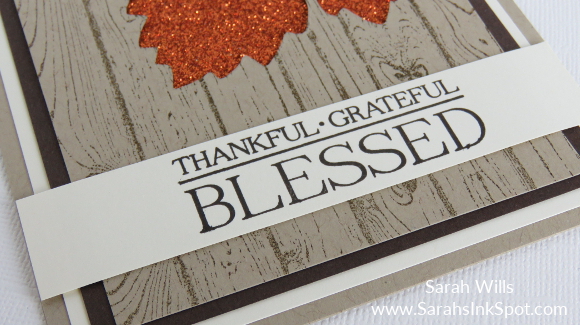 I kept to some basic Fall colors – Crumb Cake, Very Vanilla and Early Espresso with a little Soft Suede thrown in the mix there too – and I love how the background stamp ties right on into leafy theme – that stamp is called Hardwood (pg 125 of the Annual Catalog)…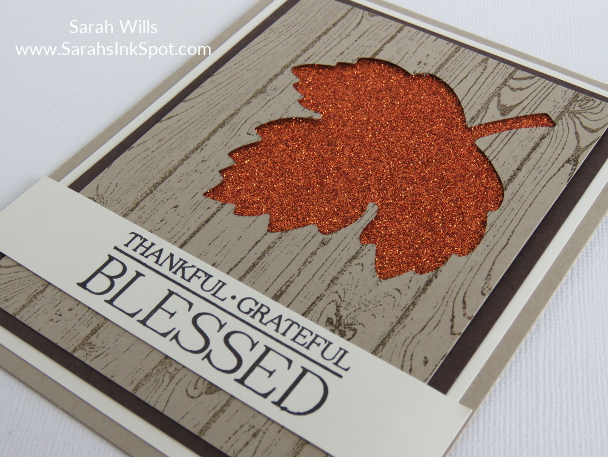 WANT MY FREE PROJECT SHEET FOR THIS CARD?  Click HERE to find it – then you can download it or print it out to keep for easy reference!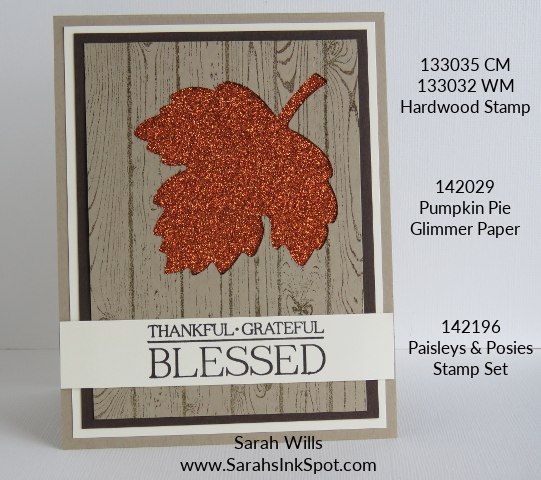 Here are the supplies I used to make this treat holder – click on any of the products below to find them in my Stampin' Up! online store:
Paisleys & Posies Photopolymer Stamp Set

Price: $21.00
Price: $15.00
Price: $20.00
Price: $5.00
Price: $25.00
Crumb Cake 8-1/2″ X 11″ Cardstock

Price: $8.00
Very Vanilla 8-1/2″ X 11″ Cardstock

Price: $9.00
Early Espresso 8-1/2″ X 11″ Cardstock

Price: $8.00
Soft Suede Classic Stampin' Pad

Price: $6.50
Early Espresso Classic Stampin' Pad

Price: $6.50
Price: $7.00
Thanks for stopping by!

MY OCTOBER HOST CODE – WVYMGU44 
When you shop using the link to my online store (see the link below), pop that code into the Host Code box at the bottom of your Shopping Bag and I will be mailing you a sweet FREE gift from the Holiday Catalog along with your Thank You card – in a world full of bills in the mailbox, who doesn't love to receive a little happy mail? 
What's the gift?  You get to choose either a FREE pack of MINI JINGLE BELLS or FANCY FROST SEQUINS!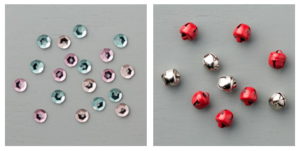 Once your order is placed simply email me at sarah@sarahsinkspot.com and I will order your gift for you – then watch your mailbox for some happy mail!
If your order is $150 or over, please do NOT use this Host Code as you will get your own rewards to spend on yourself – and BONUS – I will still be mailing you your choice of gift!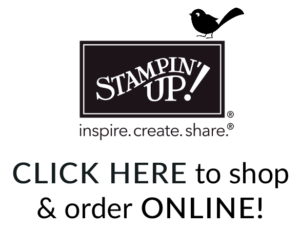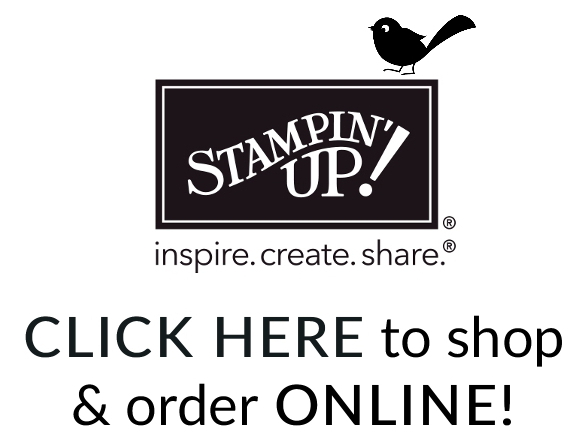 Glittered Leaflets on a Hardwood background…