We had a brief glimpse of Fall weather last week and it was such a nice early break from the heat!  And it really got me thinking about fall projects and so I dug out some fun new Holiday Catalog toys and got to work…
Of course we are coming into Pumpkin Spice season and when I saw this cute new stamp in the set Merry Cafe on pg 46 of the Holiday Catalog I just had to use it – I designed this card to be my customer thank you card for September – place an order with me this month and you'll get one in your mailbox too along with some samples!
Here is my card…we have a bit of a coppery fall theme going on here…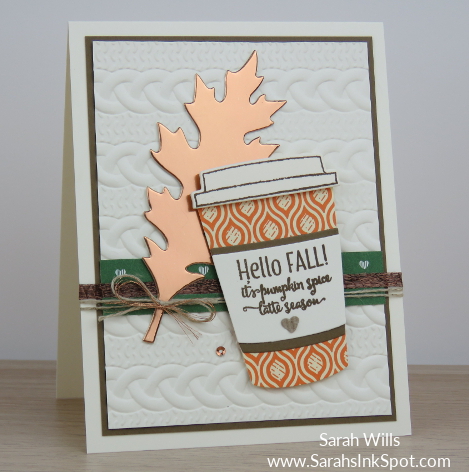 I have a Project Sheet for you detailing all measurements, the colors I used & full instructions on how to make this card below – just look for the red words to find it.
I used vanilla, browns and oranges on this card and for the card base I used the new Very Vanilla Thick cardstock – it is more heavy duty than the regular vanilla and stays standing really well – I highly recommend it!
See that gorgeous deep texture?  It is made using the fabulous Cable Knit Dynamic Embossing Folder and I love the sweater look that this adds to the card – it really helps get that fall theme going…
You might recognize that coffee cup from my project last week – yep, I cut a few of those shapes whilst playing with papers and realized that this pattern would work really well on this card, so on it went!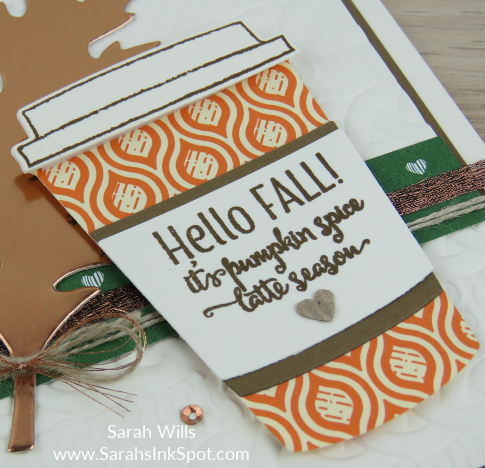 The lid and band were stamped using stamps from Merry Cafe and that little heart is just precious – I punched it out of a Corrugated Element using the Cookie Cutter Punch – you can use those little textured elements in so many ways…
I used four different copper products on my card and here is a look at my favorite – that beautiful leaf!  You can see how much it shines in the light in the top photo but then with a little change in light, a little more dull – whatever look you prefer, it is just gorgeous and coppery!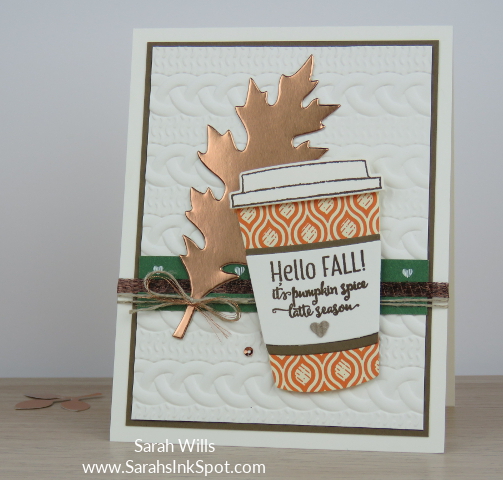 I cut it out of a Copper Foil Sheet using a die from Leaflets Framelits and just love the backdrop that it gives to the cup.
Sarah's Tip:  when die cutting foil sheets like the copper above, place your die onto your foil sheet in the Big Shot and then put a piece of wax or parchment paper over the top of the die – this will not affect the thickness of your sandwich but will protect the shiny surface of your foil sheet and will prevent scratches from your plastic cutting plate transferring on to it.
Did you notice how the cup is 'falling' across the leaf?  That's a little pun on the stamped word 'fall' right there!
Here is a close up of the bows – I tied a bow from Linen Thread and over it added another made using Copper Metallic Thread – I used four strands of Copper Thread to give a fuller, whispier bow…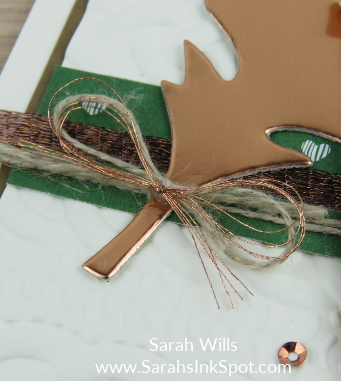 And then I popped a copper sequin on for a little finishing touch…I LOVE using our sequins a lot but I only put one on this card despite my desire to use more – I feel like the painter Bob Ross where he always painted more than one tree or a bush because they always need a 'friend' as he called it – I always want to give each sequin a friend but it just didn't look right on this card so I had to refrain – it was tough not to add more LOL!
WANT MY PROJECT SHEET FOR THIS CARD?  Click HERE to find it – then you can download it or print it out to keep for easy reference!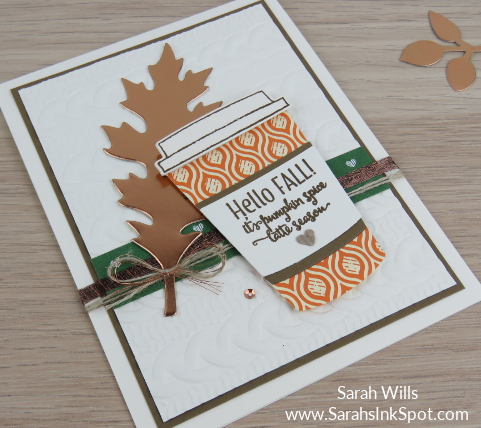 Here are the supplies I used to make this card – click on any of the products below to find them in my Stampin' Up! online store:
Thanks so much for popping by – happy Tuesday!

Current Specials:
USE MY SEPTEMBER HOST CODE to get yourself a FREE PACK OF HOLIDAY CATALOG EMBELLISHMENTS of your choice – click HERE to find out more!