Welcome to 3-D Thursday and this week it is my turn to show you a little something that is a perfect personal gift for that special someone for Mother's Day, Birthdays, Holidays…


Further down this post you will find a link to the FREE Project Sheet that has step by step instructions & color photos that you can save to your computer or print out and have on hand for easy reference PLUS you will find a full list of Supplies used to make this at the end of this post.
It's an Envelope Scrapbook Album that has pull-out tags for the pages – some you write on, some you add a photograph to – complete with a gift box…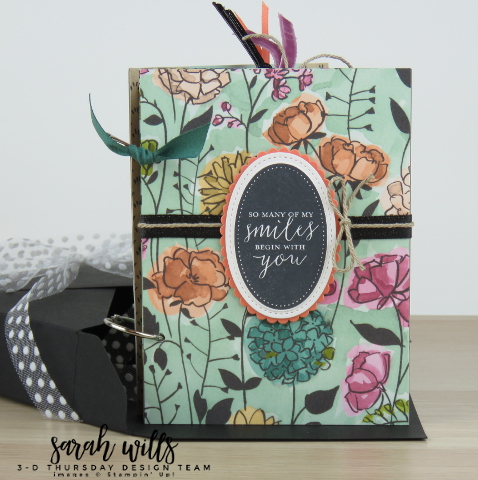 I have BUNCHES of photos to show you of the pages – so please sit tight and enjoy!
All of the papers used to create this Scrapbook are from Share What You Love DSP which is featured in the upcoming Annual Catalog – BUT IT IS AVAILABLE TO CUSTOMERS RIGHT NOW DURING MAY as part of the Share What You Love Promotion – these beautiful papers can be found in the GOTTA HAVE IT ALL BUNDLE, details of which are at the end of this post or click HERE to find it in the store.
Open the front cover and here is a peek at how those pages look in there…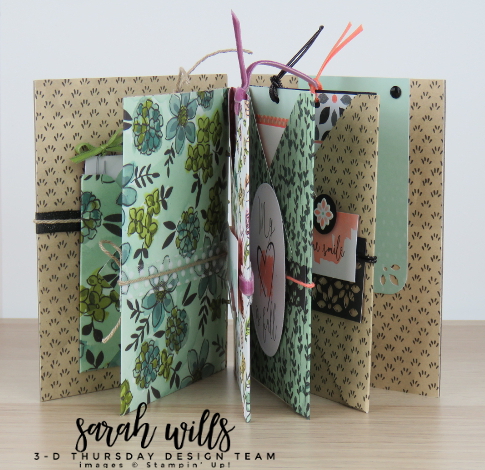 All of the Envelope Pages, the Box to hold it and the front little Pocket were created using the ENVELOPE PUNCH BOARD that you can find by clicking HERE – it's a great tool which allows you to make custom envelopes in 66 different sizes!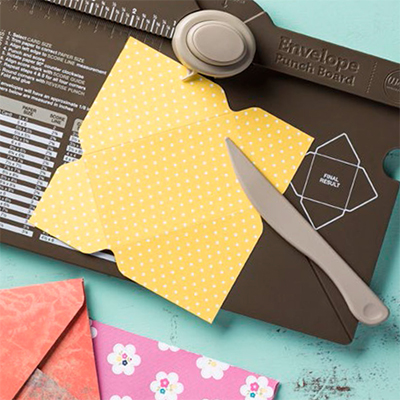 It's one of those tools that once you have it, you'll wish you'd gotten it years ago – I know I did!
Here is a look at the inside cover pocket and first Envelope page…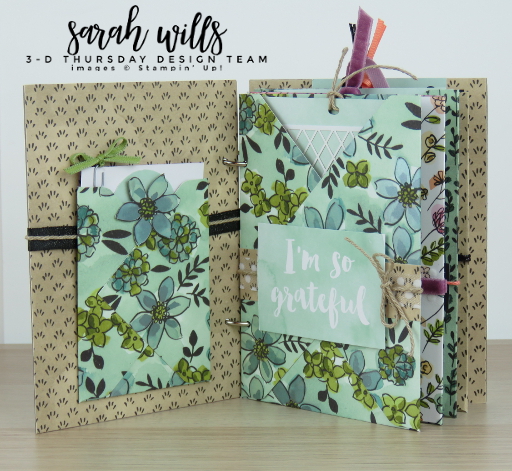 Turn it over to find the second…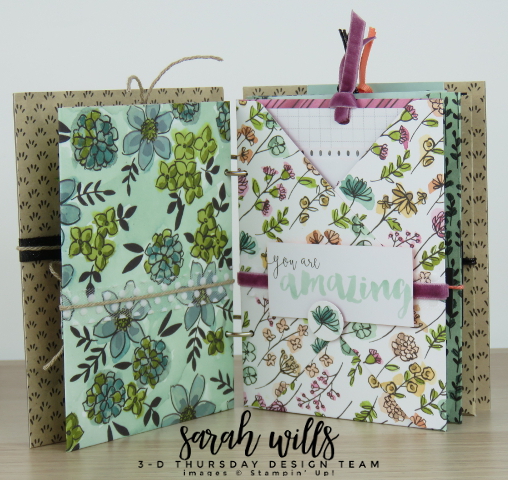 Then the third…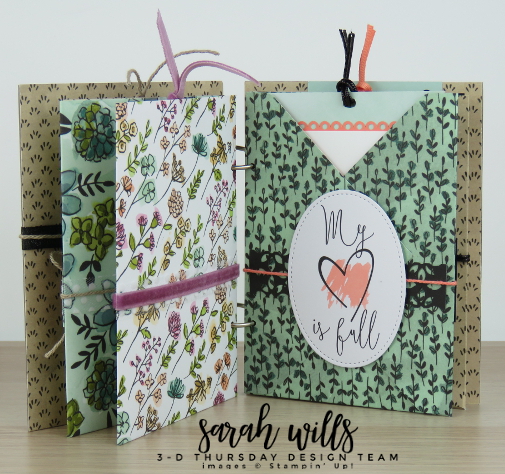 The fourth…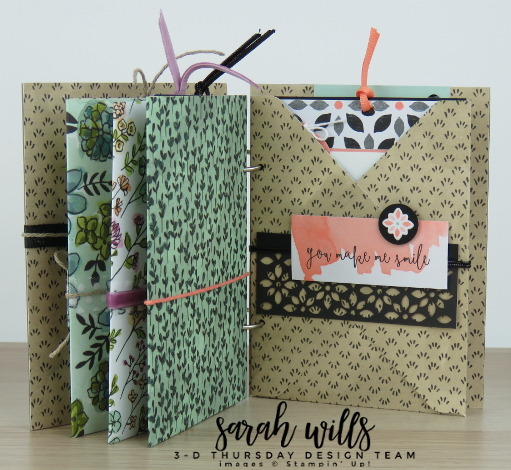 And for the space on the back cover I popped an empty tag so that I can write a message onto it…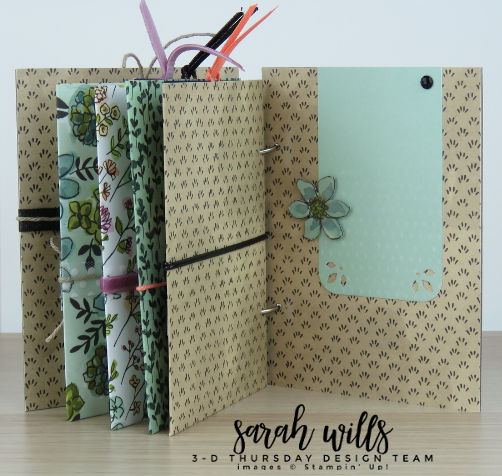 And here is the box that you can put the Album in for gifting – again, created using the Envelope Punch Board and simply decorated with more of that gorgeous Share What You Love DSP, some of the brand new Whisper White Polka Dot Tulle Ribbon tied around it and a big beautiful circle of words…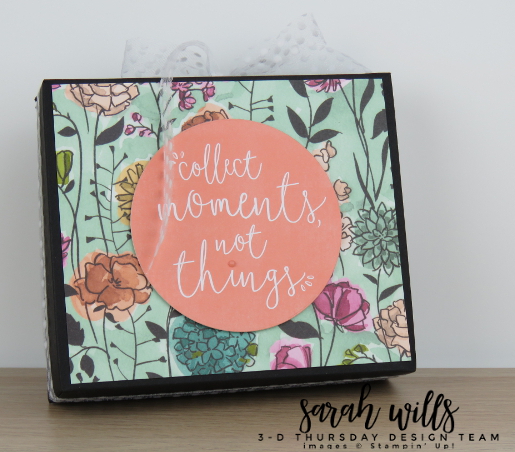 That is a card from the new Delightfully Detailed Memories & More Card Pack that I shaped into a circle – you are going to see more cards from that pack in just a moment – I LOVE them!
The Album is held together with Binder Rings which you can leave as is or you can decorate those by tying ribbons onto them…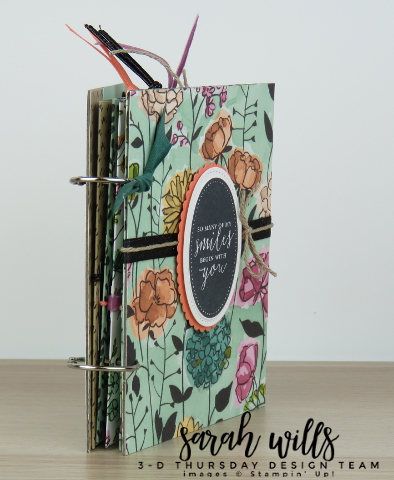 And here are close ups of each page and it's insert – all of the Envelope Pages and Insert Page bases and layers are created with cards from the Delightfully Detailed Memories & More Card Pack and each has ribbon or twine at the top for easy pull-out.  Some cards I left as-is, some I shaped with punches, dies or my trimmer, but all are from that pack!
Up first, the Pocket inside the front cover – a simple pull-out lined note card…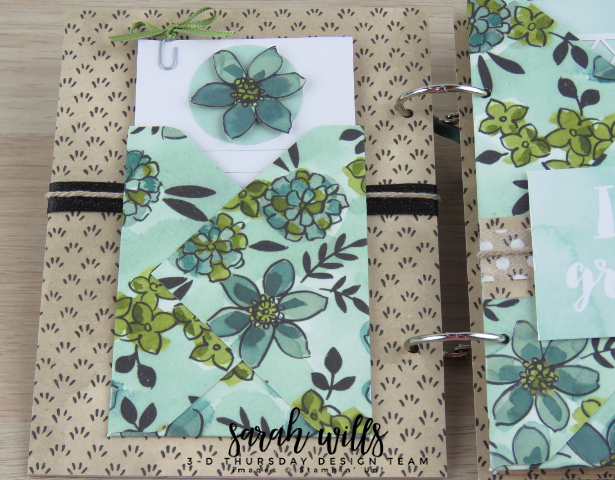 Then the first Envelope Page and it's insert – see that pretty white trellis background?  That is a die cut design from the new Delightfully Detailed Laser-Cut Specialty Paper and I have loved playing with these beautiful papers…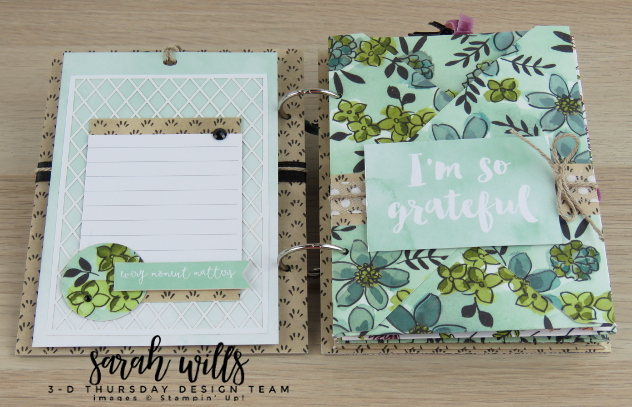 The holes in the tops of all of the inserts to thread ribbons through were made using the new Detailed Trio Punch – it is so nice to have an alternative to just a circle!
Here is the second…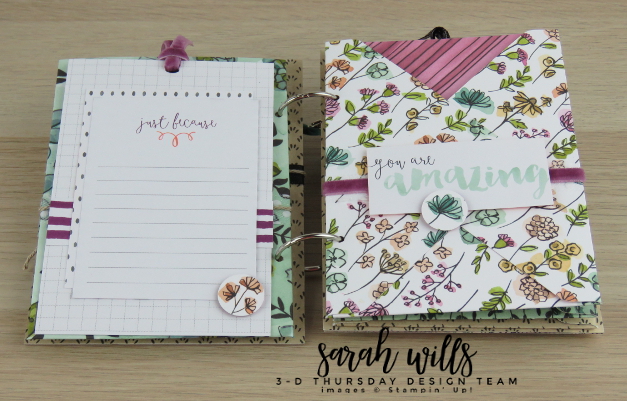 And the third…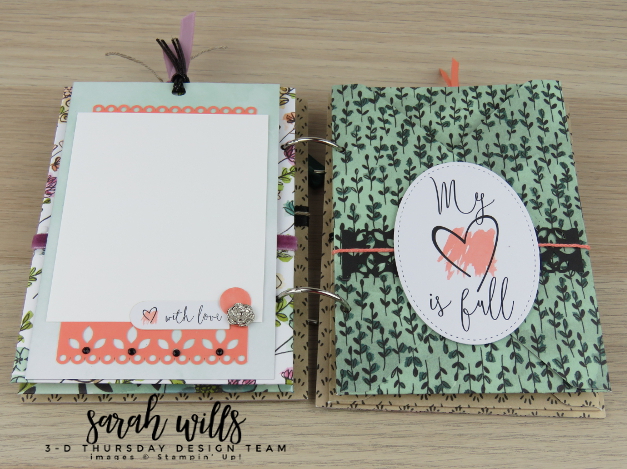 Here is a close up of the bottom panel – the pretty scalloped edge layer is from the Card Pack, the black Rhinestones are from the new pack of Faceted Dots, the pretty flower from the Share What You Love Embellishment Kit (included in the Gotta Have It All Bundle) and the sentiment tag is a sticker from the Card Pack…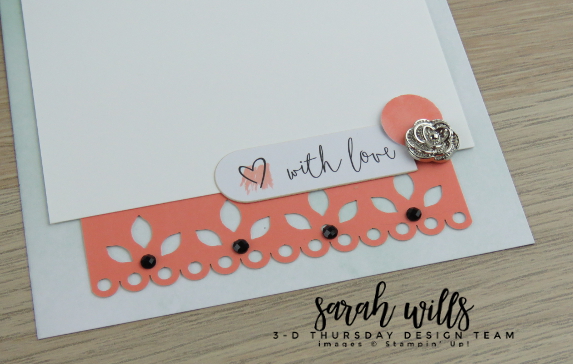 And here's the last page…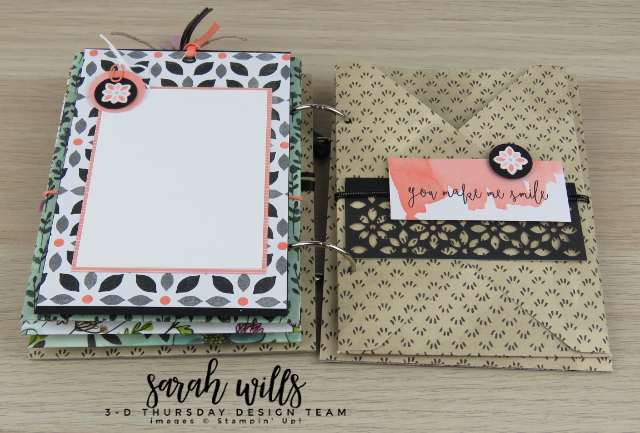 You can create some inserts for photos, some for journaling, or all for one purchase – your choice!  The Memories & More Card Packs are GREAT for this kind of project because some cards are lined which makes it easy for those of us with messy handwriting to write straight LOL!
And finally here is another look at the front cover – the stamped image is from a new set called Detailed With Love and it is cut out and layered onto various Oval die cut shapes…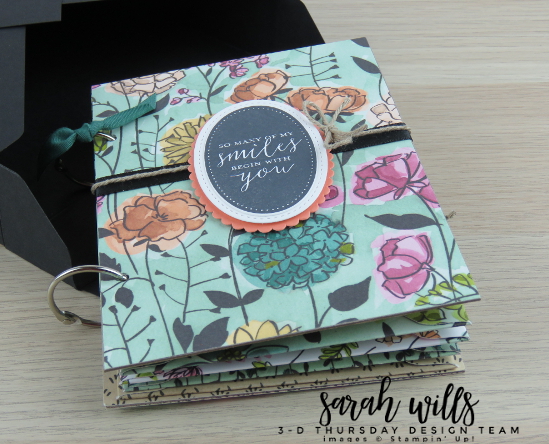 I hope you enjoyed the tour of this little Album and if you want the instructions to make one yourself…
WANT THE FREE PROJECT SHEET FOR THIS PROJECT?  Click HERE to find it – then you can download it or print it out to keep for easy reference!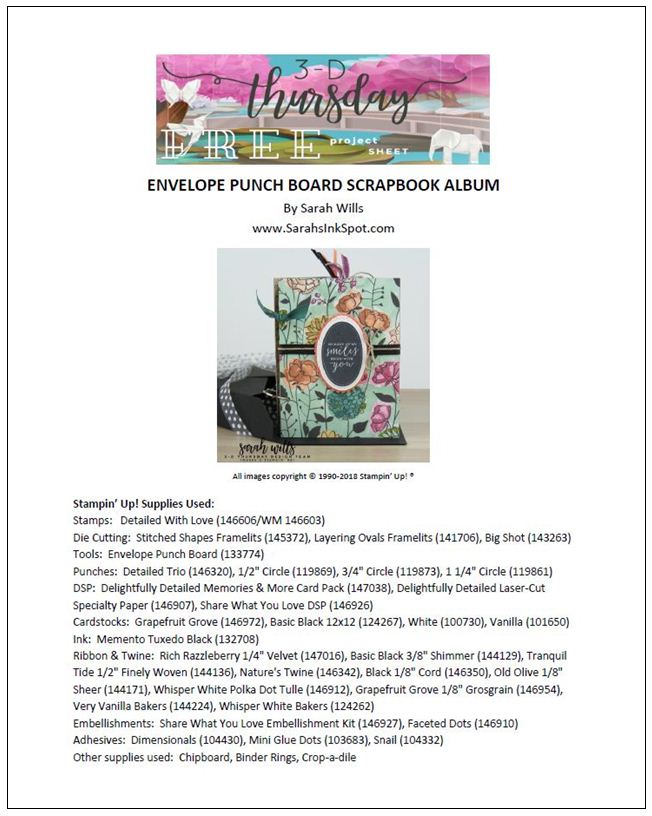 The Share What You Love Promotion is running through May 31st and gives you the opportunity to purchase Bundles of Early Release product – there are three different Bundles to choose from but you get that pack of beautiful papers that I used on my Album today in the GOTTA HAVE IT ALL BUNDLE – click HERE to find out more.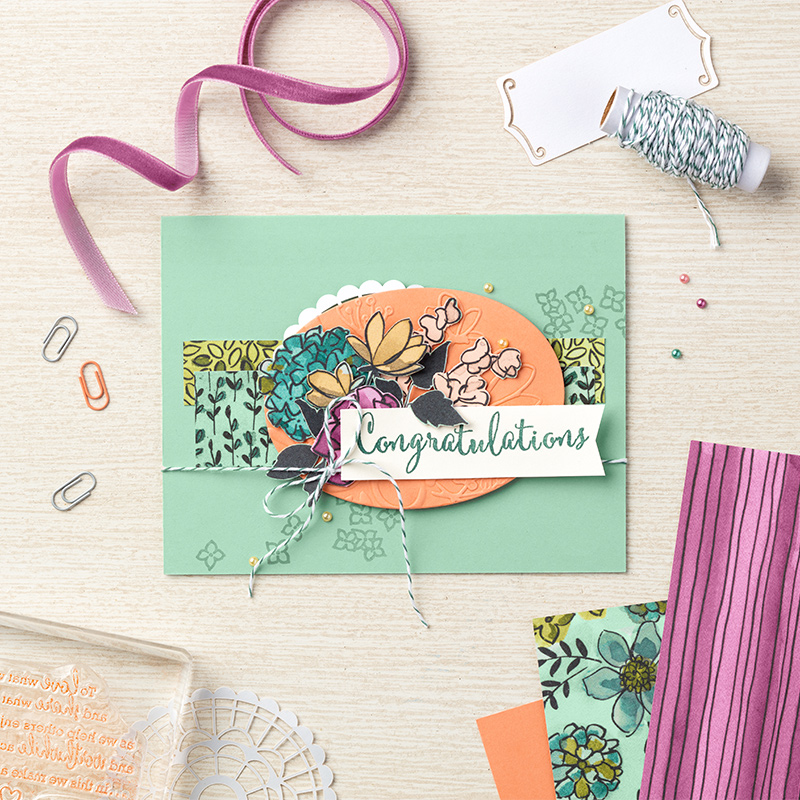 This is just a sneak peek of some of the fabulous products available in the upcoming Annual Catalog which is a GORGEOUS book of products & fantastic ideas too…
IF YOU WOULD LIKE A COPY OF THE NEW UPCOMING ANNUAL CATALOG please CLICK HERE!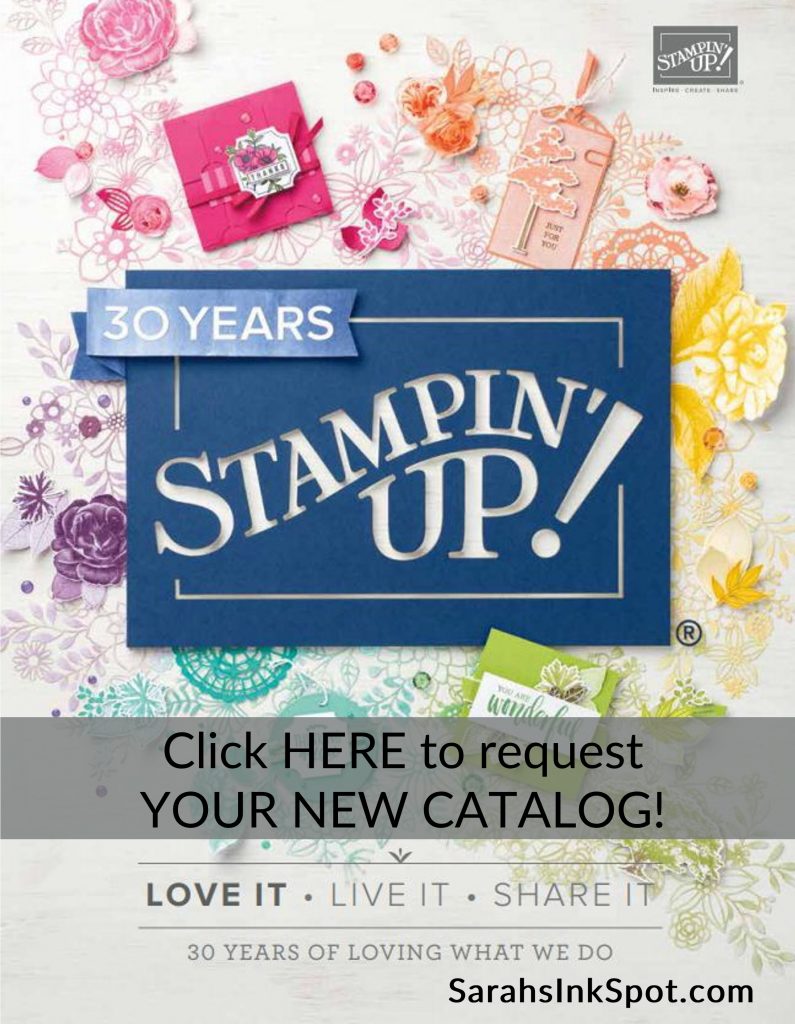 Here are the supplies used to create this project – click on any of the products below to find them in my Stampin' Up! online store:
Other supplies used:  Chipboard, Binder Rings, Crop-a-dile
Thanks so much for visiting – be sure to come back next Thursday for the next 3-D project when it's Twila's turn to create something – to make this easy, you can subscribe to my blog using the 'Get Blog Posts by Email' button on the right so that new posts will be delivered automatically into your inbox!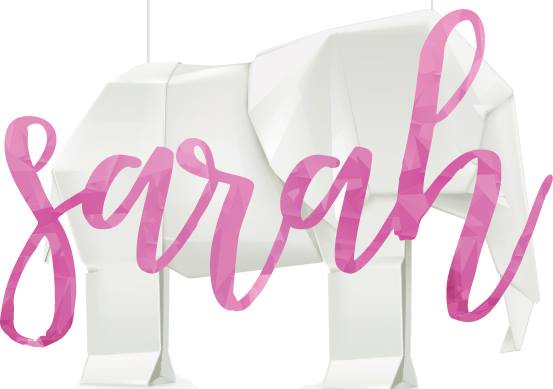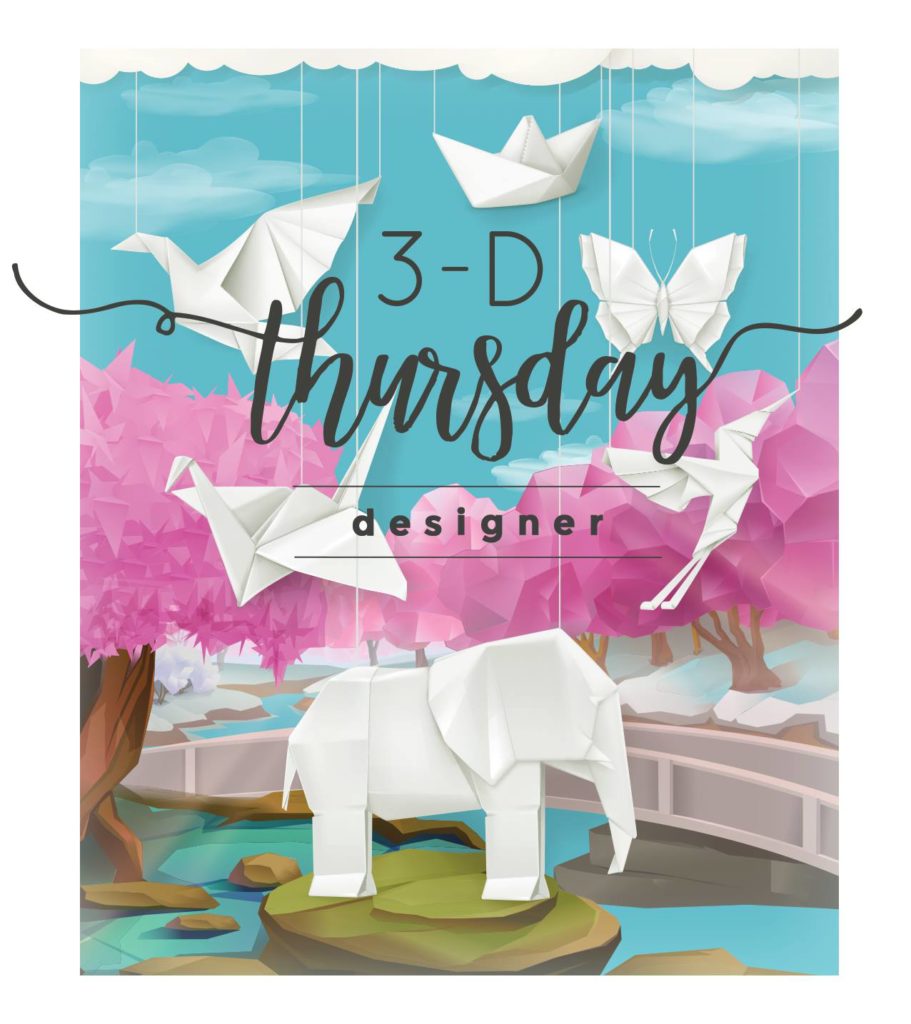 Current Specials:
MY NEW MAY HOST CODE IS HERE GIVING YOU UP TO THREE FREE ADHESIVE GIFTS FROM ME!  CLICK ON THE BUTTON BELOW TO FIND OUT MORE!