Yesterday I posted my 3-D Thursday Magazine File Card Holder project and promised that today I would post individual photos and details about each of the six cards that went into that card holder…
I wanted each card to be a little different from the others but I also wanted to create continuity across the board with this set and so used the same layout for all of them – white and black layers, a large Stitched Circle, a band of patterned paper with White Bakers Twine on top and some kind of dot.  I made 3 in portrait and 3 in landscape orientations, paired them up and used a different feature stamp for each color pair.
And here they are, beginning with my favorite – I think it's the pinks and greens working together that I love about this one…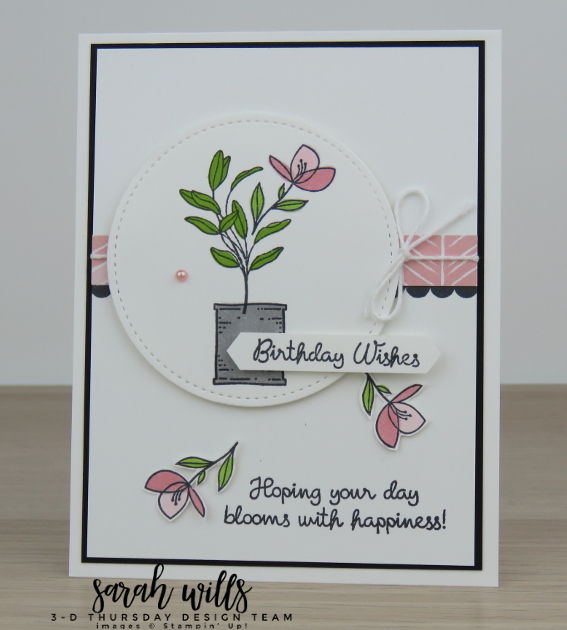 ALL of the sentiment stamps plus the scallop border are from the set Varied Vases and I shaped 'Birthday Wishes' using the Classic Label Punch.
ALL of the other images are from Seasoned with Kindness and I used the following Stampin' Blends Markers – Smoky Slate Light, Granny Apple Green Light and the Petal Pink Combo Pack – to color them in.
The little pink dot is from Share What You Love Artisan Pearls and the strip of patterned paper is from Tropical Escape DSP.
And here is it's landscape partner, similar but a bit different…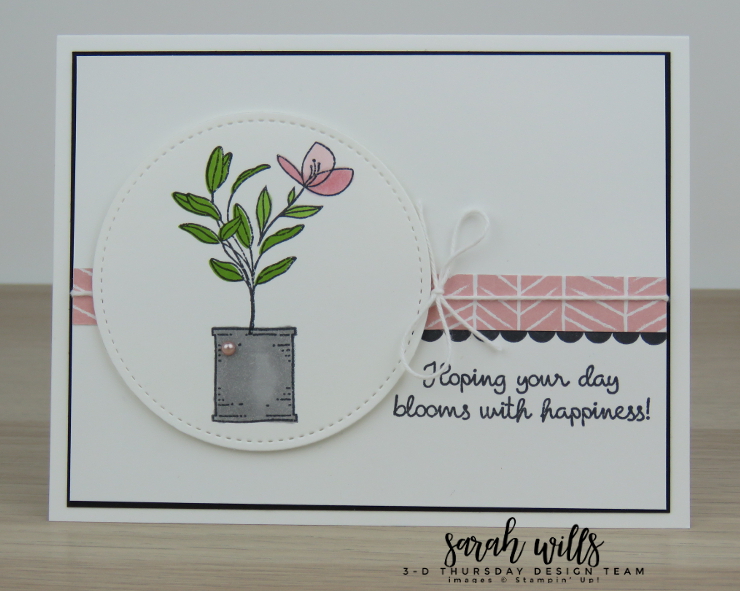 Here is the next card – I love the vibrant greens on this one because they make it look so fresh!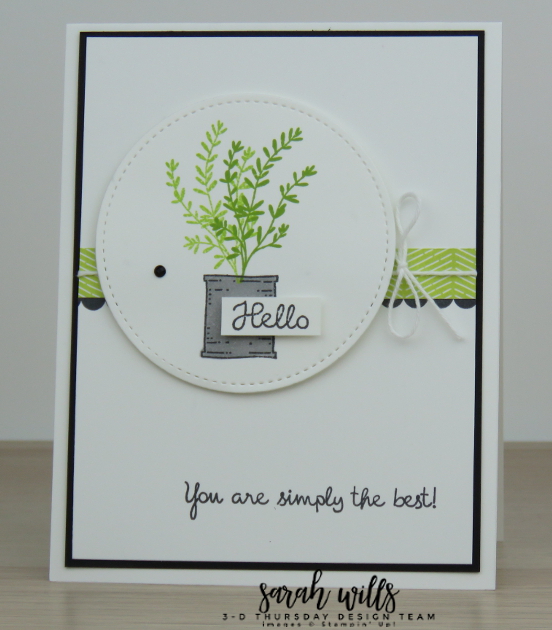 The strip of paper is from Animal Expedition DSP and I stamped 'hello' and cut it to size using my paper trimmer.
The plants are stamped using Lemon Lime Twist and Granny Apple Green Inks, the pot is colored with the Smoky Slate Light Blends Marker and the black dot is from Faceted Dots.
And here is it's landscape partner – again, similar but a bit different…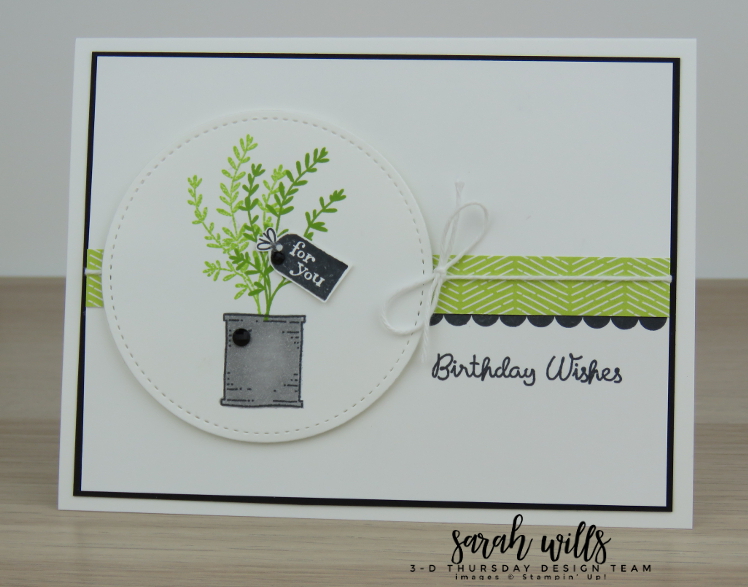 That cute little 'for you' tag is another stamp featured in Seasoned with Kindness and I cut it out with my Paper Snips and positioned it to make it look like it is attached to a stem.
And finally the card with the plant that looks like a basil plant – at least according to my basil loving daughter!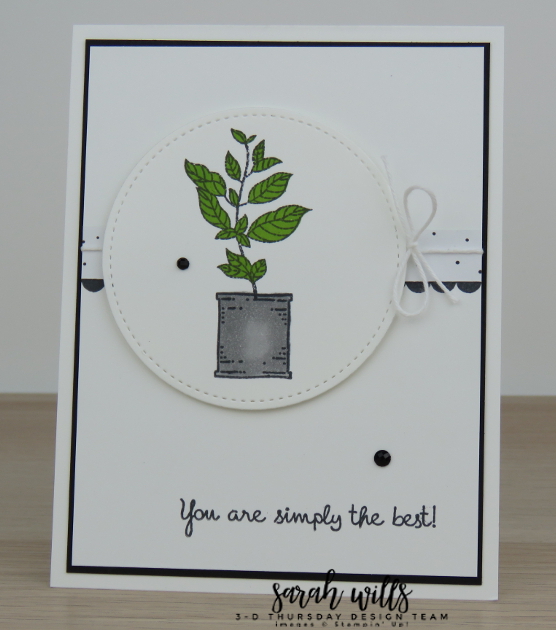 The patterned strip is from Tropical Escape DSP and the dots are from Faceted Dots.
The plant is colored with the Granny Apple Green Light Blends Marker and the pot the same as above.
And here is it's landscape partner…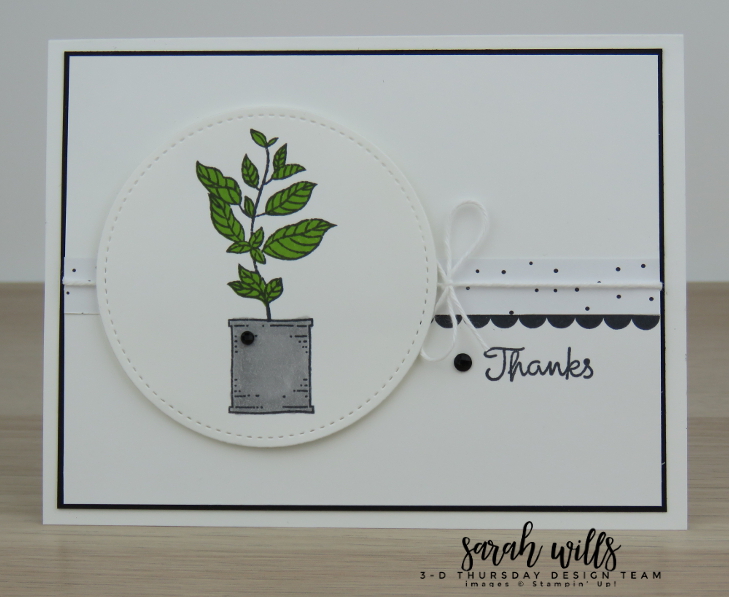 Black and white with a splash of green – it's somehow soothing to look at!
And finally here they are in the Magazine File Card Holder – if you missed my post yesterday detailing it you can find it by clicking HERE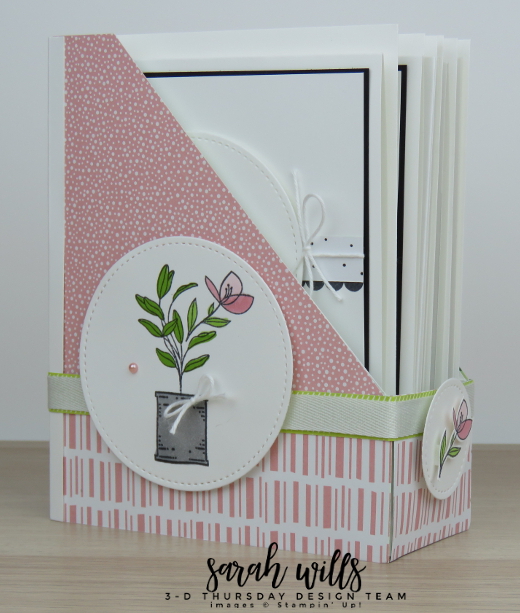 And here is a front view so that you can see how nicely these 6 Cards plus envelopes fit into the Holder…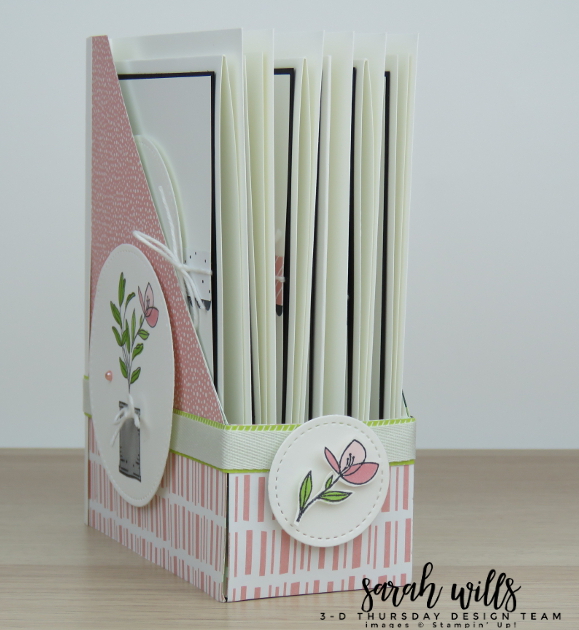 WANT THE FREE PROJECT SHEET FOR THIS MAGAZINE FILE CARD HOLDER PROJECT?  Click HERE to find it – then you can download it or print it out to keep for easy reference!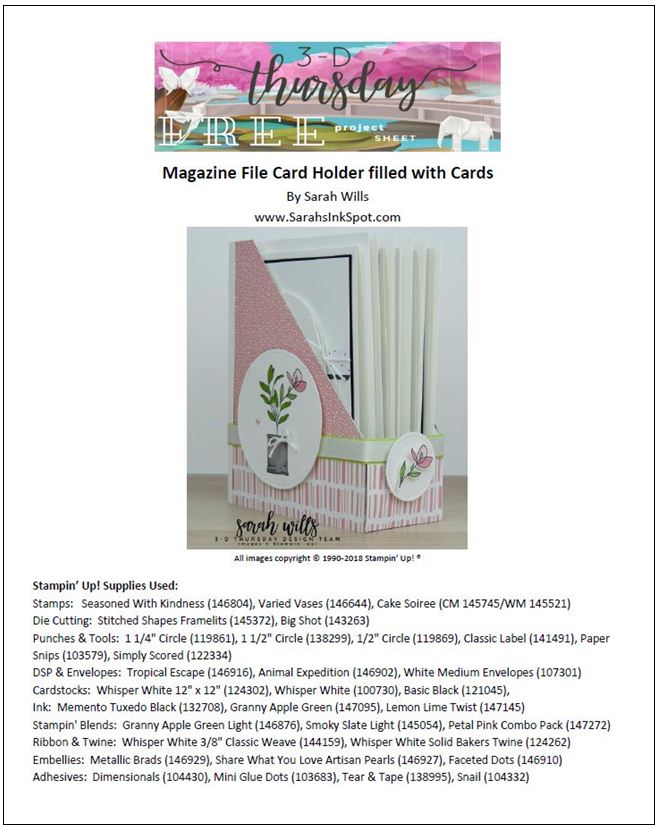 Here are the portrait cards all together…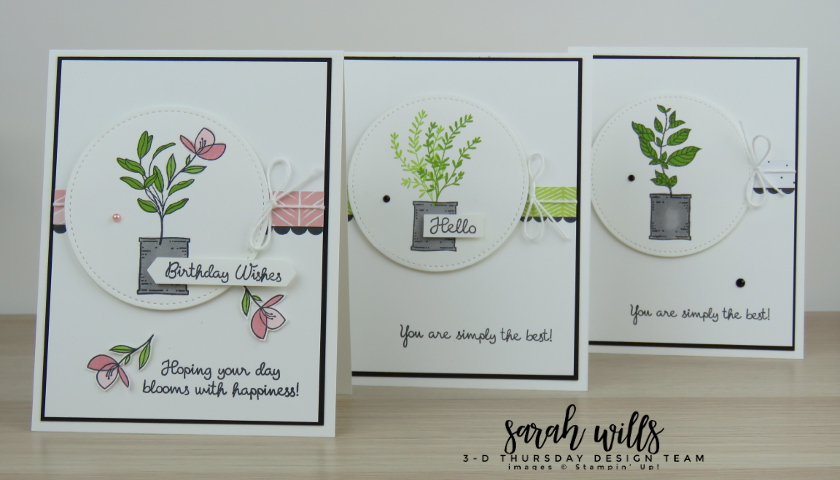 And here are the landscape one's…
I absolutely LOVE how they turned out – so soft & pretty – so much so that it's going to be tough to give them away LOL!!!
Here are the supplies I used to make these items – click on any of the products below to find them in my Stampin' Up! online store:
Thanks so much for visiting – wishing you a wonderful summer weekend!

Current Specials:
MY NEW JULY HOST CODE IS HERE GIVING YOU A FREE COMBO PACK OF STAMPIN' BLENDS MARKERS!  CLICK ON THE BUTTON BELOW TO FIND OUT MORE!