Welcome to 3-D Thursday and this week it was my turn to create a little something and I came up with cute one – it's a pouch created simply with an Envelope – no special tools required – and you can theme it for any occasion you like – I decided to go jurassic with mine!


Further down this post you will find a link to the FREE Project Sheet that has step by step instructions & color photos that you can save to your computer or print out and have on hand for easy reference PLUS you will find a full list of Supplies used to make this at the end of this post.
And here it is…a CUTE Dino themed Envelope Pouch containing a jumbo cookie!!!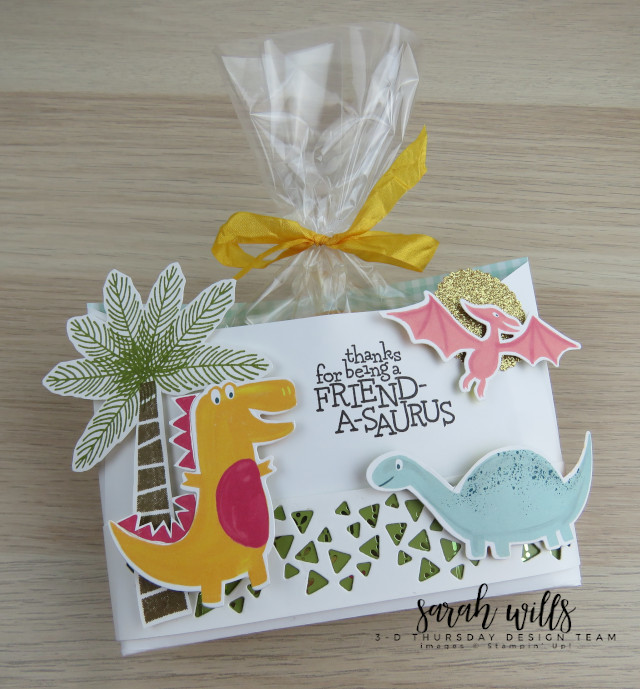 The pouch is super easy to make – you literally take an Envelope, make a few score lines, fold and voila – your base treat pouch that you decorate as liked!
I decided to use items from the Dinoroar Suite to pretty up mine – see these adorable dino characters?  NO stamping – NO fussy cutting either – because they come on a sheet of patterned paper from Dinoroar DSP and you cut out these adorable characters using coordinating dies from Dino Dies – how cool is that?!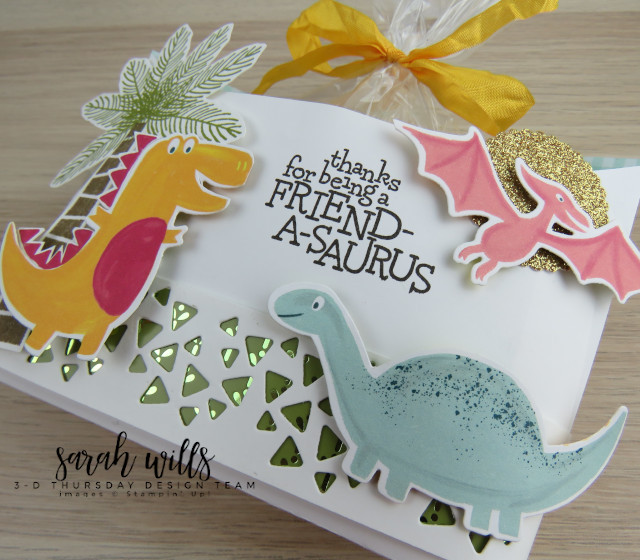 See the sparkles in that green glittery strip?  That green sparkly paper is from Noble Peacock Specialty DSP and the triangle window cuts were made using another die from Dino Dies.
Pull out that cello bag and this is what is hiding inside…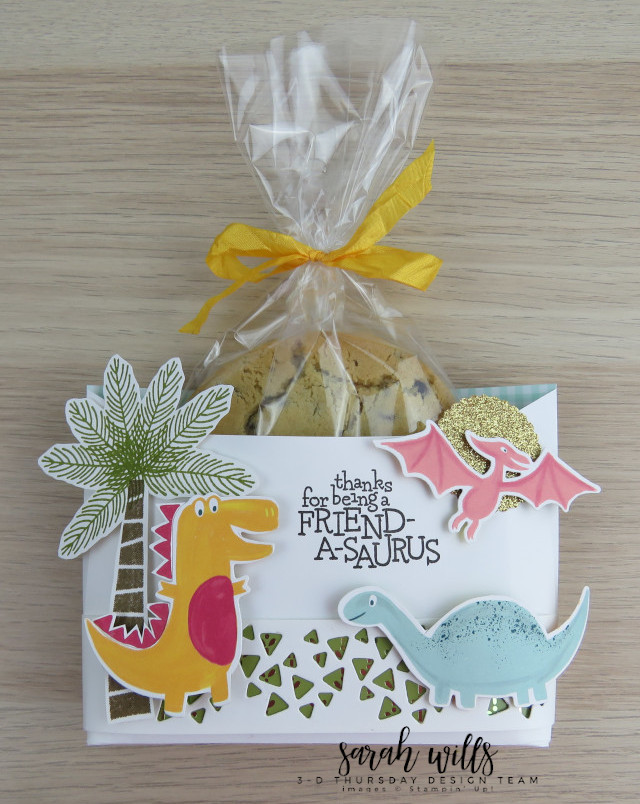 A jumbo cookie baked by my girls!  I set them a challenge to come up with perfectly sized cookies to fit this pouch and they made two batches – chocolate chip above and a double chocolate one below – I think they both look fab!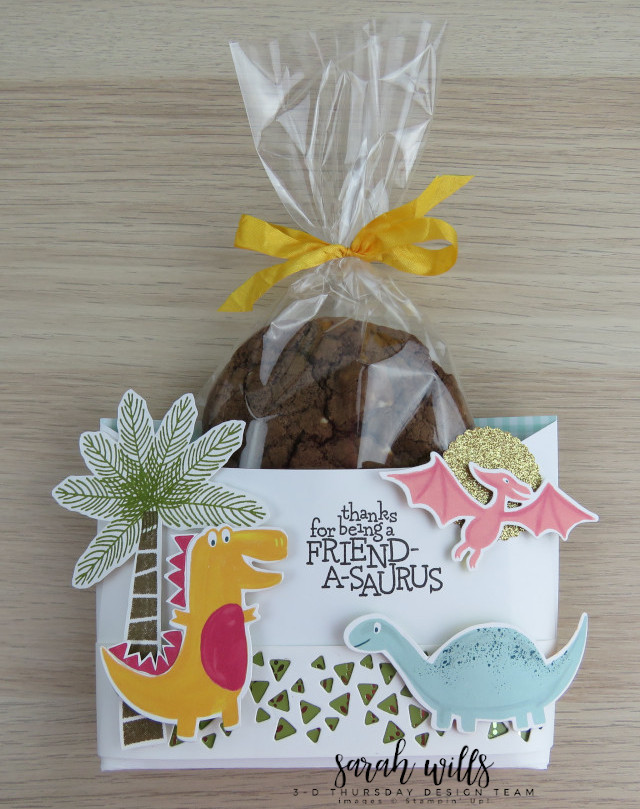 Here's a close up – I stamped the sentiment directly onto the envelope BEFORE transforming it into a pouch – I highly recommend you do that as it makes it easy – and I have the pterydactyl flying in front of the sun which I created using Gold Glimmer Paper…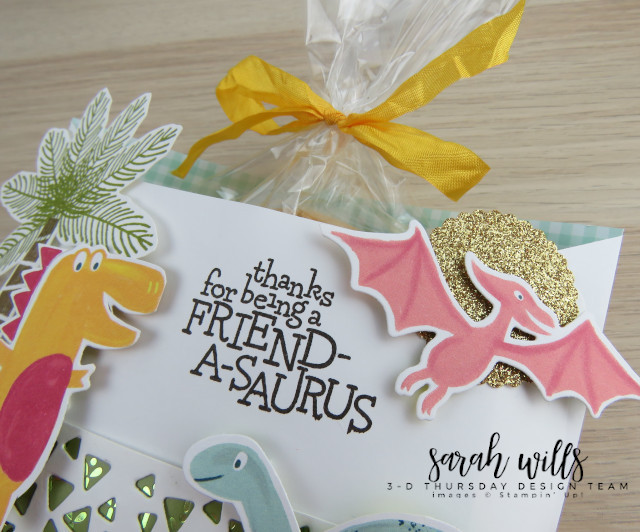 Here's a look at my favorite dino character – he just makes me smile – he looks so happy!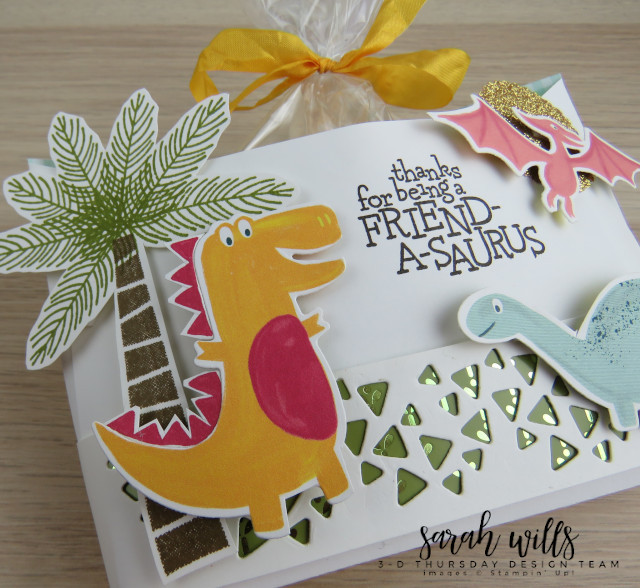 The palm tree is stamped using stamps from Dino Days – it is a photopolymer clear set so it's really easy to line up and stamp those branches…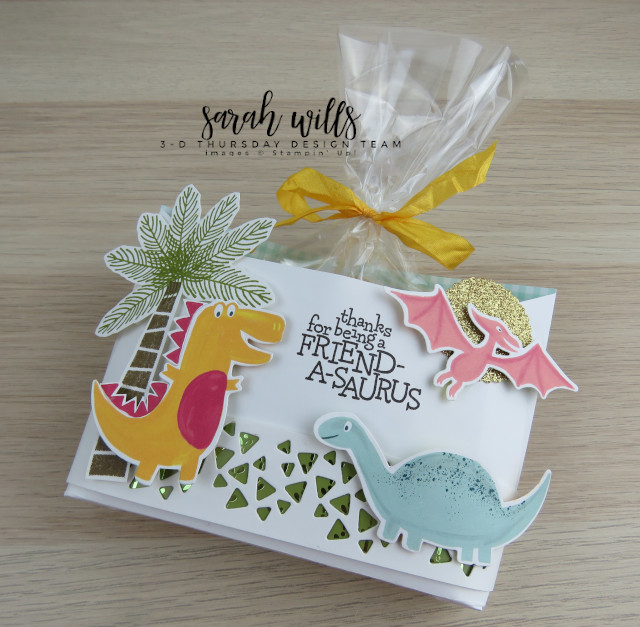 Remember me talking about how I didn't stamp the dinosaurs but die cut them out of a sheet of paper?  Well, here you go – this is the sheet of paper featured in Dinoroar DSP that has dies that coordinate perfectly to cut them out – you get TWO sheets of this paper in that pack of DSP: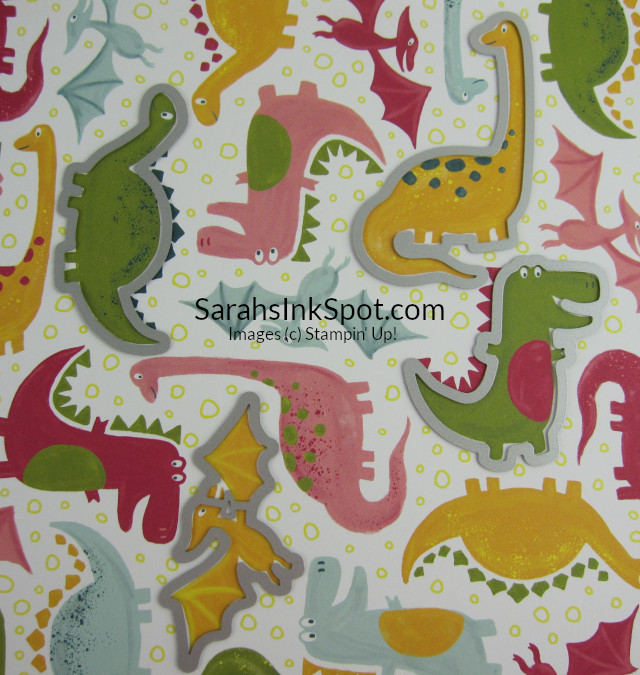 WANT THE FREE PROJECT SHEET FOR THIS PROJECT?  Click HERE to find it – then you can download it or print it out to keep for easy reference!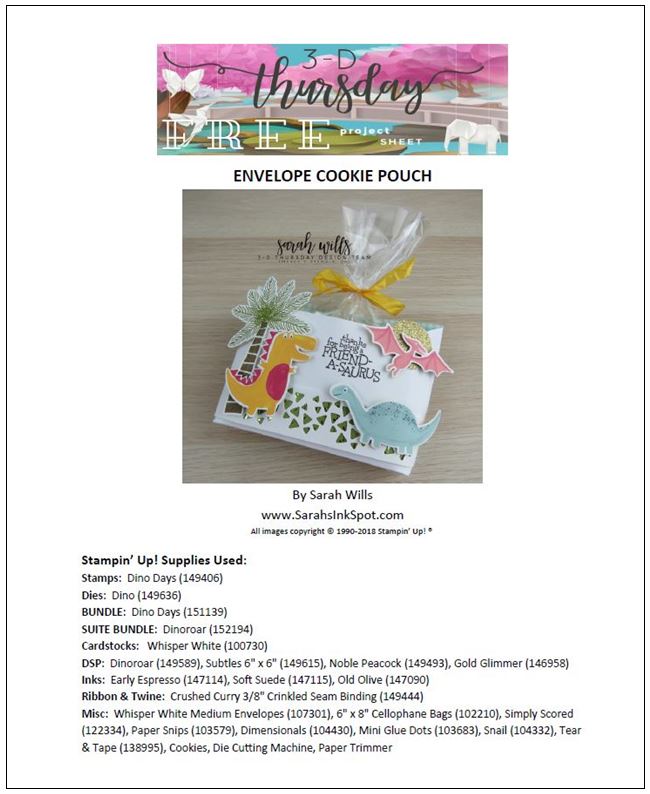 Here are the supplies used to create this project – click on any of the products below to find them in my Stampin' Up! online store:
Other supplies used:  Cookie, Paper Trimmer, Die Cutting Machine
Thanks so much for visiting – the 3-D Thursday Team has decided to take some time off over the summer as we all need a little rest & relaxation with our families – we will start back up again the first week of September so be sure to subscribe to my blog using the box on the right so that you will automatically receive notification when we fire up again!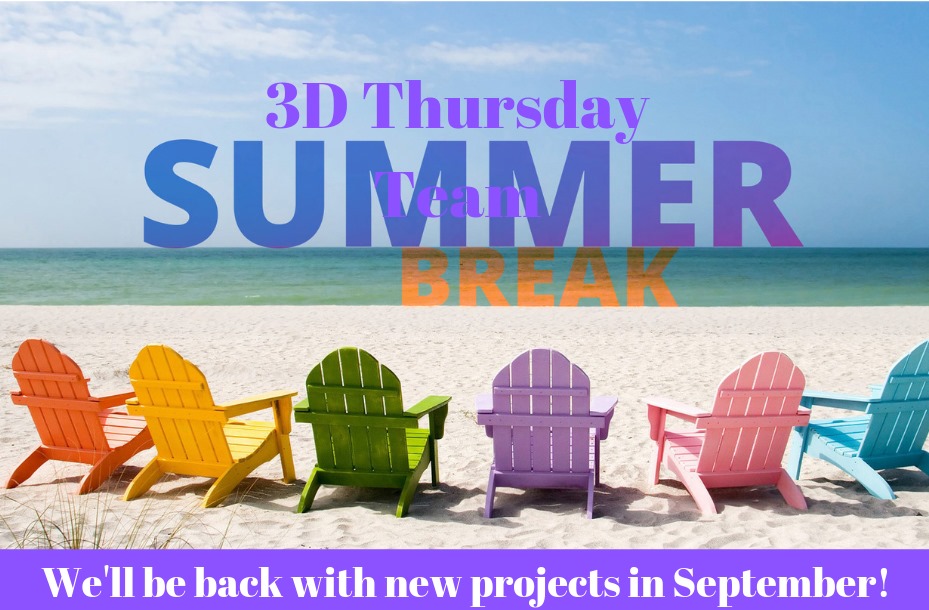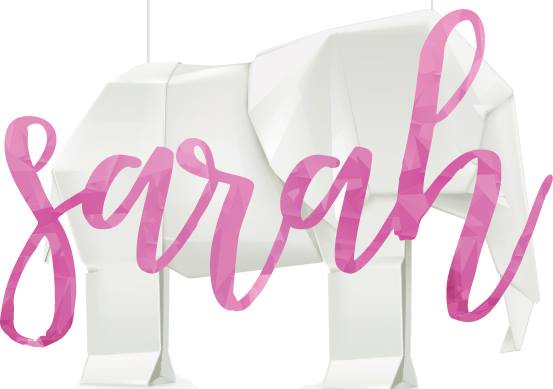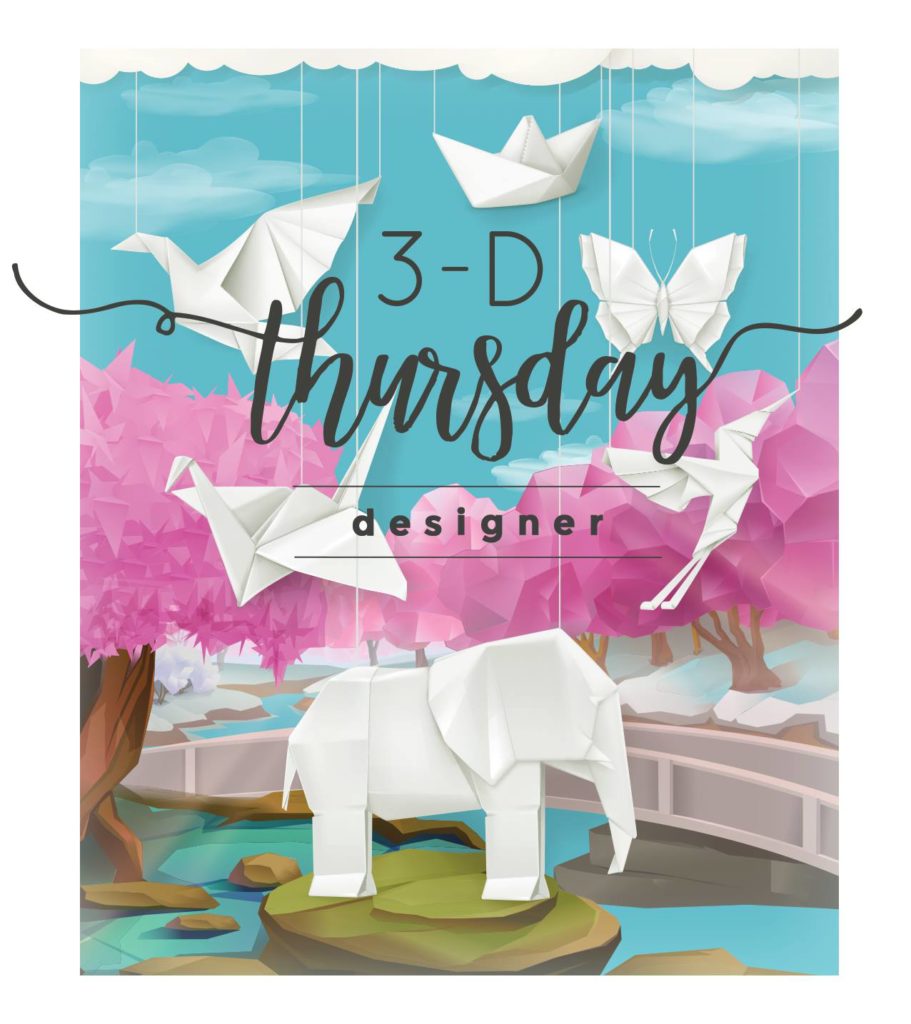 Current Specials:
MY JUNE HOST CODE IS HERE GIVING YOU A FREE STAMP SET WHEN YOU USE IT!  CLICK HERE TO FIND OUT MORE!