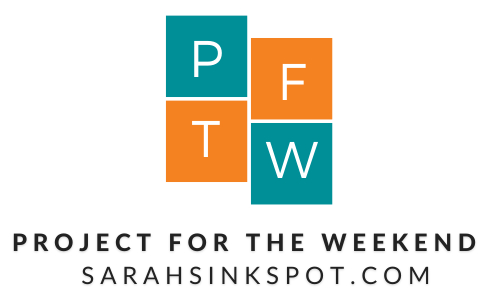 Welcome to PROJECT FOR THE WEEKEND which gives you a series of THREE CARDS that range from quick & easy then stepping up to in-depth with one in between! 
Project for the Weekend kicks off today and will post once a month at the beginning of the month – that gives you the whole month if you want to make one or two or all three cards AND December's will post on Friday December 4th & will come complete with:
a KIT available for purchase containing all the consumable supplies you will need to make all three cards + envelopes!
an ADD-ON KIT if you want to make more cards & envelopes!
AND A FABULOUS DEAL on the Stamp Set & Die Bundle that is featured! 
All three cards will be made using the same Bundle of Stamps & Dies or Punch and the same core colors are carried throughout as a way to show you how to work with what you have to give very different looks:
Beginning card making or just want a clean & simple quick card? I've got you covered as the FIRST card is just that!
Got time and supplies to add a little more to it? The SECOND card is for you!
Want to spend more time to create a wow card? The THIRD card is exactly that!
Or make all three and enjoy playing with this fantastic bundle and have a variety on hand! 
Want to be notified automatically every time I post a Project for the Weekend Series of 3 Cards here? Be sure to look for the 'Get Blog Posts by Email' box in the right side bar – fill in your info and then you will automatically receive my new blog posts into your email inbox.
And I have a FREE PROJECT SHEET showing you step by step how to make ALL of these cards below – look for the blue words near the end of this post to find it!
For my very first Project for the Weekend I am featuring three cards that all use the Harvest Hellos Stamp Set + Apple Builder Punch and pretty Fall colors: 

Card 1 – Clean & Simple: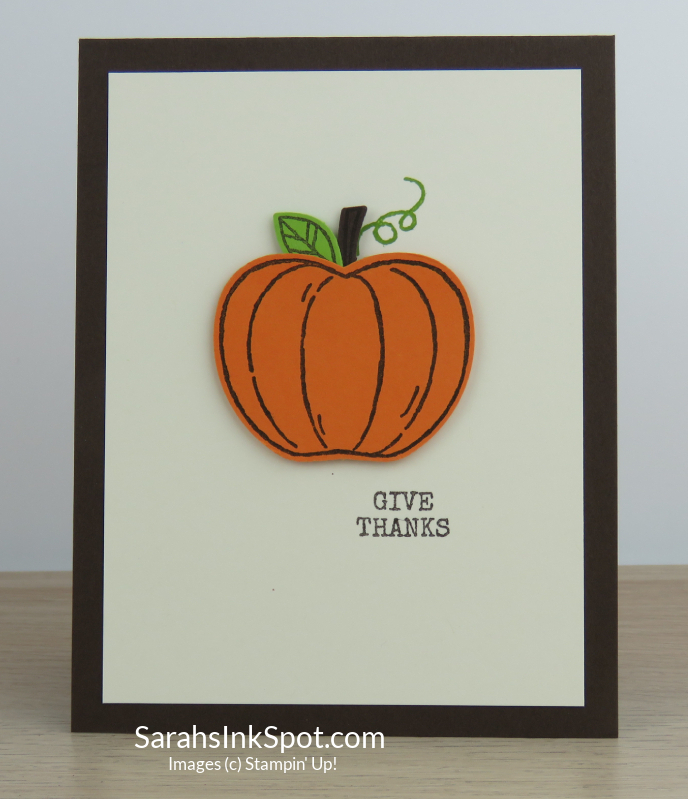 Has a simple Early Espresso card base with a Very Vanilla layer – the 'Give Thanks' and green stem images are stamped directly onto that layer.
The pumpkin, leaf and stem were stamped and punched out and added to the base with Dimensionals – quick, easy and pretty!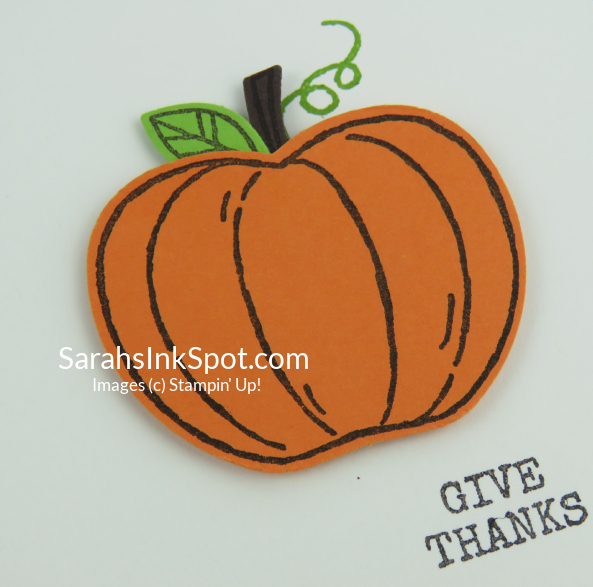 Card 2 – Stepped up using Texture and Die Cuts: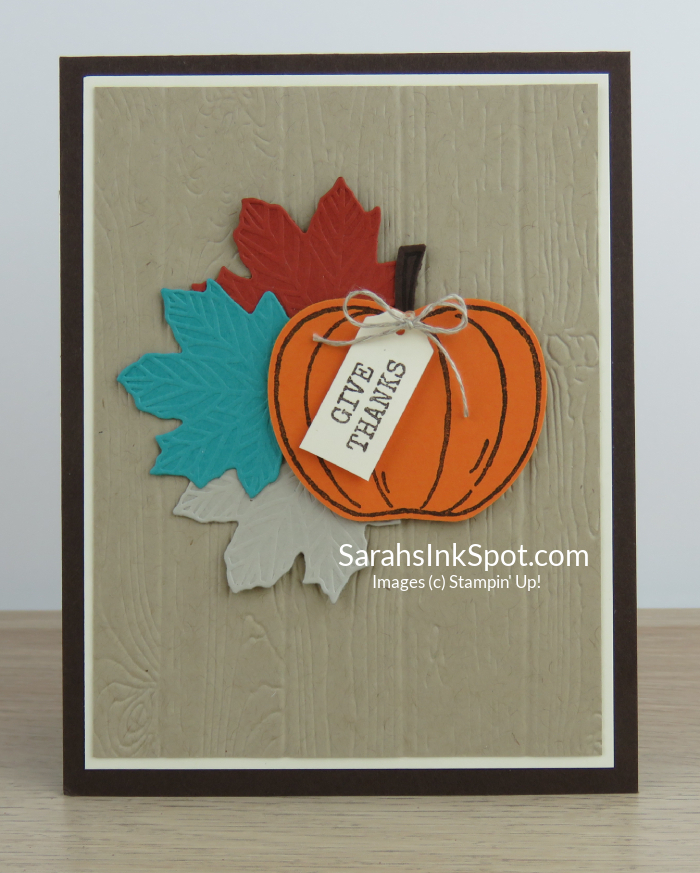 This card has the same card base and layer as the first but here is an extra layer of Crumb Cake that has been textured with the Pinewood Planks Embossing Folder
Three leaves were added, cut out using dies from Gathered Leaves Dies and the tag cut out using a die from Ornate Frames Dies with a piece of Linen Thread to finish…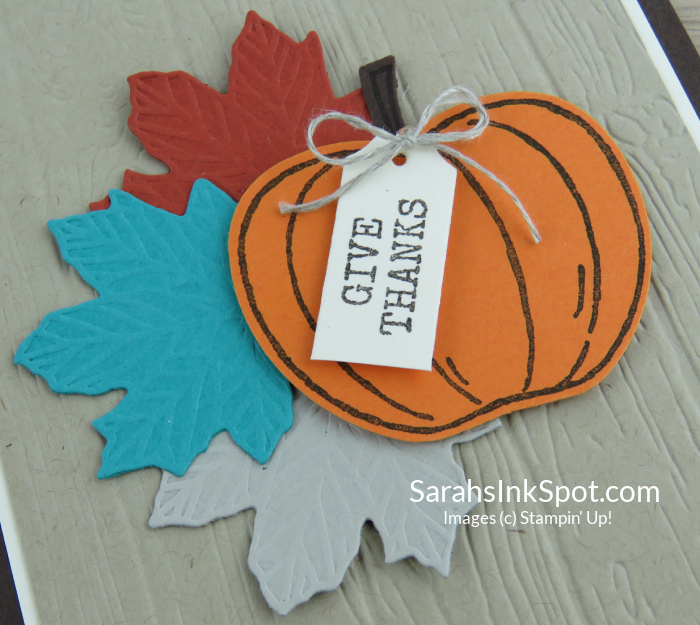 Card 3 – WOW look at all of those Leaves!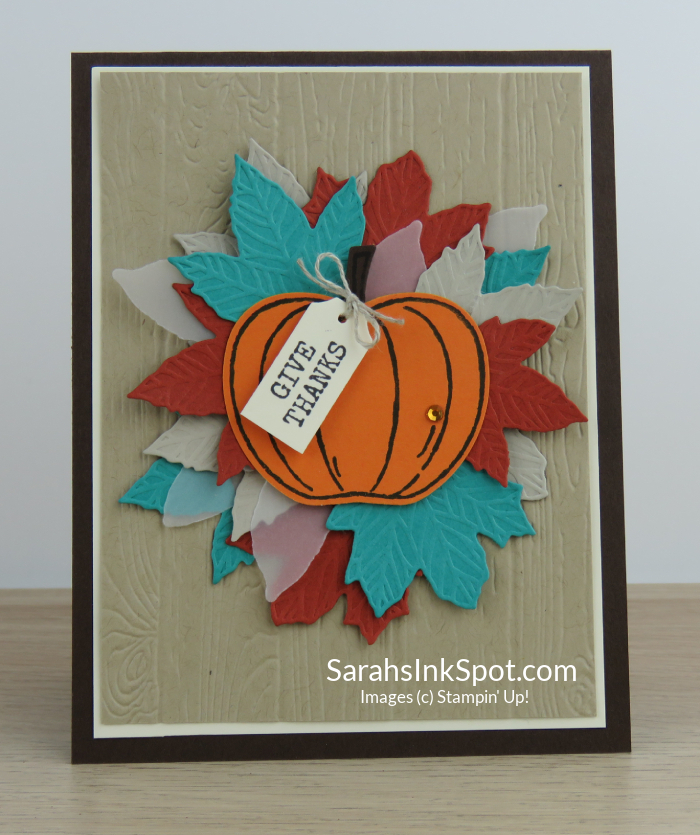 I love this card – as you can see it has the same layers and tag as the Card 2 but it is laying on a bed of leaves – this really does remind me of a fall leaf pile in the garden with a pumpkin laying on the top!
The leaves were cut using the same die as before from Sahara Sand, Cajun Craze and Bermuda Bay Cardstocks and I added some Vellum ones in there too and the finishing touch is a pretty orange Rhinestone Jewel…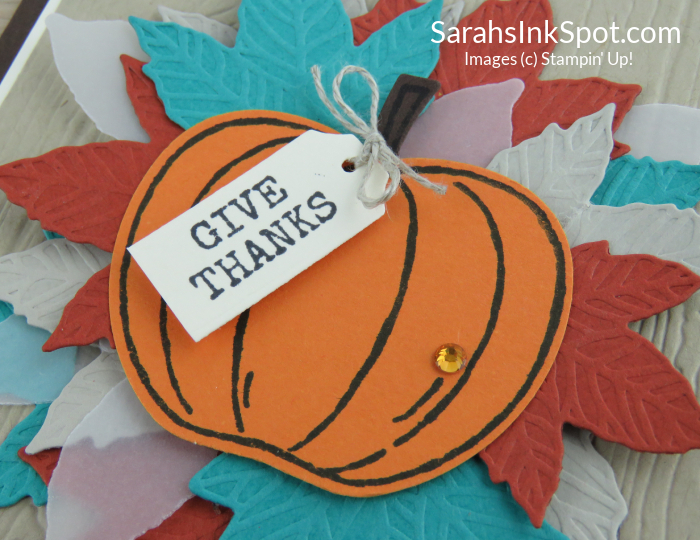 Here is the Stamp Set that I used on all three cards – click on the piccie below to see it in the store: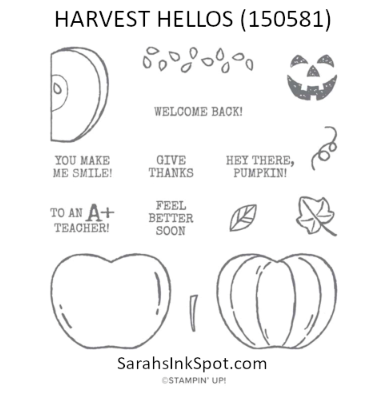 Here is the Punch that I used – click on the piccie below to see it in the store: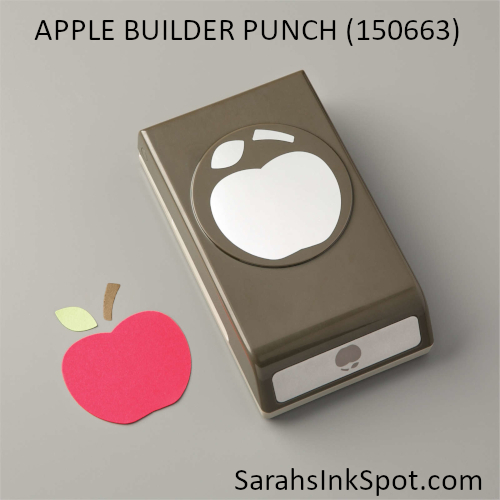 I hope you enjoyed my trio of Fall themed cards, perfect for making for Thanksgiving and if you don't already, be sure to subscribe to me so that you will get a notification everytime I post a Project of the Weekend activity!
Want my FREE PROJECT SHEET showing you step by step how to create this card?  Click HERE to download/print it!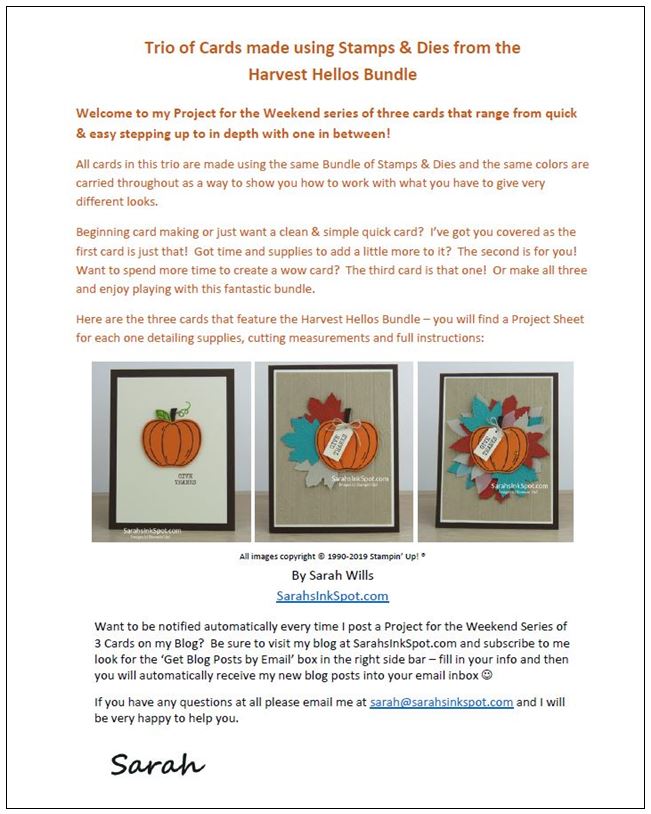 Here are the supplies used to create this project – click on any of the products below to find them in my Stampin' Up! online store:
And here are the Adhesives & Tools used on this project:
GET A FREE CARD KIT WHEN YOU PLACE AN ORDER WITH ME DURING NOVEMBER!
When you place an order in my online store this month I will be mailing you all the components needed to make this beautiful card that I cased from a wonderful stamper, Nicolle Belesimo: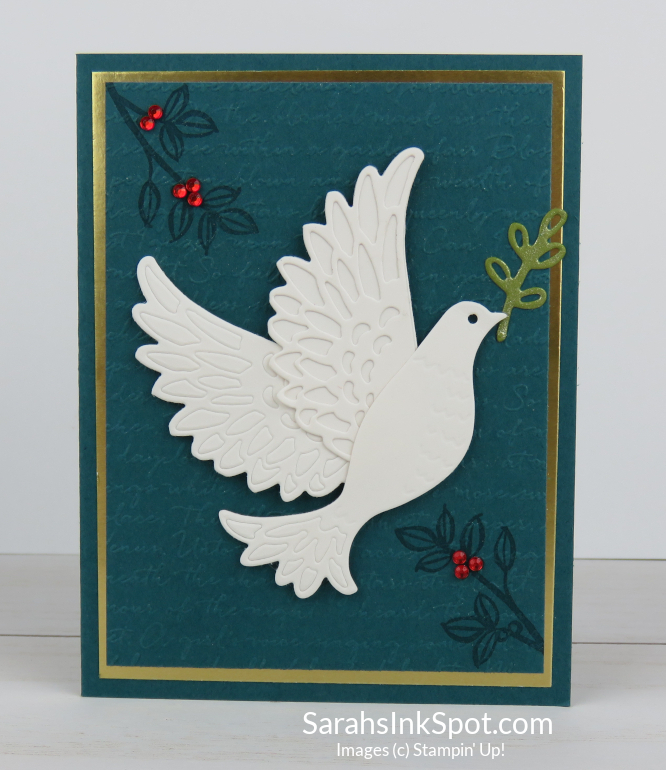 Isn't it gorgeous?  PLUS you will also receive a FREE Project Sheet detailing step-by-step how to put it together!
Thanks so much for visiting – wishing you a wonderful weekend!

Current Specials:
DON'T FORGET TO USE MY HOST CODE – ZEE67KCX  – to get yourself a FREE WINK OF STELLA GLITTER BRUSH with a $50 spend   CLICK HERE to find out all about my Host Code program that gives YOU a FREE gift with EVERY order that you place in my store!