I saw this idea and just had to make a card using it…the snowglobe featured on this card is made using the Snowfall Printed Window Sheets that you can find on pg 27 of the Holiday Mini Catalog – isn't that a great idea? And you get lots of snowglobes out of one 12×12 window sheet…
And what a perfect use for these beautiful printed window sheets – they make it very quick and easy to make a beautiful holiday card that you can make a bunch of in a very short space of time…anybody receiving this card will be wowed…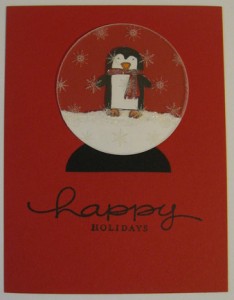 The base of the card is Real Red and onto I stamped 'happy holidays' from the stamp set Happy Everything.
I used my Circle Scissors Plus to cut a 2 1/2″ circle out of a Snowfall Printed Window Sheet and used a sponge dauber and Whisper White ink to gently dab ink on the edges to create a little bit of an edge to it. I took a piece of Shimmery White cardstock and cut a 2 1/2″ circle out of that and tore part of it off to create the snow at the bottom – I put a line of glue along the torn edge and sprinkled on some Dazzling Diamonds to give it a shimmer. I then stamped my penguin using a stamp from the set 'Punch Pals' and colored him in using markers and cut him out – to give him a bit of a shimmer I put glue on his scarf using a glue pen and sprinkled on Dazzling Diamonds Glitter – and then I attached him to the snow using a little dab of glue on his feet. I then adhered my penguin and snow layer to the window sheet using 2 Mini Glue Dots.
Next I created the base for my snowglobe – I used my Wide Oval Punch to cut an oval out of Basic Black cardstock and then I cut that in half and I adhered it to my card base. Finally I added Dimensionals to the back of the penguin and snowbase and attached my snowglobe to it's base – and there you have one very cute and easy card to make using those sensational printed window sheets.
Where to find the supplies used in the Catalog – all are in the main Catalog unless otherwise noted:
Snowfall Printed Window Sheets – pg 27 of the Holiday Mini Catalog
Circle Scissors Plus – pg 191
Happy Everything Stamp Set – pg 142
Punch Pals Stamp Set – pg 40
Sponge Daubers – pg 192
Dazzling Diamonds Glitter – pg 180
The Tearing Edge – pg 188
Wide Oval Punch – pg 186
2-way Glue Pen – pg 192
You can view the Holiday Mini Catalog online by clicking here – and you can place your order for your supplies by clicking HERE – that will take you to a page where you simply click on 'shop now' in the top right corner – you can shop, place your order, checkout and pay using a credit or debit card and your goodies will be mailed directly to your address.
Snowfall Window Sheet Snowglobe…