The Fall brings camping…I love camping and the kids love it even more and so I decided to put together a couple of treats for them for our upcoming camp trip including a Smores bundle…they LOVE smores and there is a stamp set that I used which is perfect to make a bag topper for my cello bag containing everything they need to make em…
It is called Under the Stars and you can find it on pg 94 – it is perfect for camping and smores related projects.  I also purchased a reusable water bottle for each of them and made a Water Bottle Hanger that holds a little sachet of lemonade powder to give their water a little zing…I think both items turned out really cute…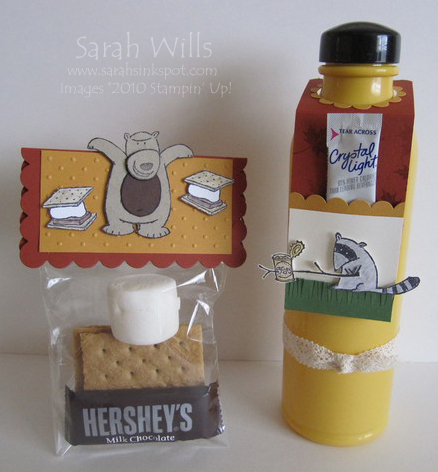 My Water Bottle Hanger is made using Cajun Craze for the base and accented with More Mustard (they remind me of Fall & camping), Very Vanilla and Garden Green…it is simply a piece of cardstock cut to 7 3/4″ x 2″ and scored & folded 2″ from each end – I put together a little tutorial for it that you can find by clicking HERE
You create a pocket in the front to stash a sachet of powdered drink mix and you can use disposable bottles of water that would be perfect for many events such as boy/girl scout activities, charity events, camp trips with friends…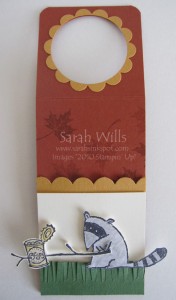 That cute racoon holding the stick with the beans is also from Under the Stars…I used my Scallop Border Punch (pg 200) to trip the top of my pocket and my Scallop Circle Punch to make the collar…you can adjust the size of Circle Punch depending on the size of your water bottle.
My Bag Topper is made again using Cajun Craze that I die cut using the Scallop Square Die on pg 207 – I folded it in half and added a piece of More Mustard that I textured using my Perfect Polka Dots embossing folder (pg 214).  I stamped and cut out my bear and the smores from Under the Stars and attached them using Dimensionals to make them pop out a little…click on the photos for a closer view…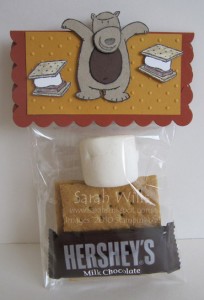 Didn't they turn out cute?  Now I'm in the mood to eat smores LOL – imagine how many of those chocolate bars have been eaten this morning in my craft room?!
Don't forget to come back and visit me tomorrow – it's Festive Friday and I have a great project to share with you…I will also be announcing the winner of my prize draw then too – you can find details about how to enter to win blog candy in my Tutorial Tuesday post below…