Want a Sneak Peak of a brand new product debuting on May 1st when the Summer Mini Catalog goes live?

In there is a brand new embossing folder called Flower Garden – and oh my what stunning cards you can make using it and very little else – just perfect for my favorite clean & simple style of papercrafting!
So today I wanted to show you how easy it is to create fabulous cards using it and very little else…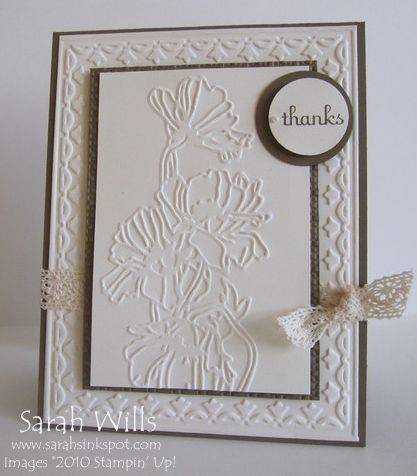 Isn't that a beautiful look?  My card above actually uses three Embossing folders that I ran through using my Big Shot:
Flower Garden which creates the central panel of my card
Framed Tulips which creates the framed edge that you can find on pg 28 of the current Occasions Mini
Square Lattice which forms the mat beneath my central panel that you can find on pg 214 of the main Catalog
Talk about simplicity making an impact!
To keep my card simple and eye catching I decided to use just two colors – Very Vanilla and Soft Suede – I think that this combo of colors creates a very elegant look too…
Finishing touches? I added a sentiment from the set Fabulous Phrases (pg 149), punched it out & layered it using my 1″ and 1 1/4″ Circle Punches, adding a little Pearl to one side…
And finally I added a piece of Victoria Crochet Trim (pg 190) to finish off my card…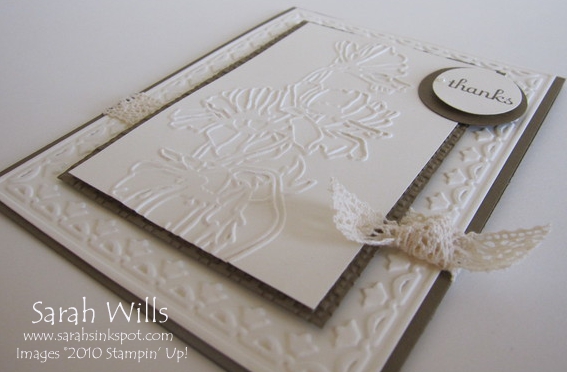 Those embossed flowers are simply beautiful and and in the next few weeks I am going to be showing you how you can use this embossing folder in different ways…it will be one versatile addition to your stamping stash!
Want to purchase a pack of 10 of today's "Embossed Flower Garden" cards & envelopes, handmade by me as shown above?
What a great pack to have on hand for when you need them.  Inside each card is a Vanilla cardstock mat for you to write on.
Your cards will be packaged in a clear box and in accordance with Stampin' Up!'s angel policy, each card will have a copyright stamp on the back.
I have a choice of sentiments for you to choose for your cards, so take a peek below and select the one you would like – if you would like a selection of sentiments in your pack such as 5 'For You' and 5 'Thanks', click on 'customise' and drop me an email to let me know which you would like.
I realised earlier today that I didn't post on Friday thus I didn't announce this week's blog candy winner – BIG apologies for my oversight – and so…
Drawn by random.org this week's winner is…comment no. 10…Deb B…who said:
April 13, 2011 at 11:01 pmThat is adorable!! I can however guarantee that the bunny is not guarding the carrot, he's so getting ready to eat it. Look at his face….. a moment before that photo was snapped he was reaching out to snatch the carrot when he saw you walk in with the camera and he knew he was busted!
HUGE congrats Deb – your goodies will be in the mail to you very shortly!
CLICK HERE TO ORDER YOUR STAMPIN' UP! SUPPLIES ONLINE!
Simply Elegant Flower Garden…