Have you seen those fabulous new colored Embossing Powders in the Summer Mini Catalog?
On my first order from the Summer Mini I didn't add them as I wasn't sure how I felt about them as they are bright colors and as you know if you've followed me for a while, I'm not a bright color kind of a gal…
I also didn't order the stamp set Fabulous Florets and I soon came to realise that I regretted not getting any of these fab new items because I began to visualise how I could use them…and so I added them to my next order and lets just say that I am sooo glad that I did!
And so today I got them out to play and teamed them with black cardstock and WOW!  What an impact!  Here is my first card…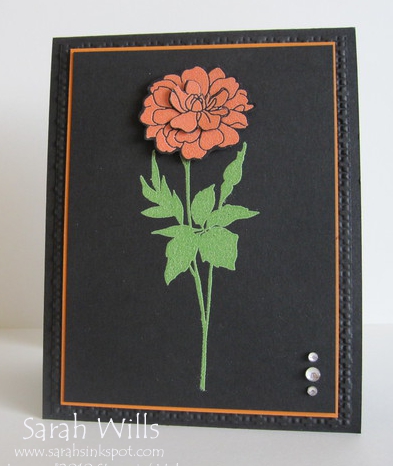 This was sooo much fun to make – I love digging out that Heat Tool to emboss and even after several years of doing this, it still brings a smile to my face when everything melts and looks shiny!
You can find those Embossing Powders on pg 22 of the Summer Mini Catalog and they come in three colors – Wild Wasabi, Melon Mambo and Tangerine Tango – yum!
I used Basic Black cardstock for my base and layered on a piece that I had textured using my Big Shot and Square Lattice Embossing Folder.
I used stamps from Fabulous Florets that you can also find on pg 22 and stamped them using Versamark ink and then sprinkled on those powders using my Heat Tool to make them all melty…
I stamped my flower twice onto a different piece of cardstock & embossed it and then cut the first flower out using sharp Paper Snips – with the second flower I cut out just the center section and then adhered it to my full flower using a Mini Glue Dot in the center…click on the photo for a closer view…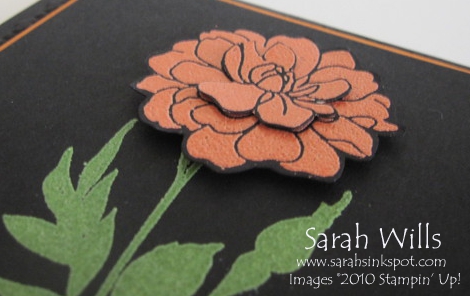 I then added the flower to the top of my stem using Dimensionals. layered it onto my base using a piece of Tangerine Tango cardstock and finally added three sparkly Rhinestones for a finishing touch.
But ya know I couldn't leave that Melon Mambo pink powder all there untouched and so I made another card using that…cute, eh?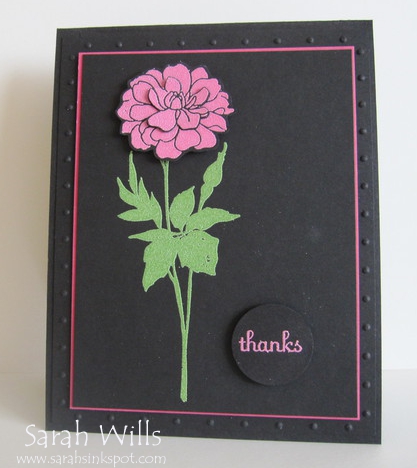 This time I used my Perfect Polka Dots Embossing Folder for the background and stamped my flower further to the left to make room for a sentiment.
I cut out the flower the same way as I did the orange one and of course used a piece of Melon Mambo cardstock for my layer.
The 'thanks' stamp?  Is from the set Fabulous Phrases – another one of my favorite go-to sets – and I punched it out using my 1″ Circle Punch and added it with a Dimensional.
What do you think?
Want a FREE printed copy of the new Summer Mini Catalog? Simply click here to email me your US mailing address and I will get one out to you FAST – PLUS I'll include some samples too!
Want to know more about Embossing and how to do it? You can find my free printable step-by-step guide – Embossing 101 – by clicking HERE
CLICK HERE TO ORDER YOUR SUMMER MINI CATALOG GOODIES ONLINE!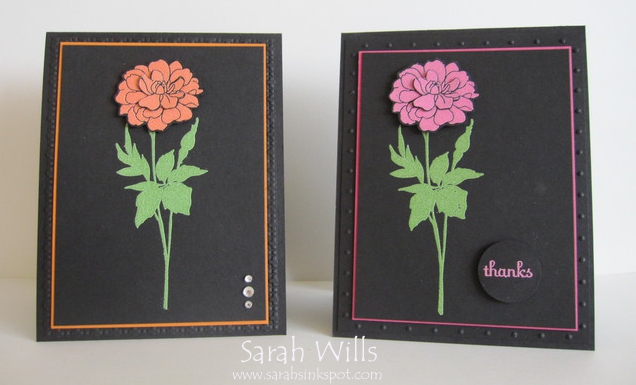 Fabulous & Colorful Embossing…