Nope, not the Holidays…but for us today is BACK TO SCHOOL DAY!!!
After almost 3 months of the school summer vacation today the girls went back to school…it's been such a long hot summer – in fact today is the 68th day of 100+ temperatures for Austin this year – and we are all happy to get back to our school calendar and look forward to the Fall…I can hardly wait…crisp mornings…furry footwear…mmm…
But today's card is inspired by something else…there is one simple thing I so enjoy on this first day…and that is the sound of silence…it doesnt seem much but when you've had crazy children and their crazy friends screaming around your house for 3 months, silence is a golden treasure…
And oh yes my stampin' friends…right now I am most definitely enjoying the simple sound of silence…
I wanted to create a bright happy card to celebrate the day and so went with the base colors of Melon Mambo and Old Olive…
And I wanted to use fun simple stamps and so dug out one of my favorite brand new sets Best of Everything (pg 103)…the flowers, plants, tree and bird are all stamped using stamps from that set.
Now I wanted my tree to be quite a bit taller than the surrounding plants and the tree stamp actually isnt alot taller – and so this is what I did to create the look I wanted: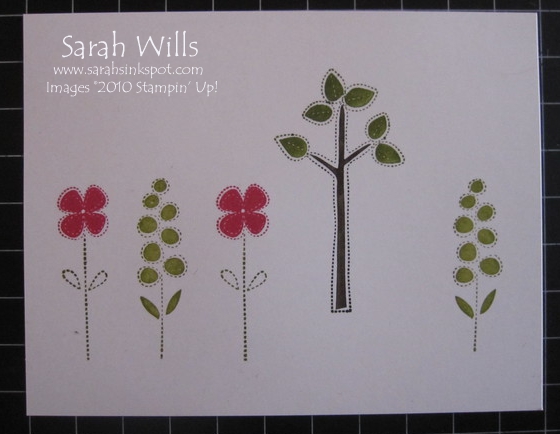 I stamped it higher on my cardstock than the other plants – stamped my bird – punched him out with my 1 3/8″ Circle Punch – and added him to where the base of the tree would be.
I then found the PERFECT sentiment for my card in the set Touch of Kindness – you can find this set on pg 25 of the Summer Mini Catalog – and I thought that 'enjoy the simple things in life' was just perfect for today…and also in that set is one cute cat and a very cute bird bath…it's so sweet…
Pssst – that set Touch of Kindness will RETIRE when the Summer Mini Catalog retires on AUGUST 31st – if you want it, get it before then because after the 31st it will be gone for good!
Finishing touches…I wrapped around a piece of Melon Mambo Scallop Polka Dots Ribbon (pg 195)  to continue my bright and colorful theme and then added a few embellishments…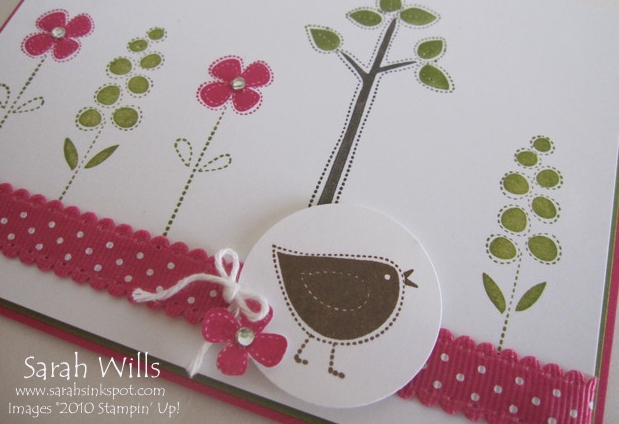 I stamped a flower and cut it out and then added little Rhinestones to it and each of the pink flower centers…and then I added a little white bow that I made simply using a piece of White Bakers Twine (pg 194) to create a whimsical look.
I also wanted to show you little lunch note cards that I made for each of my girls…
I figured whilst I had these very cute stamps out I would make them a little note card each to pop into their first day lunch bags…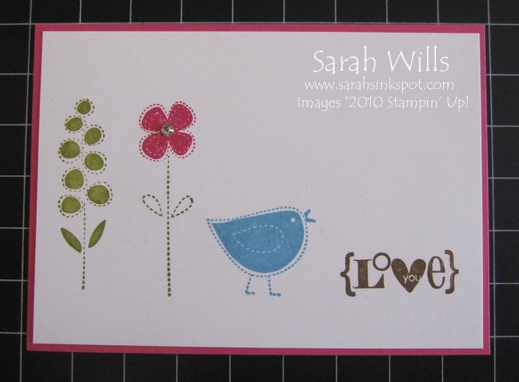 I popped each into a ziploc snack bag and added a little treat sized Hershey bar – guaranteed to bring smiles!
Very simple & quick and easy to make but I know they will love them…happy Back to School Day for all of you also enjoying the silence!
CLICK HERE TO ORDER YOUR STAMPIN' UP! SUPPLIES ONLINE!
And here are the images in that set Best of Everything – its fast becoming one of my favorite sets because it is so versatile – it is available in both wood and clear mount versions – click on the picture below to view it in the online store: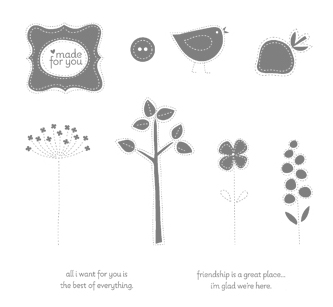 Click HERE to view the Summer Mini Catalog online
You can order from the Summer Mini Catalog until August 31st – after that time most of the items in it will be gone for good!
It's that most wonderful time of the year…