This morning I realised that we only have 11 days until Valentine's Day – then the realization hit me that I havent made ANYTHING for heart day – yikes!!!

Figuring that I am not alone and that many of you are likely in the same boat, I decided to put together a clean & simple card to show to you today…
This card will literally take you 10 minutes to put together and you can make a bunch of them very quickly – AND you still have plenty of time to order your supplies, receive them and make all the cards that you need to…
You are welcome to use my design which will mean your Valentine card making is what it is supposed to be – stress free & fun – and to make it easy to order supplies, I have a 'Shopping List' for you at the end of this post…here is my card…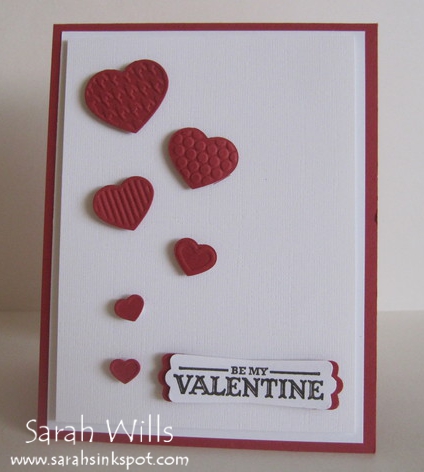 My card uses the core colors of Riding Hood Red and Whisper White – and what a dramatic contrast that gives…
I cut my card base from Riding Hood Red and then layered on a piece of Whisper White cardstock – cut to be 4″ x 5 1/4″…
I then cut another layer to be sized 3 3/4″ x 5″ and added this on top, using Dimensionals to make it pop out to give a framed look – I used Textured White Cardstock but you can easily substitute flat.
And then for the really fun and easy bit – have you seen the brand new Fashionable Hearts Embosslits Die?
You can find it on pg 35 of the Occasions Mini Catalog and I used it to cut all those hearts in ONE very easy step…
Wondering what an Embosslits Die is?
It embosses AND cuts at the same time – it's like magic – and with this die it saves you so much time since it embosses & cuts 5 hearts all together – meaning that you can make a bunch of this card quickly & easily.
This is what it looks like – the top picture shows it closed – and in the bottom picture you can see it opened up – there you can see those embossing & cutting plates…click on the photo for a closer look…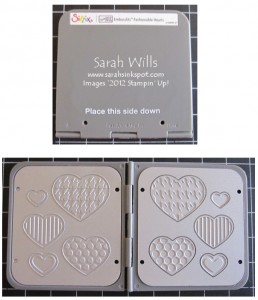 And this is what it looks like once you have run it through your Big Shot and opened it back up – check out those beautifully patterned hearts…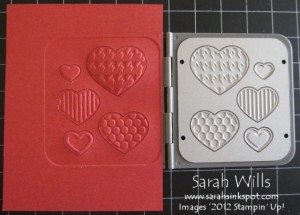 Then you simply push each out and attach to your card or project – which I did using Dimensionals to make them really stand out from the card base…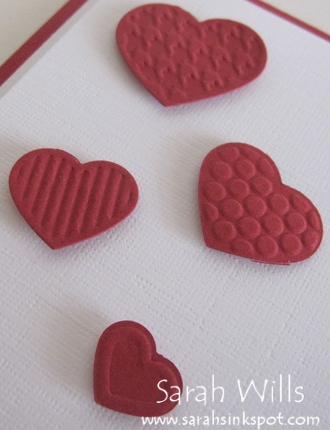 Finally I decided to add a sentiment – I used a stamp from the new set Sweet Cake that you can find on pg 33 of the Occasions Mini and stamped it using Early Espresso Ink…
I then punched it out using my Modern Label Punch (pg 209) and decided it didnt stand out quite enough…so I punched out another Modern Label shape from Riding Hood Red, cut it in half and adhered it behind my sentiment at each end…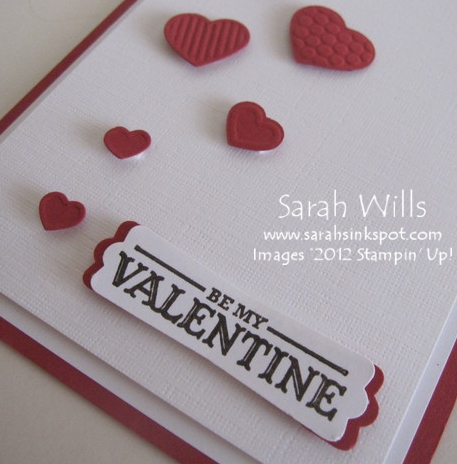 Want to make some of these fun, quick & easy cards?
To make it easy for you to order what you need, here are all the items you will need along with their ordering details…
And to make it even easier I have linked each to it's online store location – simply click on the item you want to order and then add to your shopping bag – easy, fast, done!
Clean & Simple Valentine Card Basic Shopping List:

111348   Riding Hood Red 8 1/2 x 11 Cardstock – 24 sheets – $6.95
100730  Whisper White 8 1/2 x 11 Cardstock – 40 sheets – $8.50
125596  Fashionable Hearts Embosslits Die – $11.95
104430  Stampin Dimensionals – pack of 300 – $3.95
Want the stamp set Sweet Cake?
125492  Sweet Cake Clear Mount – $14.95
125490  Sweet Cake Wood Mount – $18.95
Want the Punch?
119849  Modern Label Punch – $16.95
Need Envelopes?
107301  Medium Whisper White Envelopes – 40 – $6.50
Got Questions? Email them to me by clicking HERE
Clean, Simple & Quick Valentine's Card…