One of my favorite sets that has a tree theme is called Evergreen and today I decided to use it to create a Holiday card – Everygreen is from last year's Holiday Catalog and whilst not featured in a current Catalog, it is STILL available for purchase online…click HERE to find it!
And my Blog Candy winners from last week are announced below!
Today I used Evergreen to make a card that is a little bit different, featuring Burlap Ribbon tucked beneath a layer shaped using the Chevron Punch which creates a fabulous feature full of texture…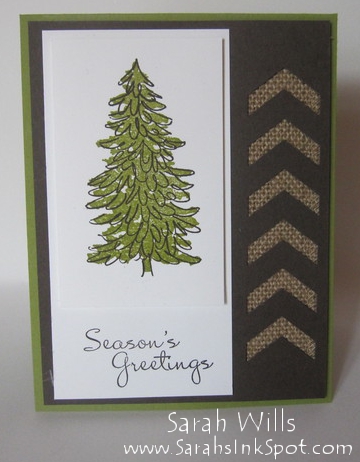 The card base…is Old Olive onto which I added a very cool layer that I shaped using one very cool punch!
The layer…is Early Espresso and I used the Chevron Border Punch that you can find on pg 23 of the Holiday Catalog to make that cool shaped border – click HERE to find that punch…
And then I wanted to add some texture and so adhered a piece of 1 1/4″ Burlap Ribbon (pg 18 Holiday Catalog) underneath it before adding it to my card base…take a look at that beautful texture…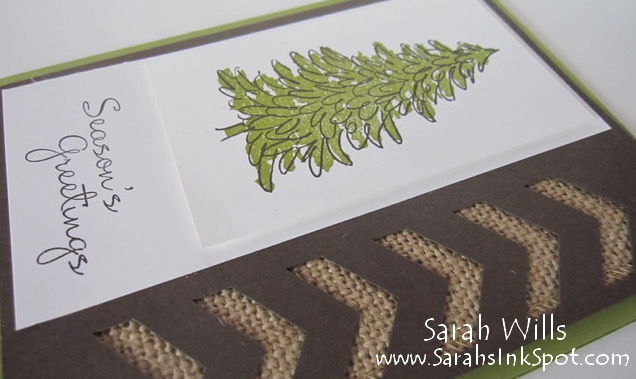 Next my white layers…I added a strip of Whisper White cardstock onto which I stamped a sentiment using a stamp from More Merry Messages – this was another set that was featured in the Holiday Catalog last year but is STILL available in the online store – click HERE to find it!
The tree…uses two stamps from the set Evergreen – the first image is the actual tree stamped in Old Olive ink – and then I used another stamp that has that tree definition, and stamped it using Early Espresso ink onto the green tree – this is called two-step stamping.
I trimmed my image to size and added it to my card base using Dimensionals…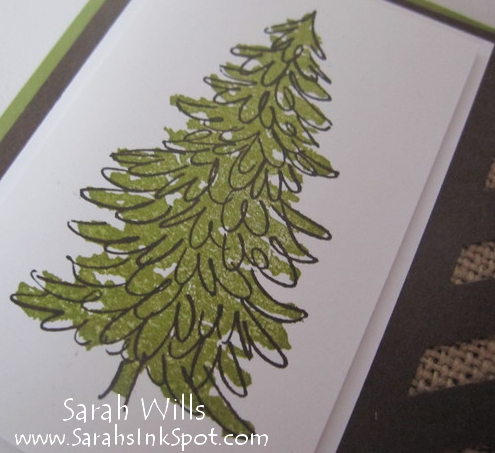 I just love how natural and earthy this card turned out and that texture is a real wow factor!
And I love the images in that set Evergreen – here they are: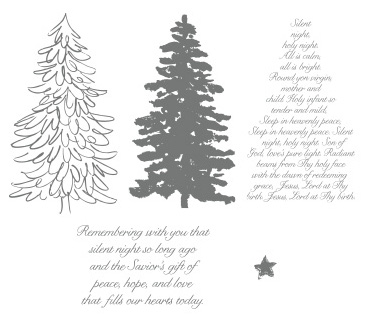 Supplies used to make this card:
Cardstock: Old Olive (100702), Early Espresso (119686), Whisper White (100730)
Inks: Old Olive (126953), Early Espresso (126974)
Stamps: Evergreen (CM 127973/WM 127970), More Merry Messages (CM 126402/WM 126400)
Punch: Chevron Border (132154)
Ribbon: 1 1/4″ Burlap (132140)
CLICK HERE TO ORDER YOUR STAMPIN UP SUPPLIES ONLINE!
So who are the lucky winners who win my Blog Candy from Friday? 
TWO lucky winners win everything needed to make one of those cute Elf Shoe treats (except the cookies!!!) – and those lucky winners drawn by random.org are:

Kathy – who said:
"WOW! These are SUPER adorable! Thanks for the great tutorial and template.  Both shoes are festive for the elves — perhaps red for the girls and green for the boys. Thanks for the chance to win the elf shoe kit. I'd like the green one, please. Have a blessed Christmas and a joyous New Year!"
AND:
Amanda – who said:
"I LOVE these elf shoes, they are adorable. I really like the green shoe with the red-striped oreo sock."
Congratulations ladies!  Please email me with your mailing address and I will get your kits on their way to you!