This coming weekend my girls have 3 birthday events to go to and so I have been busy making cards for them…
One of the sets that recently caught my eye to use for kid cards is called Cool Kid and features a cat, dog and fun sentiments – you can find it on pg 29 of the Occasions Catalog or online by clicking HERE
I used it with some fun paper and made a cute card that I think the birthday girl will love…AND you can see a simpler version of this card further down, before I added any bling to it – it's really interesting to see the difference and it turns out that I like both of them…see which one you prefer…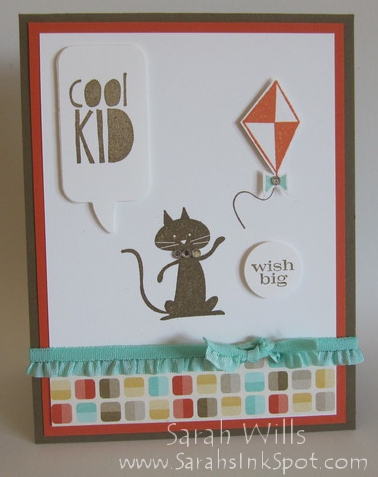 The card base…is Soft Suede onto which I added a layer of Tangerine Tango for a striking contrast…
The cat, kite & 'cool kid' images are all from the set Cool Kid – I stamped the cat and kite using Soft Suede ink directly onto the white layer…for the sentiments, I stamped them both onto a scrap of cardstock and cut them out as follows…
Cool Kid…was die cut out using a die from Word Bubbles Framelits (pg 36 Occasions Catalog) and added to the card using Dimensionals…
SARAH'S NOTE – this sentiment fit PERFECTLY into that word bubble die – I wanted to show you this because you can use Word Bubbles dies with LOTS of your stamps and not just those in the set Just Sayin' designed to go with that set of framelits – this makes Word Bubbles a hugely versatile set of framelits to have in your collection!
Wish big…is a sentiment from the set Pennant Parade (pg 18 annual Catalog) which I punched out using my 3/4″ Circle Punch…
The Kite…I stamped the kite again but this time using Tangerine Tango ink – I cut it out and added it on top of the kite image on the card base and I stamped the little bow beneath it using Coastal Cabana ink – ALL of these images were added using Dimensionals to give a 3-d effect…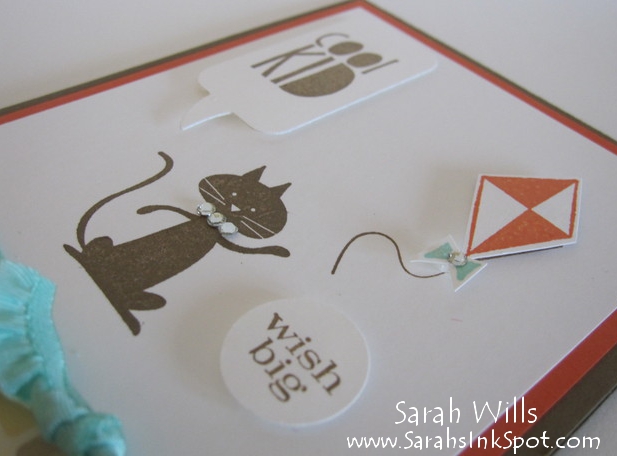 The pretty paper edge…I added a strip of paper from Retro Fresh DSP (pg 19 Occasions Catalog) to the bottom and wrapped around a piece of Coastal Cabana 3/8″ Ruffle Stretch Trim…
The finishing touch…to add a touch of sparkle I added a small Rhinestone Jewel to the bow of the kite and around neck of the cat to make a cute collar – LOVE the effect such a little embellie makes!
I wanted to show you a simpler version of this card before I blinged it up…this shows you that even if you don't have ribbon and rhinestones to hand, you can still make a cute card…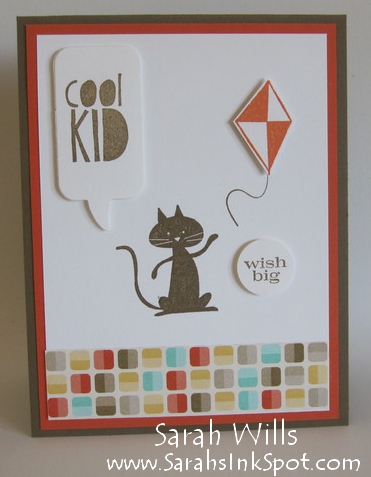 I love how they both look and honestly am not sure which is my favorite!!!  Which is yours?
And finally I wanted to show you a piccy of my naughty cat…halfway through making my card today I heard a big commotion downstairs…when I went to investigate I found a BIG mess and a guilty looking cat sat next to it…
He had managed to move his toy box about 10 feet (it is usually tucked away in a corner next to the silver trash can) and scattered toys everywhere…look at how guilty he looks…he can't even look at me LOL…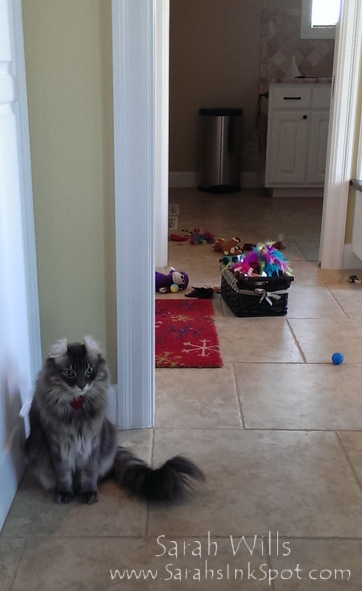 My guess is that he is either attention seeking or found some kind of critter to chase around that got behind his toy box…either way today he is being a pest…he woke me up in the middle of the night after landing on my head when he fell off of the headboard!!!
Here's hoping for a more peaceful night's sleep ahead!
Here are the cute images featured in the stamp set Cool Kid: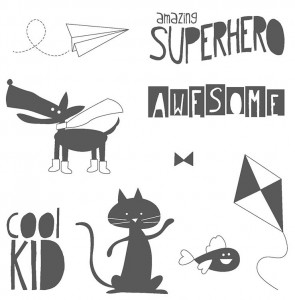 Supplies that I used to make this card:
Stamps: Cool Kid (CM 133125/WM 133122), Pennant Parade (CM 127742/WM 128697)
Inks: Soft Suede (126978), Tangerine Tango (126946), Coastal Cabana (131175)
Cardstocks: Soft Suede (115318), Tangerine Tango (111349), Whisper White (100730)
DSP: Retro Fresh DSP (132993)
Die Cutting: Word Bubbles Framelits Dies (132968), Big Shot (113439)
Punch: 3/4″ Circle (119873)
Ribbon: Coastal Cabana 3/8″ Stretch Ruffle Trim (130024)
Misc: Dimensionals (104430), Rhinestone Jewels (119246)
CLICK HERE TO ORDER YOUR STAMPIN UP SUPPLIES ONLINE!