Well, it's Saturday and time for my Project for the Weekend!  Each week I will be posting a project that is quick and easy to make, and you don't need any special tools to make it – just some cardstock, a paper trimmer, adhesives and anything that you want to decorate it with.
This week I am showing you a very easy little treat that is perfect for Thanksgiving – yup, it's close & coming up fast!  I know that you don't have a lot of time for crafting these next couple of weeks but here is a great little handmade treat you can make in a very short amount of time…
It's a little Tic Tac Holder…pull on that ribbon and out pops a box of Tic Tacs!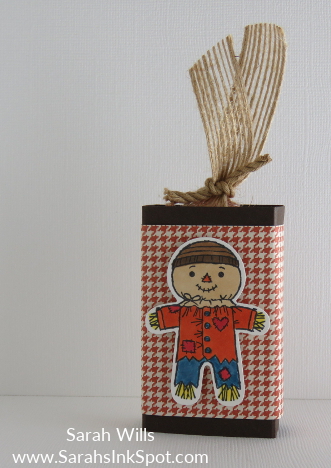 You will find a link to the printable/downloadable Tutorial showing you how to make this project below – look for the red text!
This is another one I loved to make – simply because it is so fast and yet so cute – and very affordable – you can pick up 3 packs of Tic Tacs for about $1 and use up scraps of cardstock & patterned papers to make it – I love when I can use up my bits & pieces of papers!
The box of Tic Tacs has a piece of burlap ribbon wrapped around it – it creates a harness so that the Tic Tacs can easily be pulled out of the wrapper – here is the very bottom…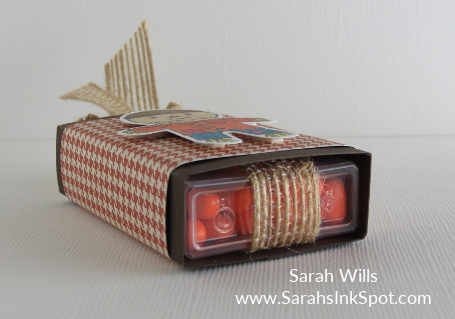 I chose orange Tic Tacs because I thought they fit my theme well – that plus they are my favorite ones – yes, some were eaten in the making of this LOL!
The patterned paper is a piece from Petals & Paisleys Specialty DSP (pg 47 HC) and the ribbon I used is 5/8″ Burlap (pg 178 AC) with a piece of Kraft Rope Trim (pg 13 HC) tied around to hold it together…
That cute stamp is from Cookie Cutter Halloween (pg 53 HC) and I colored him in with various Markers and cut him out using the perfectly coordinating Cookie Cutter Builder Punch (pg 6 HC)…
So here it is all ready for gifting…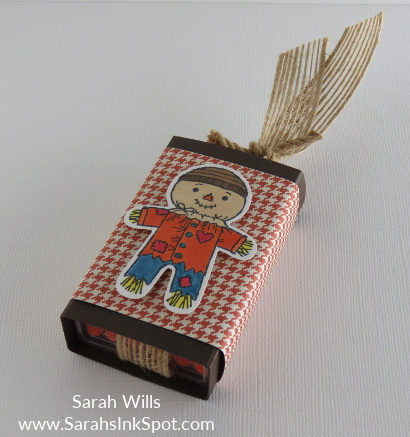 Pull on that ribbon and out slides the treat…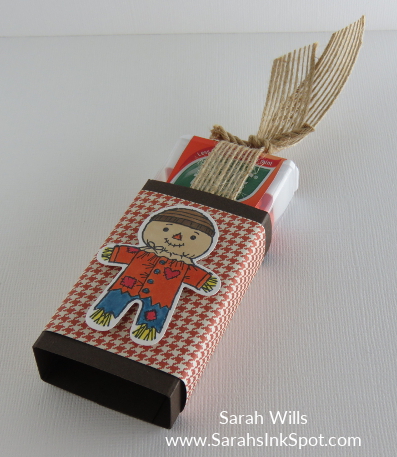 Oh my I loved making this – it was quick, fun & you get a cute end result – no big thinking involved so you can easily make it whilst watching TV or a movie = makes a great Project for the Weekend!
WANT MY FREE STEP BY STEP TUTORIAL FOR THIS TIC TAC HOLDER?  Click HERE to find it – then you can download it or print it out to keep for easy reference!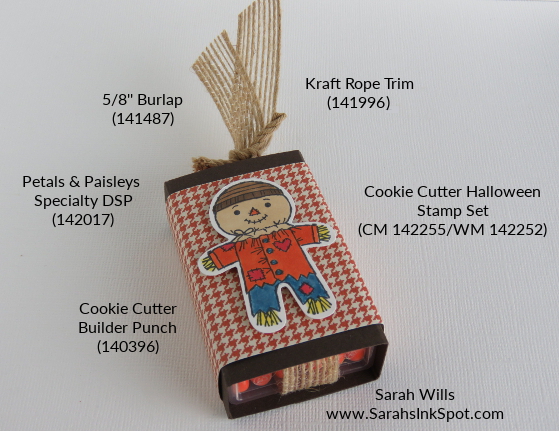 Here are the supplies I used to make this item – click on any of the products below to find them in my Stampin' Up! online store:
Thanks for stopping by – I hope you enjoy making this cute project & have a wonderful weekend!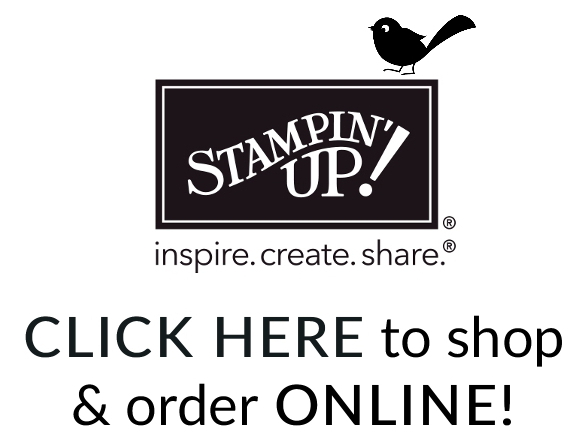 A Project for the Weekend…a Thanksgiving Tic Tac Holder featuring a cute Scarecrow…