Well, when I first saw the Occasions Catalog I had almost everything in it on my wish list – can you say love at first sight?!  But back in the world of reality, I had to really cut down that wish list and boy did it take me hours to work out exactly what I could order first and what I had to put on my 'next order' list!
As soon as I saw the Dragonfly Dreams stamp set & co-ordinating Detailed Dragonfly Thinlits Dies I wanted them both – but I realized that whilst I loved both, due to budget constraints and in order to get a little bit of many things, I could actually use the dies all by themselves – and so I made the harsh decision to just order the set of dies – LOL – dilemmas, eh?
But the card I want to show to you today is exactly what I had in mind – if you are on a budget like me, and can't buy both the stamps & dies, look what you can do with just the set of dies – you can still get your Dragonfly fix!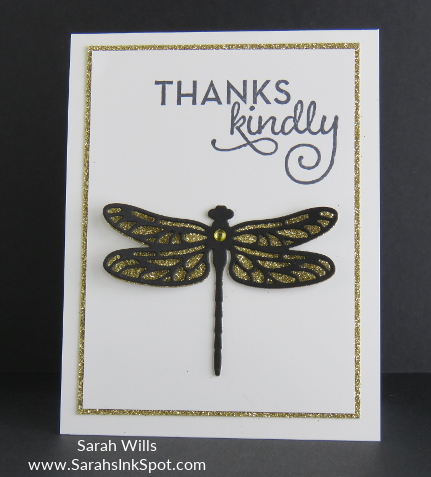 You will find a link to the printable/downloadable Project Sheet detailing all measurements, colors used & instructions on how to make this card below – look for the red text!
I love love love the elegance of the gold & black on this card and I love the detailing on the dragonfly – check it out close up – see how sparkly it is when it catches the light?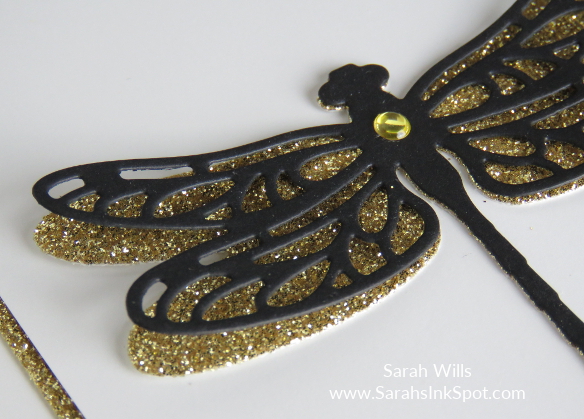 Isn't that gorgeous?  The Dragonfly is made using two dies from the set – that top black intricate dragonfly is adhered to the glittery gold solid shape with just one Mini Glue Dot in the center – it is held firmly in place but the wings lift off of the base giving it a beautiful 3-d look – and that dot in the center is a dot from Metallic Enamel Shapes – the perfect finishing touch!
I went a bit overboard on ordering Gold Glimmer Paper before the Holidays LOL and this is a great way to use it – this card is going out to all my customers who ordered with me during December – I hope they like it!
And here's another one I made using Silver Glimmer Paper…yup…went a bit overboard with hoarding that pretty paper too LOL!  And this little Dragonfly sports a sparkly Rhinestone Jewel on it's back…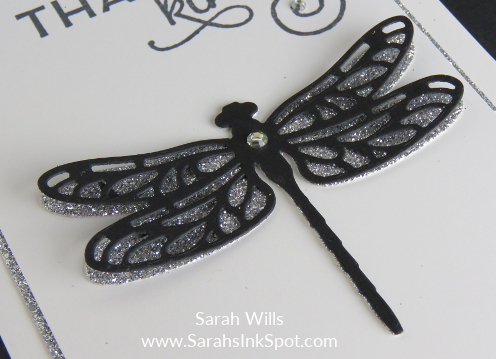 I wanted to use a pretty big bold stamp so that my sentiment didn't get lost next to such a big beautiful image, and found just the one I needed in the set One Big Meaning – that is a fantastic set of thank you stamps and because I send out so many thank you cards, I love to have a big assortment of those stamps to have on hand…
And I decided to mat my Dragonflies onto a layer of glitter paper, which helps draw your eye to the image…sooo pretty!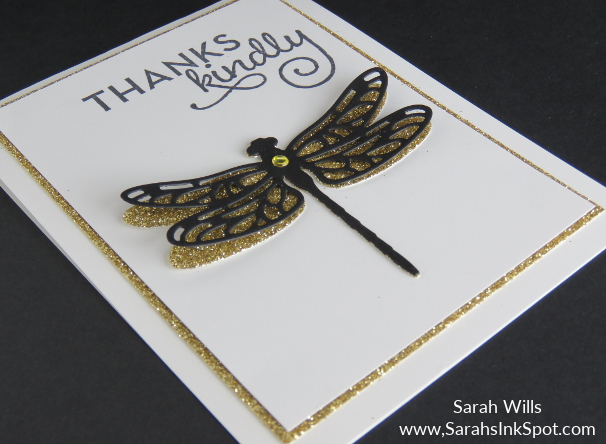 Sarah's Tip – I have found that Mini Glue Dots are perfect for adhering things to glitter papers – they hold really firmly on it whereas some tapes don't
The set of Detailed Dragonfly Thinlits Dies is just beautiful – click HERE to find it – check out all of the dies that you get in this set below – even a cute bee – pair that up with the Hexagons Dynamic Embossing Folder on pg 47 of the Occasions Catalog and you've got an instant bee theme going on!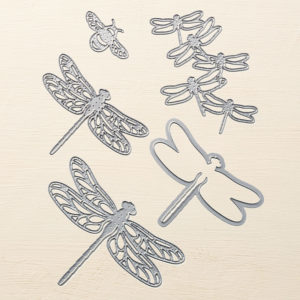 WANT MY FREE PROJECT SHEET FOR THIS CARD?  Click HERE to find it – then you can download it or print it out to keep for easy reference!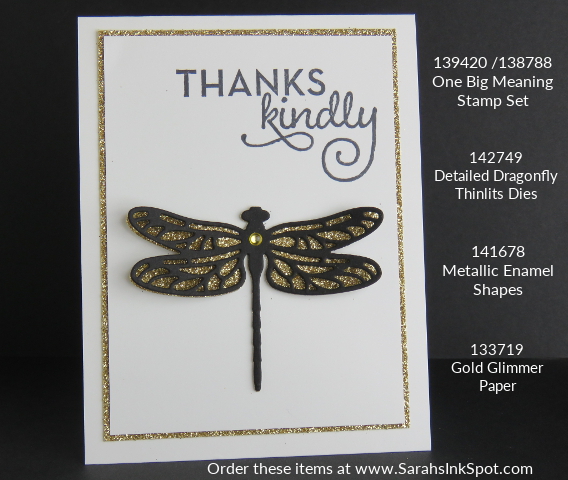 Here are the supplies I used to make this project – click on any of the products below to find them in my Stampin' Up! online store:
Thanks for stopping by – have a great Thursday!

Current Specials:
The Occasions Catalog is here – click HERE to find the new Spring & Summer products
It's Sale-a-bration! Choose ONE FREE ITEM for EVERY $50 that you spend!
And there is no limit – meaning the more you spend, the more items you get for FREE!
Got questions about how Sale-a-bration works?  Click HERE to email them to me and I will be very happy to help
And don't forget to use my January Host Code to get yourself a pack of FREE Embellishments valued up to $9!  Click HERE to find out more!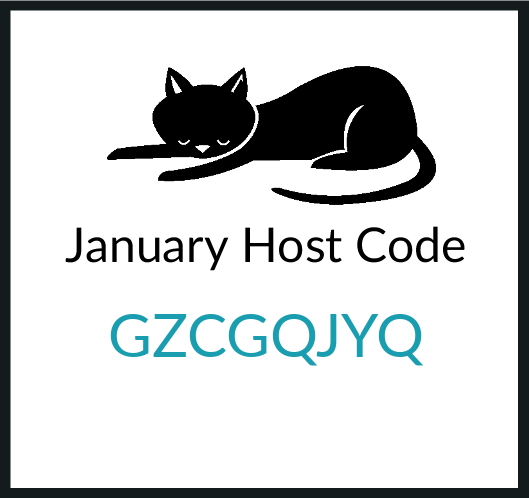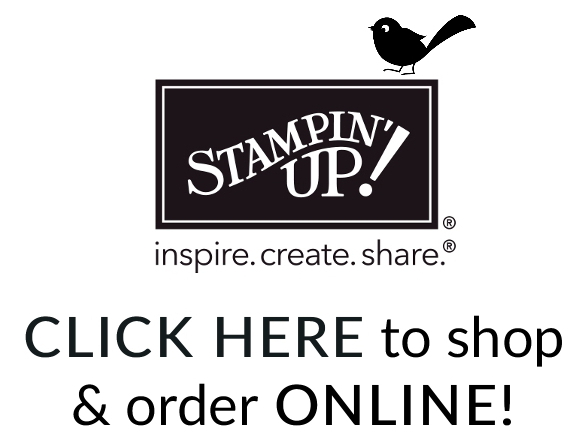 Simple Glittered Gold Detailed Dragonfly…