You can create the most ADORABLE Reindeer using your Punches…he is fun and easy to make and he will go down a storm with both little & grown-up people alike…
You can use him as a focal point on a card or gift bag OR you can make cute Treat Toppers using him…to do this easily, simply add him to the top of a Cellophane Tube Bag filled with treats – you can put M&Ms, Jelly Beans, a Twizzler, a Pencil – anything you can think of into this bag to make a cute treat.
YOU CAN FIND CELLOPHANE TUBE BAGS on pg 11 of the Holiday Mini Catalog or by clicking HERE – they are bargain priced at just $2.95 for a pack of 50!
You can even use this Cellophane Tube Bag and Punch Art Reindeer to make a tube of Magic Reindeer Food for the kids…check mine out below along with a little Chocolate Bar Gift perfect for grown-ups too…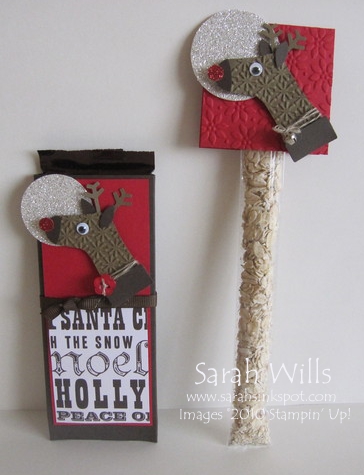 CUTE eh?  Read on to find out more about both along with links to my FREE printable tutorials…
Firstly the basics – WANT MY FREE PRINTABLE TUTORIAL so that you can make your own PUNCH ART REINDEER that is featured on both my projects below?  Click HERE to find it!
Magic Reindeer Food Tube…
This is utterly adorable – if you haven't heard of Magic Reindeer Food it is one cute tradition for Christmas Eve – you simply mix oatmeal with some glitter – the oatmeal is food for Santa's Reindeer and the glitter makes it shine so that the Reindeer can find your house – the kids simply sprinkle it on the lawn the Night before Christmas – cute & fun…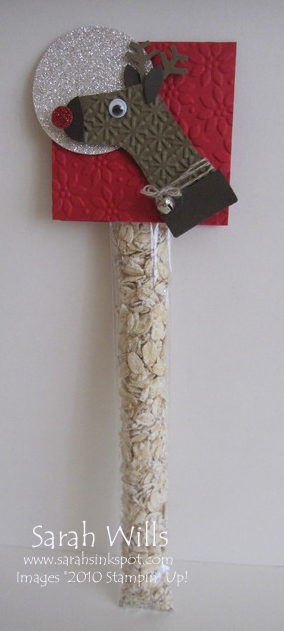 There you see one of those Cellophane Tubes filled with the Magic Food and it is topped using a little card that is secured using Mini Glue Dots so that it can be removed easily to keep…here is a close up so you can see that oatmeal mixed with the Glitter – I like to use chunky glitter so that it shows up easily…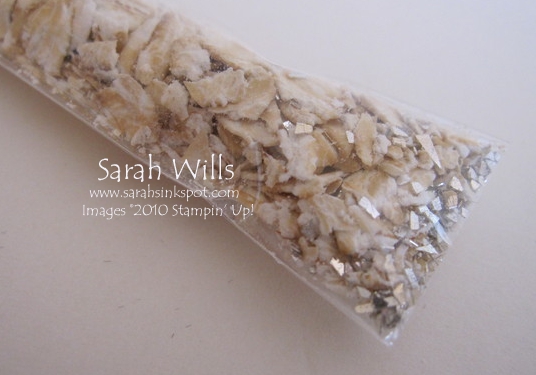 Here is a close-up of that Punch Art Reindeer & my Card Topper…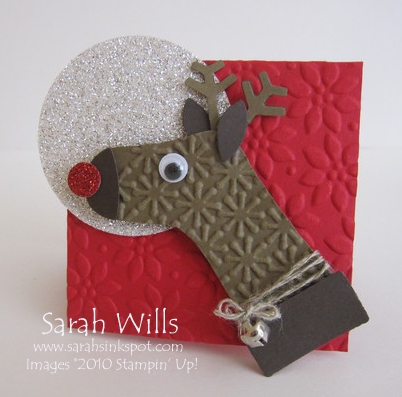 And check out the poem to go along with the Magic Food…I simply attached this to the back part of my card topper – this makes a very cute treat for those little ones…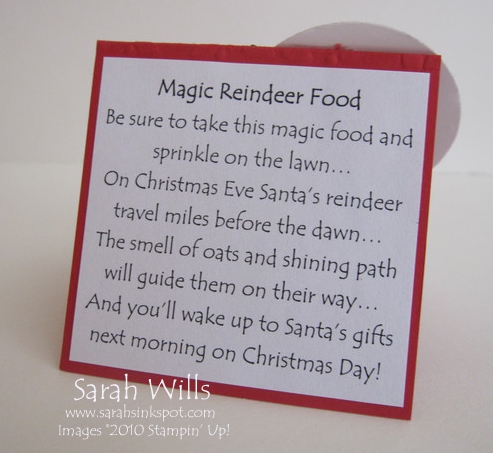 To make it easy for you to print this poem, I put together a document – on there are 8 of these poems on one page – to find it click HERE – and then print or save to your computer to use later – easy as that!
WANT MY FREE PRINTABLE TUTORIAL so that you can make your own MAGIC REINDEER FOOD IN A TUBE WITH THAT CUTE TOPPER?  Click HERE to find it!
Reindeer Holiday Chocolate Bar Wrapper…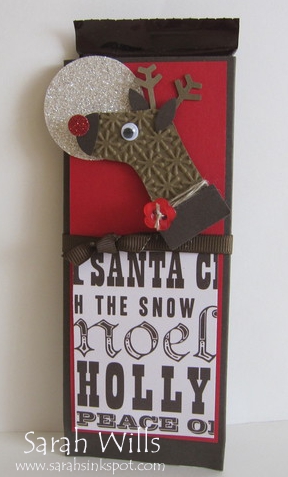 This is a very sweet treat for those grown-up friends – it holds a Hershey Bar which simply slides out of the top…
The base of the wrapper is made using Early Espresso cardstock and onto it is layered a piece of Real Red and a piece of patterned paper from Letters to Santa DSP (pg 186) and around it I wrapped a piece of Early Espresso 1/4″ Grosgrain Ribbon…
At the top I added my Punch Art Reindeer over a circle of Silver Glimmer Paper which makes a very cool sparkly moon…and there is one cute holiday treat!
WANT MY FREE PRINTABLE TUTORIAL so that you can make your own CHOCOLATE BAR WRAPPER?  Click HERE to find it – the tutorial shows it made with different papers from above, but the instructions to make the wrapper are the same.

Here is a list of supplies you will need to make that Punch Art Reindeer:
You will see the products below are highlighted in blue – click on each to get a look at it in the online store…
From the Holiday Mini Catalog:
124095  Stocking Builder Punch $16.95  pg 34
124096  Snow Burst Embossing Folder $7.95  pg 33
121790  Red Glimmer Paper $4.95  pg 41
From the main Catalog:
119852  Snowflake Punch $16.95  pg 210
115318  Soft Suede Cardstock $6.95  pg 180
119686  Early Espresso Cardstock $6.95  pg 180
104199  Linen Thread $4.50  pg 194
Other:
Googly eyes – or make your own using 1/4" & 1/8" Circle Punches
Optional Extras:
124134  Cellophane Bag (50) $2.50  pg 11
124116  Mini Jingle Bells (48)  $2.95 pg 30
119747  Designer Buttons – Brights $8.95  pg 197
PLACE YOUR ORDER WITH ME DURING NOVEMBER AND I WILL MAIL YOU A FREE PUNCH ART REINDEER MAKE & TAKE KIT!
AND WHEN YOU PLACE YOUR ORDER OF $50+ WITH ME DURING NOVEMBER I WILL GIVE YOU FREE SHIPPING TOO – to get your free shipping simply email your order to me by clicking HERE – along with the coupon code of Nov_11

CLICK HERE TO PLACE YOUR STAMPIN' UP! ORDER ONLINE!
Now that Halloween is over…on we go to Punch Art Reindeer!!!